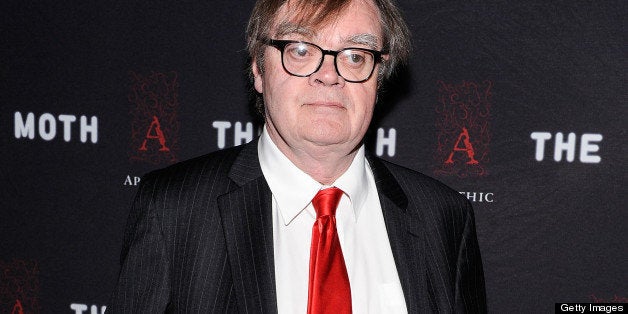 "Is the art of storytelling dead?"
Garrison Keillor, the host for the 2013 Moth Ball in New York, said he was once asked this question by a fan. His reply? "I hope so, because it's not an art, it's a craft." He continued, "It's like plumbing, it's like making a lanyard for your mother. Either it works or it doesn't."
The host of "A Prairie Home Companion" guided the guests through an evening of storytelling from Adam Gopnik, Richard Price, and Satori Shakoor. In addition, a stage packed full of the Moth's national GrandSLAM champions presented truncated versions of their stories in a minute or less.
The evening's theme was "Stirring It Up…" which was appropriate for the Moth, a nonprofit organization dedicated to sharing live stories by "people from all walks of life." Keillor told the audience, "People's lives, even if they're good, are always skating on the edge of chaos," but was quick to add, "I was brought up in Minnesota…where we sublimated our desires."
Gopnik, Price, and Shakoor all told tales around the question: "What dreadful misbehavior did you get away with?" Price, the author of Lush Life and screenwriter for "The Wire," delivered a hilarious and touching story about his grizzled neighbor in Harlem who waited around the local corner store with her walker and berated all the young men for their bad behavior. After offering her money one day, Price became her sidekick, and learned that the Harlem he now occupied was very different from his experience in the late '80s.
At the close of the event, Albert Maysles received the Moth Award. The director of "Grey Gardens" and "Gimme Shelter" emphasized the need for more empathy and understanding in the world. "The Dalai Lama was asked what his religion was, and he said, 'kindness.'" This is why storytelling is so important, he said. "We all have something basically in common." When we attend an event at the Moth, he said, "The stories are theirs, but they become ours."
Related
Popular in the Community