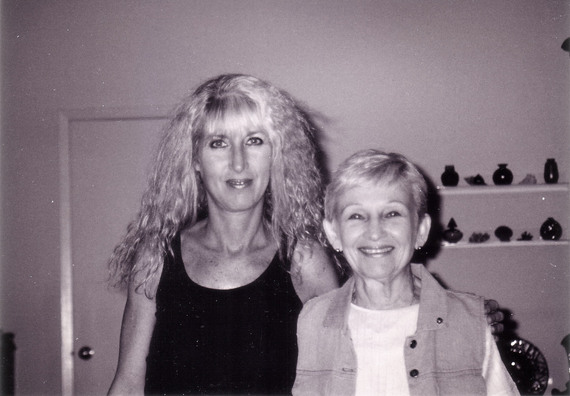 My brother called me the other day while he was visiting our mother at the nursing home. I unfortunately missed the call yet he left a message asking mom to say hello to me. Hearing her say "Hi Lisa," immediately brought me back to a time when mom was whole. Her voice was filled with strength and definition.
Mom sounded as if she was free and clear of Alzheimer's. Her voice and tone was the mom that I always knew. I wondered how this could be. Is it possible that mom still has moments of being herself? At these times could she have a flashing thought wondering what is happening to her? A thought that disappears as quickly as it comes.
I will never know the answers and maybe it's better that way. My desire is only to protect her from anything that can cause her heartache or pain. I wish to cuddle her in my arms, as if she were my own child and reassure her that everything will be okay.
I realize that what is left with mom is to try to enjoy whatever moments we have together. I want to sit with her, talk to her, touch her and hold her. I want to sing with her, laugh with her, and just be there for her. I want to show her and have her feel all the love I have for her; never questioning whether she knows if I am her daughter.
There are things that we can never get back yet I want to remember the things that I loved, and also the things she did that drove me crazy. I want to remember her lectures to me, her humor, her support and all her imperfections. She was never perfect yet neither was I.
She is still my mom, and the journey that we have been on together for over 13 years has at times been difficult yet, mostly, one filled with love.
I cannot take Alzheimer's from her and though it breaks my heart as I watch her disappear, it has opened my heart to a place that I did not realize even existed. It has made me closer with her and has turned my love into one that is unconditional.
PHOTO GALLERY
Foods For Brain Health
Calling all HuffPost superfans!
Sign up for membership to become a founding member and help shape HuffPost's next chapter