Courtney Jording, 23, and her mother, Karen Gillespie, 43, were arrested last Wednesday in Greensburg, Pennsylvania. A witness called police after she allegedly saw Jording inject her mother's arm, according to WPXI-TV.
Responding officers found Gillespie in the driver's seat, and Jording's 6-month-old baby was in the back seat of the car. Cops also found 41 stamped bags of heroin, 16 empty bags, four syringes and two spoons inside in the vehicle,  according to LancasterOnline.com.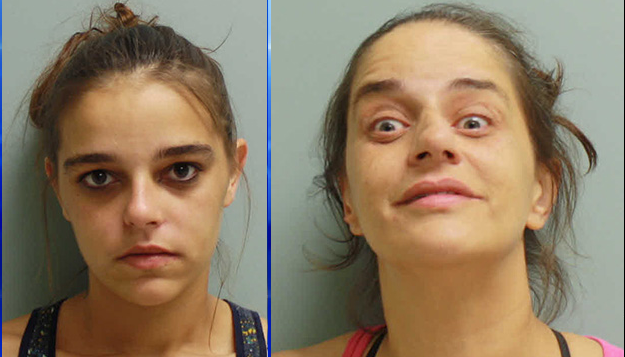 But  police say that's not all that was wrong. 
"The car seat was not secured. It was just sitting in the back seat," Capt. Chad  Zucco of the Greensburg Police Department told CBS Pittsburgh. "Further, the child had a wet diaper. [Officers] looked in the car to find diapers for the baby and there were none."
Gillespie and Jording were charged with criminal conspiracy, child endangerment, criminal use of a communication facility and possession of drug paraphernalia with intent to manufacture or deliver.
Jording's child is now being cared for by Gillespie's parents.
Robert Jording, Gillespie's father, told WTAE TV that his daughter has had a drug issue for a while.
"It's not the first time she was in trouble for drugs. She was in trouble the whole time she lived in Maryland," he told the station. "She told me when she left yesterday that she was going to a doctor's appointment... But that was a bunch of crap. She didn't have a doctor's appointment."
PHOTO GALLERY
Questionable Parenting
REAL LIFE. REAL NEWS. REAL VOICES.
Help us tell more of the stories that matter from voices that too often remain unheard.