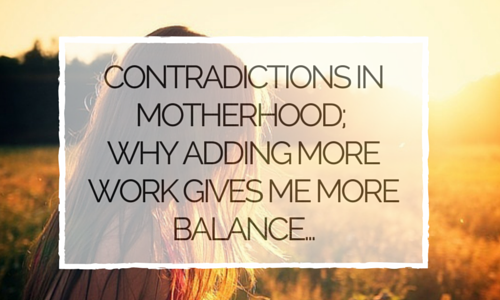 Many, many moons ago, when I was a corporate lawyer, work/life balance meant one thing to me and one thing only: How can I spend less time working, find the energy to spend more time living and then hopefully exist in a more well-rounded universe?
After spending the last few years being lucky enough to spend my time at home raising my children, I've started asking myself a new question: How I can build more work into my life so that I can, again, exist in a more well-rounded universe?
It's a crazy dichotomy that is only understood by our special tribe of business-oriented mums.
The opportunity to spend every day with my kids and watch them hit every milestone is honestly such a privilege and a blessing. The memory of seeing my kids' first steps is forever burned into the front of my brain and I love that. I love being their teacher and guide through the early years. But as grateful as I am to be able to observe every moment of my kids' life, it's not always easy or enjoyable.
Contradictory? Yes. Uncommon? No.
On the flip side of the good, there's the boredom of doing kiddie activities all day long. Mixed in with that is the frustration of trying to reason with a strong-willed toddler who somehow manages to outsmart me more often than not. Worst of all is living with the feeling that I, a once strong and independent woman, am starting to disappear into a sinkhole as running around to meet the needs of little people leaves little time for me.
While I absolutely adore being "mum," I can't stand the thought of only ever being seen as "mum." Enter Mummy Guilt, stage left.
For many of us mums who decide to go into business for ourselves, we start to seek out ways to reclaim our independence and sense of identity. Including more business and work into our lives gives us an outlet to express our truest selves and create more balance and flow into our day to day.
Does it mean that we don't appreciate the gift and privilege of motherhood?
It just means that to be the best version of ourselves, we need to do something which focuses on nurturing us as individuals. We, as mums, are incredible and we deserve to have our passions beyond our children heard and expressed.
When I split my time between my business and spending time with my family, the people I love get the best version of me.
I am calmer, happier and feel like I actually recognize the person staring back at me in the mirror.
Although I will always feel like I am a mum first and foremost, I also have a clear sense of who I am beyond that. It is the greatest gift I can give, not just to my family, but also to myself.
So now I pass it over to you -- do you find adding extra on to your plate helps you find the balance in your life? Comment below or send me an email, I would love to hear your thoughts!