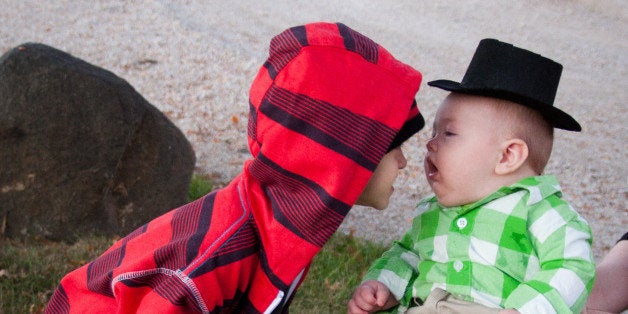 His posting of the photo sparked more than 100,000 likes on his social networking account, and caused the picture to spread like wildfire across the Internet. But even as a fan of the show -- and of Paul -- the mom of the two boys, ages 4 months and 3 years, wasn't thrilled.
What had started out as private family fun shared on Facebook has turned into attacks on her skills as a parent. "Come on, what's the kid telling his friends? I'm a meth dealer for Halloween! Not cool, parents," one blogger wrote.
Frustrated by feeling unable to defend herself, Meredith, whose last name has been withheld to protect her privacy, reached out to The Huffington Post to set the record straight, and she wants the world to know she's not a bad mother.
"I'm a stay-at-home mom, and a huge source of joy for me is taking pictures of my kids," she told HuffPost by phone. "The boys have never been exposed to 'Breaking Bad.'"
For the record, her older son will not be Jesse Pinkman for Halloween; he is going trick-or-treating as a giraffe. Dressing the boys up as "Breaking Bad" characters was simply a joke.
She had recently fallen in love with the show, watching it at night as she stayed up with her colicky newborn, and she thought dressing them as characters Walt and Jesse would be perfect. Her husband agreed, and after work one day, the family took the boys to have some fun playing dress-up in the park. (The year before, she had a fun "dress-up day" taking pictures of her older son as Will Ferrell's character from the movie "Elf.")
However, after she posted the photo online, some of her friends wanted to share it. Unaware that the picture might circulate to anyone other than her Facebook friends, Meredith changed her privacy settings to "friends of friends" -- and that's when the trouble started. Days later, the photo had reached Paul, who shared the picture with his 651,647 Instagram followers.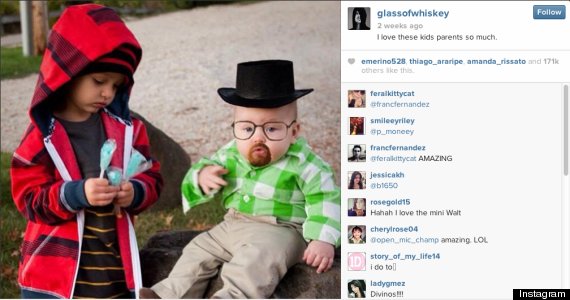 Reactions ranged from the completely positive to the excessively harsh. Some people claimed to be the boys' parents, but Meredith really started to worry when the commentariat started trying to identify the kids. She contacted Paul's publicist to ask him to remove the negative comments. But in the nearly two weeks the picture had been visible to the public, some bloggers and websites had concluded from the photo that it reflected poorly on her parenting skills.
Meredith told HuffPost that Paul called her on Thursday afternoon to apologize, but to reaffirm that he really enjoyed the photo. The photo was removed from his Instagram account at around the same time.
A representative for Paul had no comment when reached by The Huffington Post.
Debates have erupted in the past about including young children as part of more adult-themed jokes, notably when similar criticism was leveled at the video "The Landlord," which was produced by humor website Funny Or Die and featured Ferrell and 2-year-old Pearl McKay. The little girl curses in the sketch, prompting some to air their disgust in columns or comments, such as "Shame on you for teaching that baby to swear."
Adam McKay, Pearl's father and the director of the short, told Wired in 2007 that he wasn't worried "because Pearl's at this phase where she repeats things but doesn't remember them unless she says it like 20 times." He added, "She has no context for what it means. She didn't even know she was on camera ... I knew Pearl wouldn't remember, and sure enough she's never said it since."
Meredith said she has no worries about her kids, either. Although she learned a valuable lesson about what you share (or don't) on the web, she said she also hopes others aren't so quick to jump to conclusions about things they see online. As for the public response she's already gotten, she's trying to focus on the positive, from the like-minded to those who appreciate the picture for what it was: a funny joke.
"It's more criticism than any mom wants to have," she said. "I think if it were my choice [to put it out there], I could have been prepared."
Correction: An earlier version of this piece said that Meredith contacted Aaron Paul's publicist to take the photo down. She actually contacted them just to see if they could delete the negative comments on the post. The article has been updated to reflect that.
Support HuffPost
A No-B.S. Guide To Life
Related
Before You Go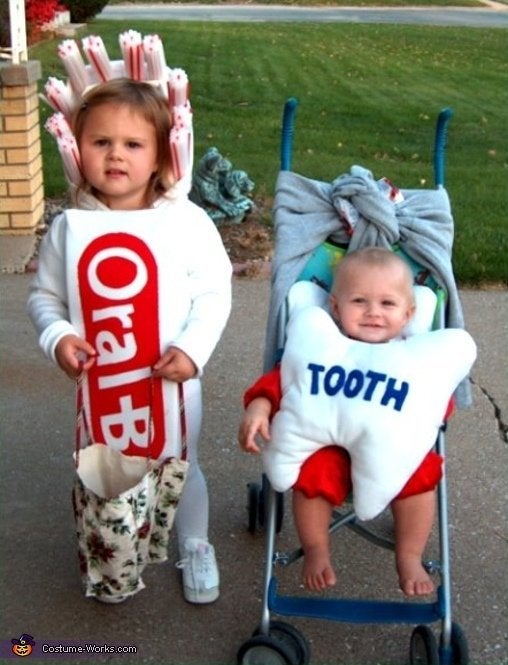 Family Halloween Costumes
Popular in the Community