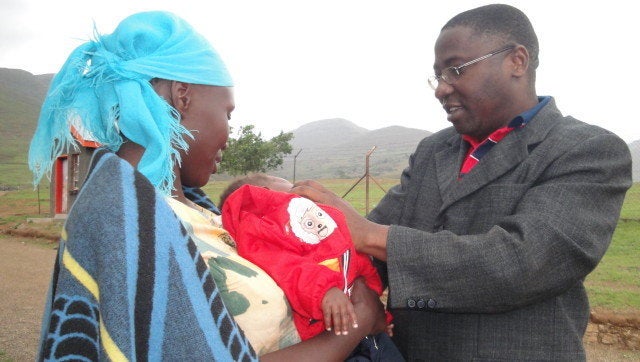 This post was written by Rhonda Zygocki, executive vice president of policy and planning at Chevron Corporation, and Frank Beadle de Palomo, CEO of mothers2mothers International.
The global economic crisis has caused many to reassess, refocus and redirect financial priorities. As a result, vital international aid to combat global health issues like HIV/AIDS is threatened. Reduced resources imperils hard-fought progress in protecting those who are often most vulnerable: women and children. To fill this void -- and save lives -- government agencies, corporations, international agencies and non-governmental organizations must partner, collaborate and convene to prevent and treat deadly diseases.
But there is good news: Mother-to-child transmission of HIV can be eliminated. Through education, voluntary testing and counseling, antiretroviral therapies, safe delivery practices and breast feeding protocols, we can ensure babies are born HIV-free. The key to providing women with the prevention, treatment and support they need is through collective alliances to help improve access to health care and social and livelihood support in places like sub-Saharan Africa.
Partnerships between governments, businesses, NGOs and community organizations can help ensure on-the-ground expertise be matched with adequate funding to make a notable impact. And business, working hand in hand with civil society, has stepped up in innovative ways to help fill gaps in this global effort.
Make no mistake: While partnerships are vital, the private sector and NGOs cannot do it alone. We need strong government and multilateral partners to make these contributions work. We encourage policymakers and government leaders to continue to prioritize their support for bilateral programs like the U.S. Presidents Emergency Plan for AIDS Relief (PEPFAR) and multilateral initiatives like The Global Fund to Fight AIDS, Tuberculosis and Malaria. Leadership by government partners in Africa is also an indispensable ingredient for success. Successful partnerships build local capacity for longer-term, sustainable progress in the fight against AIDS, an approach supported by the U.S. Global Health Initiative, which has implemented policies emphasizing country ownership.
These are wise investments, with a return measured in lives saved: less HIV transmission to children, more access to medication, treatment and counseling for mothers, and ultimately more people living longer, healthier lives. When aligned with the investments and capacity of the business community and the programmatic expertise and on-the-ground presence of NGOs, we can make those dollars work even harder.
Through collaboration, we can meet the UNAIDS goal of eliminating new HIV infections among children by 2015 and protect healthy motherhood. That is why Chevron, mothers2mothers, Pact and the Business Leadership Council recently launched a new partnership to strengthen efforts to prevent mother-to-child transmission in Nigeria, where nearly 75,000 babies are born with HIV each year -- the majority of which are due to transmission from their mothers.
This partnership will enable Pact to continue building capacity of on-the-ground organizations and support the Business Leadership Council's efforts to work with the government of Nigeria to develop and implement models for accelerated PMTCT delivery over the next two years. It will also lay the groundwork for mothers2mothers to expand its successful Mentor Mother model, which trains mothers living with HIV to work alongside health care providers to support and educate pregnant women.
This model tackles difficult and complex social stigmas and norms that often keep women from seeking the best possible care for them and their child. Women involved with Mentor Mothers are often more likely to receive proper antiretroviral drugs, deliver their babies in a health care facility or in the presence of a health care professional and disclose their HIV status -- all of which are strongly correlated to improved health outcomes and reduced HIV transmission.
By combining funds, experience and infrastructure we can tackle and defeat some of the most deadly diseases in some of the most impoverished regions. We encourage others to join us, so we may all come together to save lives and promote healthy communities around the world.
Calling all HuffPost superfans!
Sign up for membership to become a founding member and help shape HuffPost's next chapter