Whenever I visit Israel, I sleep in a bed made for a child.
This is not because I cannot find a hotel room, but is it because of the heartfelt generosity of a little boy named Daniel. As I close my eyes in his tiny twin bed, I wonder what his dreams are...

Daniel Yuval, age 11, took a trip to Northern Israel to enjoy the rare sight of snow in Israel. Little did they know that a trip of joy would turn into a nightmare.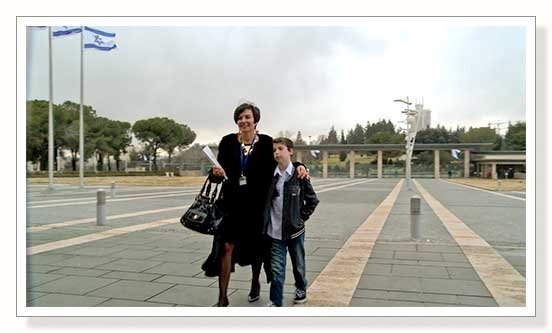 As Daniel was playing in the snow with his sister, Amit -- sticking out their tongues to catch the flakes in between throwing snow balls at each other -- the weight of his 11-year-old frame was strong enough to set off a landmine.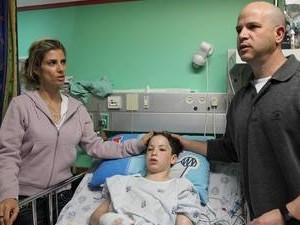 On that cold winter day, a landmine went off in the heart of his mother, Tali Yuval, as she strapped her three younger children into their car-seats and followed the helicopter through the traffic as she corresponded with the emergency medical team to confirm that her two children were still alive overhead. Her husband, Guy, drove the family car 'in shock.' This was a mother's worst nightmare.
From across the world, I was called to the side of young Daniel Yuval to answer the 'call' of a young boy -- who did not reach out for sympathy, but rather a call to action to remove landmines in his homeland of Israel and worldwide.
In June 2010, Jerry White, co-recipient of the Nobel Peace Prize and the landmine survivor who led the late Princess Diana through Bosnia-Herzegovina three weeks prior to her tragic death, personally flew to my Roots of Peace offices in San Rafael to see if an American mother would answer the 'call' of a child. Jerry asked me to join him in Israel, to meet a young boy who had a vision for a MINE FREE WORLD. As a mother of four children during Summer vacation, this was a big task to consider. Yet, I was deeply touched by Daniel's story of courage, and flew with my trusted friend, Jerry, the following week.
Upon arrival, I was 'awakened' to the fact that there are an estimated 1.5 million landmines and unexploded ordnance in The Holy Land today. Whether the boot of a soldier or the sandal of a child in Israel or Palestine, these seeds of hatred sown in both the soil and soul cause pain and prevent future generations from living in peace.
And so the journey began.
I facilitated strategic meetings with President Mahmoud Abbas (Palestinian Authority), Prime Minister Netanyahu (Israel), His Holiness Pope Benedict and Pope Francis (Vatican). Thanks to the efforts of Daniel Yuval and Roots of Peace, unanimous mine action legislation was brought forth in Israel's parliament which resulted in removal of landmines from The Fields of Bethlehem.
It took seven visits to the Middle East this year alone to achieve Daniel's dream to begin removing landmines in The Holy Land.
But there is still more to do. The dream of that 11 year old is beginning to come true. Today, he is an active 14 year old, doing all the things teenagers do.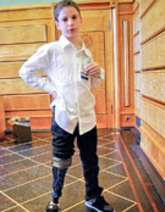 As I prepared to depart for the airport that November morning two weeks ago, I went downstairs to say 'good-bye' to Daniel. My eyes gazed down at this courageous boy, as his prosthetic leg was poised beside his bed waiting 'to run' again...
REAL LIFE. REAL NEWS. REAL VOICES.
Help us tell more of the stories that matter from voices that too often remain unheard.