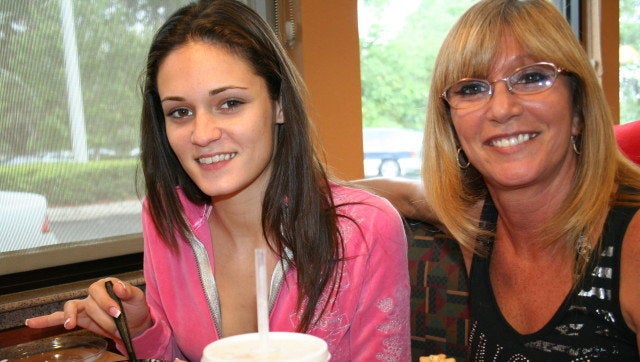 A mother and daughter in Tampa, Fla., have a unique way of expressing family togetherness -- by creating a pornography site and shooting sex scenes together.
The duo -- known collectively as "The Sexxxtons" -- like many porn performers, don't give out their last names. Jessica, the mom, and Monica, the daughter, have been creating kinky content for their self-titled website for the past year and have just released a DVD.
In order to confirm the Sexxxtons are really related and not just claiming that as a marketing gimmick, The Huffington Post reviewed both women's driver's licenses, and their private Facebook pages, as well as private family photos going back 20 years.
Although mother and daughter have sex in the same room at the same time -- often with the same male or female partner -- they insist that their encounters are not incestuous. For legal and personal reasons, they don't actually touch each other during sex scenes.
"We don't have a problem doing two-on-one," Jessica, 56, explained to The Huffington Post. "We will have sex with one man, but not interact with each other."
Monica, 22, said the kinky choreography is a lot more difficult than her mom makes it sound.
"It's not easy to do," she told HuffPost. "Our lips never touch and that can be a problem when filming."
Those precautions, the Sexxxtons said, are what keeps their scenes from legally being incestuous, even if experts like Beverly Hills-based psychiatrist Dr. Carole Lieberman, who has never treated the Sexxxtons, considers their activities to be "emotional incest."
"This crosses so many lines, it's like a labyrinth," Lieberman told HuffPost. "Even if they're not having sex with each other, it has to be titillating to one or both or them, so it crosses the line since sexual arousal comes into the mix."
GALLERY: THE SEXXTONS (NSFW) (Story continues below)

The Sexxxtons: Mother And Daughter Porn Team
Monica acknowledges the mother-daughter porn is enjoyable. "I enjoy the sex and I enjoy being with my mom," she said. "During the scenes, I think about how we're going to be filthy rich."
Money was a factor in deciding to start the family business. Three years ago, Monica said the family -- including her younger brother -- were about to get evicted from their home. She looked at her options, and decided to become a dancer and also get into porn.
"I've always been an exhibitionist and sex just oozed out of me," she said, adding that she lost her virginity at the age of 12. "It was my idea. I dropped out of school in ninth grade and figured this was a good way to earn money."
Monica worked as a dancer and got her mom into doing porn first before she did it herself. Jessica agreed to her daughter's suggestion, saying they've always been open with each other.
"The money was part of the reason, but so was fun, and having sex with hot guys," Jessica said, adding that she prefers her new job to her old career, bartending, for one simple reason: "You don't have to get dressed to go to work."
For the most part, the Sexxxtons only have sex in the same room when on camera, but Jessica said they did do a threesome with one of her boyfriends one night. "We were talking about sex and it happened. We all had a good time," she said.
Monica has no plans to have a child of her own, but she and Jessica agree that if she had a child who wanted to go into the family business at a legal age, they'd allow it.
There are limits though: No animals and Monica doesn't want to film scenes with her younger brother. "He's a virgin and I don't want his first sex experience to be with someone who is just doing it for money and isn't into him," she said.
Family-oriented porn can be a fairly common fantasy scenario, but it is rare to have real family members work together in scenes.
In 1998, "Three Brothers," a gay porn film, featured three real-life brothers, Vince, Shane and Hal Rockland, in a sex scene with an unrelated male but they didn't have sex with each other.
In addition, the Milton twins, Cali Marie and Cherish, have done scenes together since 2004, usually not touching. In 2008, porn star Elli Foxx filmed a scene with her mother, Desi, for a film called "Wanna F*** My Daughter Gotta F*** Me First 2."
Monica may see filming sex scenes with her mother as a ticket to the big time, but adult film historian Bill Margold doubts they will be able to parlay their notoriety to mainstream porn.
"The adult industry is not that stupid," Margold told HuffPost. "They have enough problems without creating on-camera incest."
Related
Popular in the Community