By Lauren Markoe
Religion News Service
WASHINGTON (RNS) The way fans reacted to Dolores Hart's decision to become a cloistered nun, you might have thought the movie star had announced her intention to kill herself.
Even close friends and family could not fathom why this Grace Kelly look-alike, who gave Elvis his first on-screen kiss and had her pick of acting jobs, would stow herself away in a nunnery for the rest of her life.
As if to test her resolve in those weeks before she left Hollywood, Universal Studios offered her a role opposite Marlon Brando, a role she turned down shortly after she broke off her engagement to Don Robinson, a kind and handsome businessman who loved her intensely.
"Even my best friend, who was a priest, Father Doody, said, 'You're crazy. This is absolutely insane to do this,'" Mother Delores Hart remembered in a recent interview, conducted 50 years after she entered the Order of St. Benedict.
To try to explain her decision to a world that's perhaps even more enamored of celebrity than it was a half century ago, Hart, 74, has written "The Ear of the Heart," a memoir of her life on screen and behind the convent walls.
Even though she wasn't raised Catholic, 9-year-old Dolores decided to convert when she found meaning and comfort in the rituals of her Catholic school. At 24, she quit Hollywood to answer a call she heard from God. "I left the world I knew in order to reenter it on a more profound level," she writes.
But others took the abandonment of her career as an almost personal affront.
"It just offends so many that I would somehow look at that and say, 'It's useless, it's meaningless, there is something more important. Because for most persons, success and money and fame are the things that really make life worthwhile, and so you don't just dismiss that,'" she said.
"Even my beloved aunt, who was a sister of St. Joseph, she was livid," Hart continued. "Because she loved having a niece who was famous."
Hart's book tour will take her across the country, and away from the place she has rarely left since she abandoned her movie star dream life, and where she is now prioress. The Abbey of Regina Laudis is 450 acres of farmland, barns and chapels in rural Connecticut, 100 miles north of New York City — an abbey that, not coincidentally, includes a working theater.
Founded by Hart and the late actress Patricia Neal, the open-air theater seats 300 and stages both dramas and musicals at reasonable prices for people who could not otherwise enjoy live theater. And yes, they have produced "The Sound of Music," Hart confirmed without having to be asked.
Hart made 10 Hollywood movies from 1957 to 1963, including two with Elvis, and "Where The Boys Are," the blockbuster 1960 comedy in which she stars as a college girl looking for spring break fun — and perhaps premarital sex.
She is most proud of her supporting role in the 1959 Broadway comedy, "The Pleasure of His Company," for which she received a Tony Award nomination, and the film "Lisa," (1962) in which she stars as a Jewish woman tortured in a Nazi concentration camp.
To prepare for the role, she wanted to talk to a survivor who had actually lived through the Holocaust.
Suzanne Zada, a young Jewish woman who had survived Auschwitz and immigrated to Los Angeles, hated to be an object of curiosity for those impressed by her wartime trauma. But she agreed to meet Hart at a restaurant on the Sunset Strip, and remembers how disarmed she was by the first thing the young actress ever said to her:
"Before I sit down, may I tell you, on my way here I was considering myself a real pig for wanting you to remember your suffering, just so I can do a better acting job."
Hart was nominated for a Golden Globe for her portrayal of "Lisa." Today, Hart is the only nun who is a voting member of The Academy of Motion Picture Arts and Sciences (the Oscars).
Maria Cooper Janis, the daughter of screen idol Gary Cooper and one of Hart's best friends, said Hart found a way "to keep a foot in Hollywood" while fully embracing Benedictine life, which keeps the nuns mostly isolated, and on a strict schedule of prayer, study and manual labor.
A painful neurological disease, peripheral idiopathic neuropathy, now limits her physical activity, but for decades, Hart worked in the abbey laundry and in the wood shop, building coffins.
She also carefully tended her friendships from her movie star days, and made Regina Laudis a welcoming place for those who needed a spiritual break — or those who just missed her and her borderline naughty sense of humor.
"Built like a brick shipyard," is how Hart admiringly describes her friend, the retired actress Valerie Allen, and makes herself laugh when she remembers Allen's questions about Catholicism:
"Once we were talking about heaven and Valerie said, 'I'm not Catholic, so what does it mean, when you go to heaven, that you're going to get your body back? And I said, 'That's what the Lord says.' And Valerie said, 'When I go I'm going to ask him for my boobs when I was 18, my waist when I was 33 and my ass when I was 36.' And I said, 'Valerie, if that's what you want, ask for it. Faith teaches you to ask for whatever you need.'"
It was Janis who had introduced Hart to Patricia Neal, when the Oscar-winning actress was struggling with weighty personal problems. The two developed a strong bond. Neal, one of many in show business to seek rest and counsel with Hart at Regina Laudis, is the only one to become a Catholic on her deathbed at the abbey, and to have been buried there.
Janis — along with Hart's devoutly Catholic fiance — was one of Hart's friends who did not argue when told that she was leaving for the convent. Janis said she did not assume, as many others had, that her best friend was "running way from men, or Hollywood or running away from life."
"I knew this was absolutely what she had to do," said Janis, who is Catholic, but said she is moved more by the spirit of her religion than its doctrine. "You don't stand in the middle of the tracks of a speeding train coming at you."
Zada, the Holocaust survivor who became fast friends with Hart, did try to talk her friend out of monastic life.
"I was very upset and actually for a couple of years I was still writing her angry notes about throwing her life away," said Zada, who still travels from Los Angeles to visit Hart at the abbey.
"If you heard what I hear," Hart once told Zada, "you would come, too."
Zada said she came to realize that even though she would never understand what compelled her friend to give up one life for another, Hart did understand, and that was all that mattered.
"Everything comes from her heart," Zada said. "As corny as it sounds."
Related
Before You Go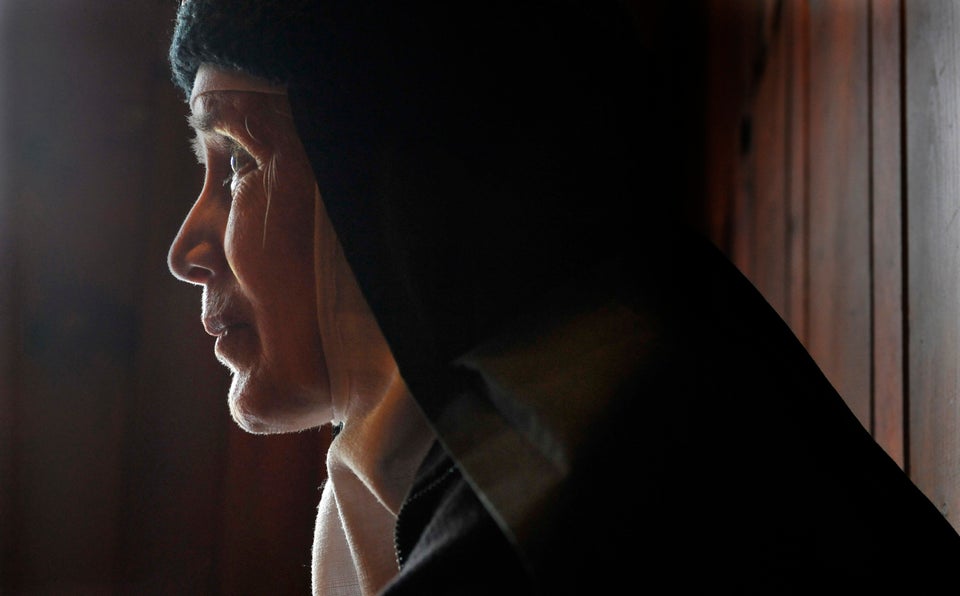 Dolores Hart
Popular in the Community