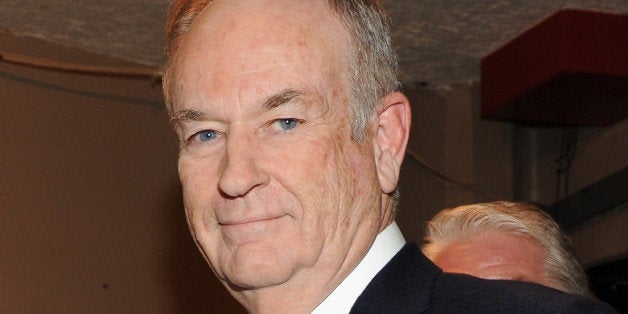 NEW YORK -- Mother Jones has called on Fox News host Bill O'Reilly to apologize for the "violent tone" of his response to the magazine challenging his recollection of covering the Falklands War.
In a Friday letter to Fox News executive vice president Bill Shine and a network spokeswoman, Mother Jones co-editors Clara Jeffery and Monika Bauerlein said they "welcome criticism," but that O'Reilly's suggestion that Washington editor David Corn deserves "'to be in the kill zone' crosses a line."
"Like everyone in media today, we are concerned about the safety of our staff," they wrote. "We'd have hoped that statements with this kind of violent tone would not come from a fellow media professional."
Mother Jones urged O'Reilly to apologize on air Friday night, but according to a transcript released that afternoon, the Fox News host did not and continued taking aim at the report, which he decried as "a political hit job." In a brief Friday afternoon statement, O'Reilly described "kill zone" as "simply a slang expression."
O'Reilly called Corn "a liar" and "despicable guttersnipe" the previous night after Mother Jones reported that the Fox News host has a "Brian Williams problem," a reference to the embattled NBC News anchor, whose claim he came under rocket-propelled grenade fire in Iraq proved false.
"For years," wrote Corn and senior editor Daniel Schulman, "O'Reilly has recounted dramatic stories about his own war reporting that don't withstand scrutiny -- even claiming he acted heroically in a war zone that he apparently never set foot in."
Corn and Schulman reported how O'Reilly has said he was in a "combat" situation during the 1982 Falklands War between the United Kingdom and Argentina. But O'Reilly, like other journalists covering the conflict, was based in Buenos Aires, more than 1,200 miles from the remote islands.
O'Reilly did not respond to requests for comment from Mother Jones before publication, but went on the offensive in speaking with reporters Thursday evening. He acknowledged never reaching the Falkland Islands, but said he covered the Falklands War from Buenos Aires, just like other foreign correspondents. O'Reilly also took personal shots at Corn, a prominent liberal journalist and MSNBC commentator.
"When everybody writes the truth, I've talked to about eight or nine reporters, and when they verify what I'm saying, because it's easily verifiable, then I expect David Corn to be in the kill zone," O'Reilly told TVNewser. "Where he deserves to be. CBS News has the footage to this day. Everything I said about my reportorial career — EVERYTHING — is accurate."
Mother Jones also challenged O'Reilly's claims about the scale of violence in Buenos Aires after the war ended, which he also responded to after publication.
On Thursday night, O'Reilly suggested in interviews with Politico and The Washington Post that covering the violent protests in Buenos Aires qualified as "combat."
Some journalists present during the protests challenged that description on Friday. Frank Sesno, director of the George Washington University School of Media and Public Affairs, who covered the war from Buenos Aires, said on CNN that there were "threatening" demonstrations outside the Presidential Palace but that "it wasn't a war zone." Veteran journalist Jim Clancy, who covered the conflict for CNN and recently left the network after 34 years, objected to the use of the term "combat" in a series of tweets.
This post has been updated based on a transcript released Friday afternoon of O'Reilly's show that night and with a statement from O'Reilly.
Related
Popular in the Community