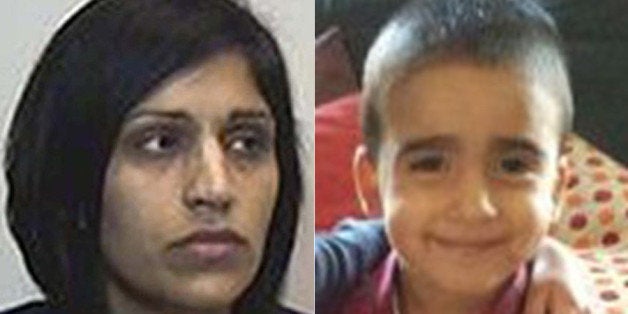 A mother in Scotland who pummeled her 3-year-old son to death and stashed his corpse in a suitcase was sentenced to 11 years in prison on Monday.
Rosdeep Adekoya, 34, had faced murder charges for killing Mikaeel Kular but pleaded guilty to culpable homicide, the Guardian reported. A high court judge in Edinburgh said Adekoya received a lesser sentence because it was determined she did not mean to kill the child.
But the details of the case are heartbreaking. Testimony indicated she began beating her son with closed fists when he became sick repeatedly after a restaurant visit in January, according to the Guardian. The boy became listless and died two days later, never receiving medical attention. Adekoya wrapped his body in a duvet and stuffed it in a suitcase and dropped off Mikaeel's twin sister at daycare. Then she buried the boy's body in woods 25 miles away behind her sister's house, telling police the boy went missing.
The boy's disappearance had generated UK-wide headlines and a massive search that involved hundreds in the community and in law enforcement.
According to the BBC, Judge Lord Glennie told Adekoya her actions were "cruel and inexcusable" and "robbed Mikaeel of his young life."
The outlet noted that Adekoya suffered from depression and attempted suicide in 2001.
Perhaps foreshadowing the violence to come, the mother of five's Internet searches before the killing included the phrases "I love all of my children except one" and "Why am I so aggressive with my son," the Telegraph noted.
Related
Popular in the Community