Kim Gray found herself in a Michigan dope house unable to get high. The drugs didn't have the same euphoric effect she was used to. She was scared. So she prayed. Her prayer turned into a hymnal, which led to her getting kicked out of the dope house. Gray, 38, was homeless and facing a drug dependency that lasted more than 20 years.
She left her family for the streets, she told The Huffington Post. Realizing it was time for a change, three years ago, she returned to her childhood church determined to get clean. After she went through rehabilitation, she was able to reside at South Oakland Shelter in 2014 after she got clean. Caitlyn May, the woman Gray calls her "guardian angel," helped her start a HandUp page, an ongoing donation-based campaign for those in need.
"I lost everything... I thought that I was gonna die on drugs."
With HandUp, Gray has been able to pay for her utilities and move into a new home. Her latest campaign request is to raise money for a car.
See how you can help. Story continues below.
"I don't have transportation... it's just to make sure that I'm actively in my daily routine without it being a fight," Gray told HuffPost. "It's not like I'm gonna continue my dedication, whether I raise the money or not, but I continue to try to go for myself so that I can know that I'm evolving and not merely just existing."
With her HandUp campaign, Gray has raised $500 towards a car, but she said she could still use more donations. A vehicle will open a new world for Gray. Not only will she be able to hold a steady job, but she'll also be able to go take her GED.
Gray has been studying for her GED and is ready to take the test soon. Despite a 2007 car accident which caused her to have seizures and memory loss that delayed her learning curve, Gray said she has went from having a second grade reading level to a high school reading level in just a few years.
The testing center is in Detroit, but she's 30 miles away in Pontiac, Michigan. She takes the bus everywhere, even in the sometimes harsh Michigan weather, but it's unreliable, according to Gray. Whenever she's tried to take a bus to take the test, she said she's missed it because the buses left earlier than scheduled.
"Whether it's 20 below outside or it's a hundred degrees outside, I go… everyday is a struggle for me."
She told HuffPost that she's continuously working hard to get these aspects of her life in order so she can get custody of her children.
Gray has been clean for the past three years but she said she is in a constant fight to stay on track. She is determined to fight the urge to relapse and make the same selfish mistakes that caused her to lose her family. She keeps a busy schedule volunteering at her church and in the community, advising people who are in a poisonous situation like she was once in. She passes along information of different shelters and resources that people in her community may not know about. After she earns her GED, she wants to enroll in college and study law to provide legal support to disenfranchised people.
"It's a lot of people that don't know that if you come out of drugs, there are organizations that will help you because you're an addict," Gray said. "This is an illness… people look at it like 'oh, you're a junkie' but it's an actual disease of the mind and the body and until it's arrested, you are lost... I wanna just keep advocating for people that's getting clean."
Gray knows she's still on a journey to recovery. She said she's taking it one day at a time, ensuring she continues to make decisions with her family at the forefront of her mind.
"I'm better. I might not be the best, but I'm better and I'm still working to get even better."
This holiday, be reminded of why this season matters most -- giving back. HuffPost Impact & Innovation and HuffPost Voices have teamed up to feature stories from 12 families in need over 12 days between Thanksgiving and Christmas. Moms, Dads and kids talk to us about working to get by, what they might go without this holiday and how you can help. Read all the stories here.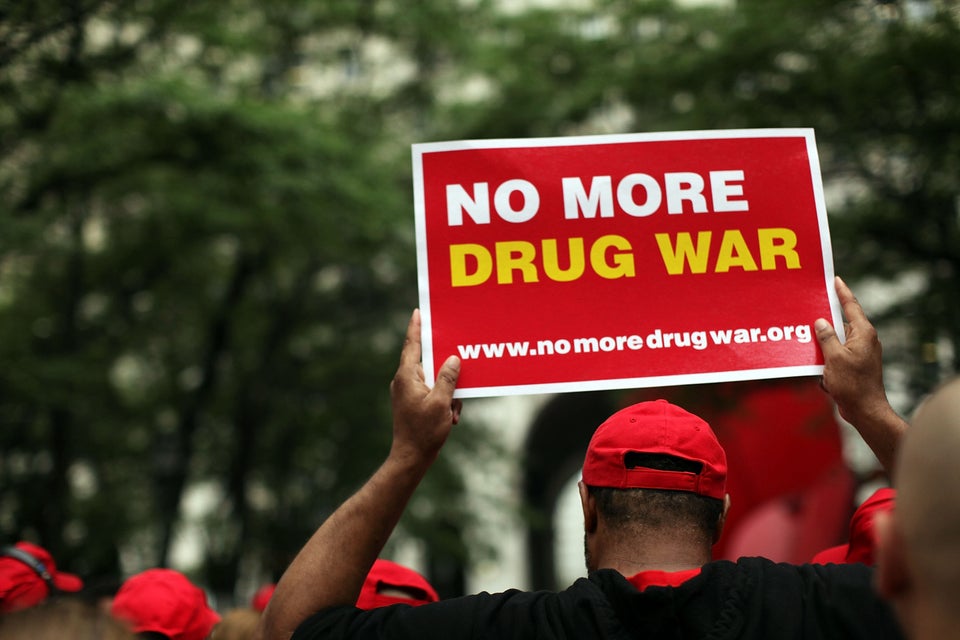 27 Reasons Why U.S. Shouldn't Lead War On Drugs
Popular in the Community