Little Landon has racked up over 24,000 Instagram followers for his similarities to the two-time NBA MVP, and has been anointed "Stuff Curry," a name his mother, Jessica Benton, didn't think was so funny at first.
When pictures of Landon went viral on social media in February after one person called him "Stuff Curry," Jessica was initially confused. There were other comments on Landon's pictures fat-shaming the baby, too, which shocked and upset his mother. After all, who fat-shames a baby?
She didn't know who Steph Curry was at first, but a quick Google search soon answered her questions. And instead of ignoring the online attacks on Landon, Jessica decided to take advantage by promoting a message of positivity.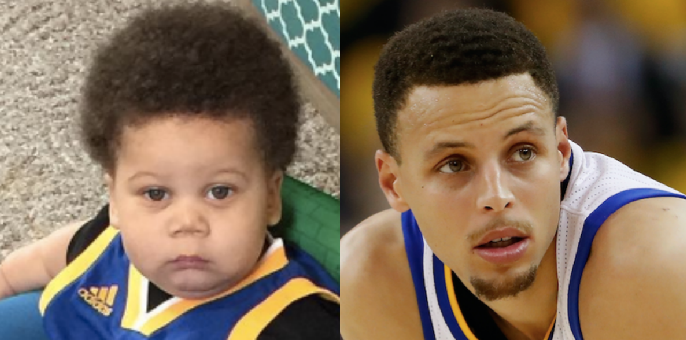 What people don't realize about the family is that Jessica lost her 20-year-old son to suicide when she was pregnant with Landon. His death has inspired Jessica to lovingly run @babylandonlee on Instagram with tremendous savvy. She recalled her elder son telling her about being bullied in high school, but she didn't know how much those episodes of bullying could've affected his self-esteem.
"I can't say it's directly due to bullying or anything, but I have one kid who's not here with me who told me that people made fun of him. I'm not going to have another kid think that the whole world was laughing at him," she said.
Now, nobody's laughing at Landon. If anything, we're now joyously laughing with adorable baby Stuff and his awesome mother Jessica.
Stephen Curry: From Rookie To Stardom