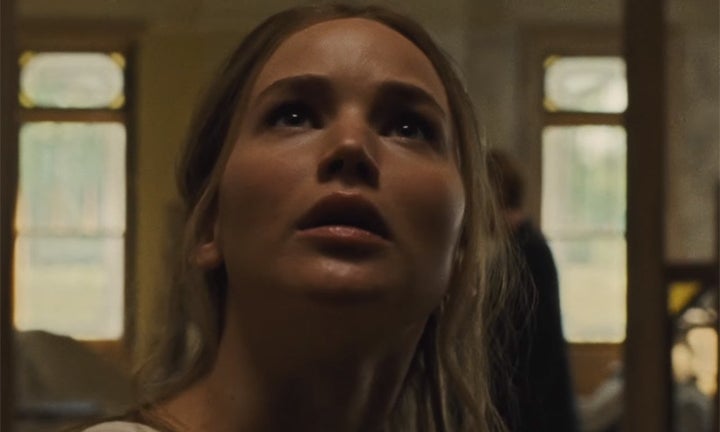 Movie Review- Jackie K Cooper
"mother!" (Paramount Pictures)
If you are a moviegoer who likes to find symboli8sdm in the films you see then do I have a movie for you. Darren Aronofsky's latest epic "mother!" has enough symbolism, allegory, implications and inferences to feed a thousand movies. The good thing is you can find in it what you want it to be; the bad thing is it is not worth wasting your time on.
Things get off to a believable start as you meet mother (Jennifer Lawrence) and her husband Him (Javier Bardem). He is a writer/poet and she is his muse/housewife. They live in an isolated house in the country which is almost Eden-ish in its simplicity and beauty. The couple is happy though he has encountered writers block.
This is seemingly corrected when a man (Ed Harris) shows up at his door supposedly thinking the house is a bed and breakfast. No problem as Him asks the man to stay the night. mother is not happy but abides by her husband's wishes. Next day a woman (Michele Pfeiffer) shows up. She is the man's spouse and she is as snarky as the day is long, especially to mother. She of course moves in also.
At this point I thought I had it all figured out. Patting myself on the back I saw mother as Mother Earth trying to live with Him, who represented all mankind. The outsiders were the evil acts that have befallen our planet. Was I not the smartest or what! Answer, no I wasn't because at this point the train jumped the rails.
Soon there was a Cain vs Abel scene and later a version of Christ coming to be sacrificed. The religious images fell like rain on the roof but then segued into fan mania and a lot of chanting and rioting. Maybe my first theory had something to do with writer/director Aronofsky's vision but it was soon made an amalgam of multi symbolic images and occurrences. The film runs helter skelter thru a series of unbelievable happenings and they feed into chaos. The end leaves you feeling it was all much ado about nothing.
The acting is solid but Lawrence feels miscast. Her mother is too weak and vulnerable and this is not Lawrence's forte. I kept waiting for Katniss to show up and clean house. I did particularly like Pfeiffer who nailed her character from the time she entered the house. She was consistently malevolent from start to finish.
The film is rated R for profanity, violence and brief nudity.
"mother!" is the kind of film where anything and everything is thrown up on the screen. Nothing has to make sense because it is all a matter of interpretation. Some may call that art but I call it befuddlement. There is no central theme to the film because it is all in the audiences' heads as to what means what.
It is hard to imagine that most members of the audience will face the final scene of the film, if they last that long, and say, "Well that explains everything". It doesn't. Aronofsky might have thought by flinging paint against a canvas he made a masterpiece. He didn't. He made a mess.
I scored "mother!" a symbolic 3 out of 10.
Jackie K Cooper www.jackiekcooper.com
Related
Popular in the Community