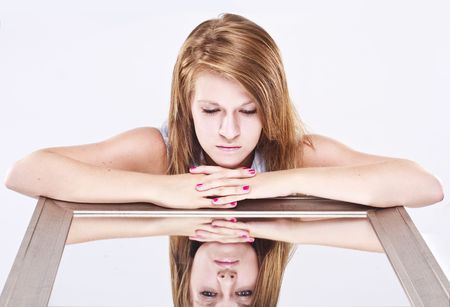 Over the many years, while working with women's wardrobe needs, I have asked them what they love and dislike about their bodies and their wardrobes. During the course of sharing thoughts, many sentences start with the next two words ... My Mother! I heard comments such as my mother said that I was short-waisted. My mother said that I should never wear purple. My mother said that I never dress up and need to wear more fashionable clothes. Some share that their mothers always praised them and told them that they were beautiful. After many of these conversations, I realized that these comments still resonate many years after they are expressed.
What do you hear in your head when you look in the mirror? Do you hear the words of past comments from family members, former boyfriends, current or past relationships?
One day while working in St. Louis, I was coordinating the wardrobe of a woman executive who was in her 60s. I asked her to stand in front of a full length mirror and see the patterns of her body shape. All women's bodies are shape and architecture and all clothing comes from a pattern of shape. The key is to find the manufacturer that has the same pattern as your personal silhouette. I teach women that they are not a size number sewn into a garment. They can't tie their self-esteem to the number. They are a size range. She had a hard time really looking at herself. When I showed her that she was long-waisted she turned to face me and exclaimed "You are wrong! My mother always told me that I was short-waisted and that has been a challenge to me my whole life when searching for the right pieces of clothing." I could tell that I had hit a sore spot so I carefully showed her the great space she had and how long-waisted she truly was. She was silent and for the first time truly looked at her reflection. What a revelation to get past her past and to find a friend in that reflection of herself.
Now that the Fall 2016 season is here try this exercise. Stand in front of your full-length mirror. Enjoy what you are looking at. Clear your mind of all the chatter. Learn your space. See which manufacturers in your closet fit you the best. They are engineered with a pattern that enhances yours. Tip: when you find a pair of basic jeans or pants that you love, save the price/style ticket. When you need a second pair take the ticket with you to easily find a newer best friend.
Be your own best friend! Take a trip to that mirror. Make it your self-esteem spot and erase the old comments from your mind. Replace them with the beautiful unique you!
Share any "Mirror" stories with me at jax6014@a
PHOTO GALLERY
Post 50 Actors Before They Were Stars
REAL LIFE. REAL NEWS. REAL VOICES.
Help us tell more of the stories that matter from voices that too often remain unheard.