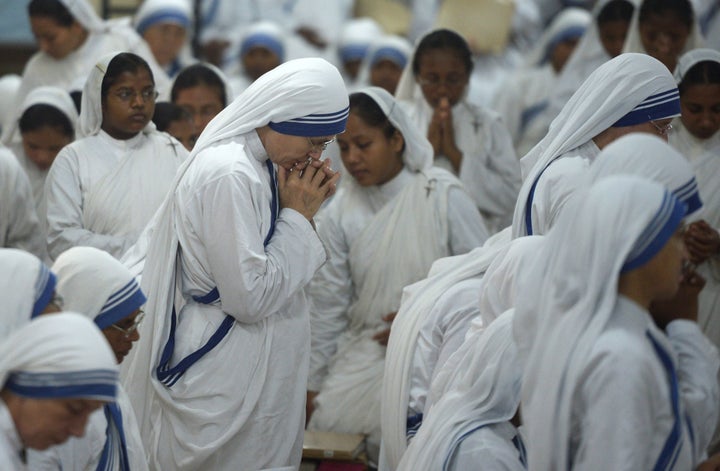 In a statement that is sure to dishearten many prospective parents and may even challenge the well-being of hundreds of orphaned children, the Missionaries of Charity have sought de-recognition of 13 of its 16 orphanages across India from the government.
The Missionaries of Charity, founded by Mother Teresa, have reportedly sought de-recognition from the Central Adoption Resource Authority (CARA) on account of "ideological differences" — mainly due to the fact that the new guidelines notified by the Ministry of Women & Child Development (WCD) allow single, separated or divorced individuals to adopt children.
Also of concern to the organization is that gay or lesbian individuals might adopt children from their orphanages.
"The new guidelines hurt our conscience. They are certainly not for religious people like us. ... What if the single parent who we give our baby [to] turns out to be gay or lesbian? What security or moral upbringing will these children get? Our rules only allow married couples to adopt," said Sister Amala, the head nun at the Missionaries' home in North Delhi, according to NPR.
The Missionaries previously had the freedom to accept or reject prospective parents at will. The new guidelines require potential adopters to register with CARA online to ensure greater transparency in the adoption process.  
The Times of India reports that at least two cases have come to light recently where Mother Teresa's orphanages refused applications from single prospective parents.
"Earlier parents would approach the orphanage and it was entirely the prerogative of the institution to give the child for adoption. Now prospective parents have been registered online and there is no question of a single parent being rejected. We can track cases online,'' a senior CARA official told TOI. "They have ideological issues with our adoption guidelines such as they do not want to give child to separated or divorced parents," he added.
"But it's the rule, and they [Missionaries of Charity] will have to abide by it. We told them there is a no reason to refuse a single parent who is eligible and fulfills all conditions in the guidelines. Why deny a good home to a child where there are such a large number of children in orphanages waiting to be adopted," CARA secretary Veerendra Mishra told Hindustan Times.
The Missionaries of Charity also object to the fact that the new guidelines allow the parents to choose a baby from six available choices.
"Mother [Teresa]'s idea was adoption to counter abortion. When a woman gives birth to a baby, is she allowed a choice?" Sister Amala told The Indian Express. "She gets what God gifts her. Here too we allow only one chance, we match the baby as per the parents' background, skin color, etc. But parents are not allowed a choice, even if the child has a deformity. We cannot allow parents one option out of six to adopt children." 
WCD minister Maneka Gandhi said she hopes others will get onboard with the new adoption guidelines. "We are trying and persuading them because they are valuable, good people and have experience. But if they do not follow the central guidelines, we will be left with no option but to de-recognize the orphanages run by them and shift the children to other places," she said.
Gandhi, who is reportedly passionate about this endeavor, is saddened by the fact that only 1,200 children have been adopted so far, due to several bottlenecks in the adoption procedure. According to a report in The Indian Express, there are over 9,000 parents waiting to adopt but only 800 children are free for adoption.
Gandhi is also alarmed by the fact that prospective parents are now moving to China to adopt babies, as the Indian legal systems are too slow and inefficient.
This piece is adapted from a piece first published in HuffPost India by Prajakta Hebbar.
PHOTO GALLERY
Adoption Portraits
Calling all HuffPost superfans!
Sign up for membership to become a founding member and help shape HuffPost's next chapter