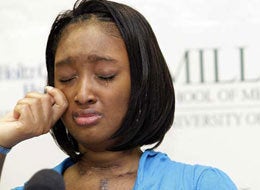 I watched this video on GlobalGrind.com, astounded, as two uniformed police officers manhandled this bloodied, black male teenager. I could not believe what I was seeing. I have since read that the two grown men choked and beat 14-year-old Trevor Casey so badly that his own mother, Karen, was unable to recognize him afterwards. He was not a "thug," he was a child. He could've been yours or mine. I am not trying to rush to judgment against the police officers, but it was clear from the video that something obviously went wrong.
Writ large in the video, a metaphor: an overly aggressive and out of touch system using excessive force on our youth and our communities.
But the video tells a larger story than the violent incident visited upon the Caseys of Toledo, OH. It's a story about the on-going conflict across our country between our communities and the agencies created to police them. Too often, these victims are black males. This is important to note since I've come to realize that, because this incident has been largely overlooked by the mass media, and also because it's dawned on me that our children may not be safe.
As a mother of two beautiful daughters and one son, I am horrified at the way that our young black males are stereotyped: as negligible and disposable and destined for trouble. Mortified, then, is a good word to describe my reaction at having seemingly witnessed an attack on thin-limbed Trevor, who can't weigh more than 115 lbs -- including his non-threatening attire: summer shirt and wind shorts.
I'm writing this in support of Trevor and Karen Casey and anyone else who has suffered at the hands of those who have a sworn duty to protect and honor them. I'm also championing anyone who is working towards ending brutality -- including law enforcement personnel who do the right thing for their agencies and their communities. However, I hope we stop for a moment and begin to analyze or explore why these confrontations continue to occur and what's being done to stop them.
Until justice is served in this matter, we should all be vigilant in holding accountable not only those who use their authority and force to undermine our rights as citizens -- but also all of the officials, officers and citizens who let them get away with it.
A fund will be established to aid the Caseys in their legal proceedings and I will be pleased to contribute and encourage you all to do so, as well. Any amount you can give will help. No amount is too small. I will be sending out the information once the fund is set up. Until then, please spread the word.