September is National Recovery Month, but many must make the conscious decision to remain in recovery 365 days a year.
Dawn Nickel, PhD, began her recovery journey in 1987 and returned to treatment in 1989. For the next 11 years, she remained clean from her drugs of choice, cocaine, alcohol, pot and pills. However, as the years went by her recovery efforts slackened as she focused on raising her daughters, a new marriage (to another recovering addict), and going back to school. When her mother passed away Nickel relapsed on pills to cope.
"When my mom passed away in 2000 I thought that taking pills would dull my pain," said Nickel. "It did, for a few days. Fortunately, I had enough recovery to know that I wasn't interested in returning to the addict lifestyle, so I stopped."
As of May 2016, Nickel, who credits her two daughters as the main motivation behind her recovery, has celebrated sixteen consecutive years of complete abstinence from substances as well as the new success of her online social community, She Recovers.
"The premise of She Recovers is that we are all recovering from something," said Nickel. "We recover from drug addiction, alcoholism, codependency, workaholism, sex and love addiction, and eating disorders."
Outside of substance abuse, Nickel has battled workaholism and colon cancer.
"We recover from depression and other mental illness, burnout, anxiety, stress, trauma, grief, abuse, self-harm, cancer and chronic illness," explained Nickel. "We recover from having our hearts broken, from losing our marriages, our homes, or our jobs."
In just five years, the She Recovers Facebook page, which Nickel began with her daughter, Taryn, has grown a loyal and engaged online audience of over 250,000, with a reach of over 750,000 per week. The majority of community members are women between the ages of 24 and 54 who live in the United States and are recovering from addiction and other life challenges.
"We want as many women as possible to know that that they too can live a life of hope, health, and happiness in recovery," said Nickel, of her mother-daughter operation.
The Facebook page has been listed as a top recovery blog by RehabReviews (2015), The Clearing (2016) and Addiction Unscripted (2016).
Around the time Nickel created the Facebook page, her daughter, also in recovery, completed training to become a 'Yoga for Recovery' instructor. She'd been teaching yoga for four years by then but wanted to teach people in recovery specifically. In addition, their dear friend, Sharonlee Latham, had moved down to the Riviera Maya (Mexico) to start her business Paradise Wellness.
In Nickel's eyes, the stars had aligned and the timing seemed right for the three women to collaborate on retreats and expand She Recovers.
"We decided to start offering 'Sacred Pause' recovery retreats for women recovering in all areas of their lives, starting with an inaugural retreat in Tulum Mexico in November 2012," said Nickel.
Since the first retreat, She Recovers has gone on to do 11 retreats, with Sharonlee remaining a key partner in the Mexico retreats.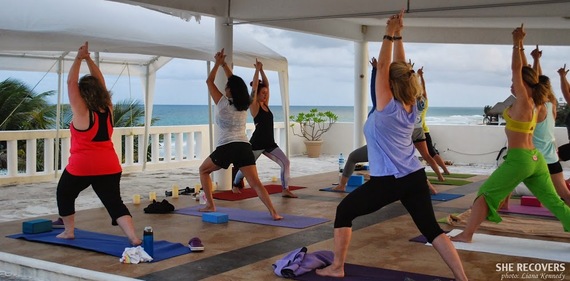 In a short time, She Recovers has grown beyond Facebook, also operating a resource-rich website, blog, and an international Yoga for Recovery retreat program. In fall 2016 She Recovers will begin to offer online eRetreats, with the help of Nickel's younger sister Debra, in recovery for 12 years, as well as Yoga for Recovery Classes and eCourses, and that's not all.
"For the past two years, we have been designing and selling a beautiful line of recovery mala jewelry," said Nickel, who is a strong believer in natural remedies in recovery. "We recently started a She Recovers Aromatherapy Tribe and hope to educate people about the value of employing essential oils as recovery and wellness tools."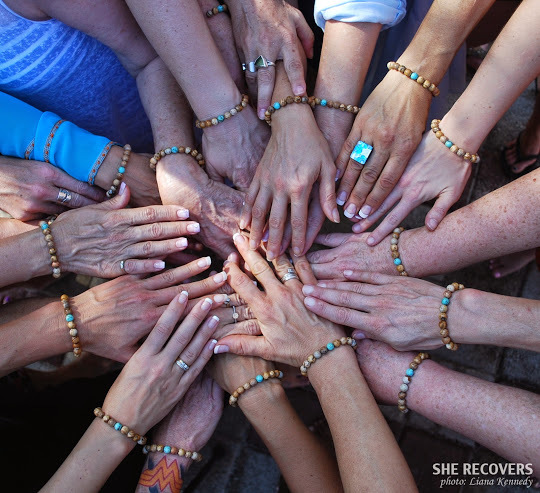 With the She Recovers Non-Profit Foundation on the horizon for 2017, perhaps the most exciting news of all when discussing the growth of She Recovers is their first major conference in May 2017.
She Recovers will host She Recovers in NYC in Lower Manhattan with invited guests Marianne Williamson, Gabby Bernstein, Glennon Doyle Melton, Elizabeth Vargas, and Elena Brower.
"We expect 500 women who identify with recovery in some way to attend," said Nickel. "We sold out a block of 100 early bird tickets in just one day at the end of July and another 100 spots have filled since."
Online communities, like She Recovers, make it easy for those battling an addiction to seek out their own recovery.
"When I came into recovery, there was one way to recover - the 12 step way," said Nickel. "I'll be forever grateful, but there are so many more options to those seeking recovery today."
There are hundreds of recovery sites, tailored to specific groups and needs, and these sites network with one another.
"Our foray into large events has meant partnering with a dream team of recovery advocates and event planners including Annie McCullough who is the Executive Director of Faces and Voices of Recovery Canada, Dara Meyer the Event Producer for Facing Addiction, and Payton Kennedy the Event Producer for Spark & Ember," listed Nickel.
As September rolls along and many do their part to increase awareness and understanding of mental and substance use disorders and celebrate the people who recover, Nickel wants those still in the dark trenches of addiction to know one thing.
"Your addiction doesn't have to define your time here on earth," stressed Nickel. "Reach out for help. You are so worth it. You may not believe that, I didn't either. But it's true. I promise."
Related
Popular in the Community