One day it happened, like the day she appeared in my arms. Time is such a mysterious measurement.
As a young mother the hours seemed like weeks. How many times could I listen to Barney or go from diaper change to snack time and clean it all up again? Frustrations of finding time to slip away for a moment of peace in the bathroom in collision with soaking in all of the goodness of motherhood. At times a battle of shame, because motherhood was what I had wanted and yet at times I loathed it.
She was my first, shattering plans of the future as I finished my senior year of college. She taught me I had other plans. And soon my days were consumed with a smiling baby girl. I rocked her to sleep until she was 18 months old. Even then I knew what seemed like eternity would some day seem like a glimpse.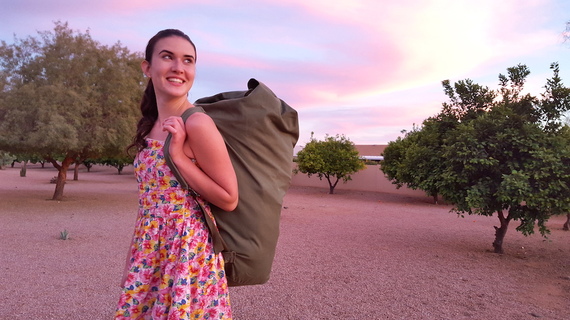 I have grown my beautiful family so close to my essence. Like a tree upon the hill with a trustworthy root system and nurturing heartwood. I allowed them space to branch out in their own unique way. Sometimes they were in the season of flowering, and sometimes the season of fall. It didn't matter to me because I accepted them for whatever season they were in.
We grew together swaying and laughing in the wind. All of us. All of us together. Playing in the sunshine and huddling in the times of rain. Tea parties, park days, and dancing in the kitchen. We talked about passions, relationships, and the world outside.
One day I knew our tree needed more nourishment, our soil was no longer the best for us. We chose to uproot and see what grew beyond our hill. We had so many adventures in mountains, oceans, and deserts. We spent our money on living and kept none in the bank. We learned about each other in this small space with less stuff and small regrets.
And then it was time. One of our branches needed to go. To sprout roots of her own and create a solid trunk for her life. She could only get that kind of growth in new soil. We encouraged her to find her way. And as much as I wanted to keep her by my side forever, I was excited for her to begin her own journey. My deep intense love oozed grief like after a heart carved into bark.
The balance of my tree is off for the moment as we learn to sway and bend without her.
I look to see a space where her branch used to grow. I weep.
I see photographs of her new adventure as she begins to bloom. I celebrate.
This is motherhood - raw to the core, giving of life energy to tend our branches. An adventure I am grateful found me.