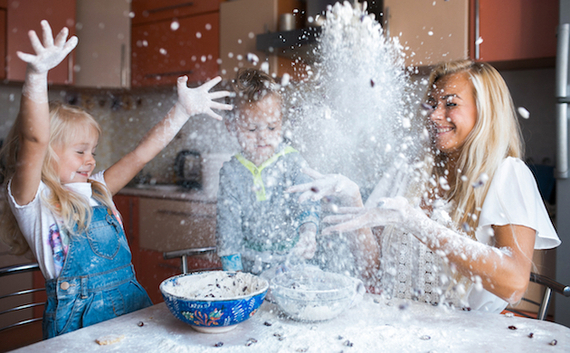 By Claire Zulkey, contributor to the Seleni Institute, a nonprofit mental health and wellness center for women and mothers in New York City.
I'd had it. A trip to Target -- usually a nice activity for killing time and checking things off the to do list -- was turning into a nightmare. My hungry baby was complaining loudly and nonstop. My 3-year-old son snatched every item within reach and whined about everything related to the cart. (Why couldn't he push it? Why wasn't there a cart shaped like a fire truck?)
When none of the water bottles for kids met his exacting standards, I snapped. "That's enough. We're out of here," I declared and carried him out of the store, leaving behind a full shopping cart and a bewildered husband. My son sobbed the entire time. People stared. We were a spectacle. The weird thing? Despite how angry and frustrated I felt and how undignified I looked, I felt something lighten inside me as I realized that I did not care what anyone else was thinking.
That realization was a long time coming. After my first son was born, I felt like I had been shoved onto a stage. Every time I faced a new mothering challenge in front of someone, a deep sense of mortification set in because I was being asked to solve problems publicly I had never faced before -- a perfect recipe for anxiety and failure. And yet for me, failure (or even fumbling) was not an option. I was shooting for perfection.
One time a stylish bohemian child-free friend came to meet the baby, and I gave her a ride home. My little son would not stop crying in the car, and I apologized over and over. "Dude, it's okay," my friend kept saying.
But I wasn't just apologizing for the annoyance of being stuck in the car with a crying child -- I was apologizing for being different since the last time she saw me, apologizing for being too exhausted to defuse the situation with a joke, apologizing for being so much less cool than the last time we hung out. I was embarrassed to have become such a cliché -- the frazzled new mom. It's funny in TV shows but not when it's your life.
Eventually I found my sea legs as a mother, and a large part of that meant surrendering the mirage of control I had come to cherish in my life. I could no longer fake the perfection I had been trying to project in my pre-child life because there is no perfection in parenting (or in anything for that matter). And you discover that as you experience the systematic breakdown of your ego after you have children.
Before I had kids, I remember the satisfaction of looking at an empty laundry basket. In my pantry, I can see evidence of the new bride who dreamed of throwing elegant dinner parties that would impress her friends. This is the same person who thought $250 Stuart Weitzman stilettos were a good investment if they might make me look good at a wedding. That proud perfectionist died a little after she had children. And it took some time to realize I could never climb back to the top of the particular peak I'd set as my standard.
At first that felt like giving up. So much for fun and standards and vanity -- I'll just be the stereotypical mom letting go of everything that ever mattered to her, including wearing clean non-pajamas to the grocery store.
But with time, I've found a smaller hill to climb. One where the peak is washing a little bit of laundry mostly every day, and serving my dinner guests wine out of water glasses (leaving the delicate stemware high up and safe on a shelf). These days the goal and the triumph is just getting together with those friends. And as for my shoes? Hey, at least I put on shoes that day!
And in deeper moments, the hill becomes even smaller -- like the time my son was ill, in pain and frightened. Taking care of him meant a lot of comforting and also a lot of cleaning. After my husband and I hauled ourselves out of bed to deal with the third round of tears and wiping up the toilet and floor, I actually smiled. The moment felt like parenthood out of a scene in a movie, except it was real life. Our entire world had shrunk down to that bathroom at 2:00 in the morning. I wasn't having fun, but in that moment I recognized that we were the real deal -- parents engaged in the loving, messy work of caring for a small human being.
I have learned to appreciate the humility that comes with parenthood. It is an equalizer and therefore a relief. All the families I know -- the happiest, the richest, the smartest -- get dirty and fight and sometimes don't sleep and have bad days.
A few winters ago my husband and I took our firstborn to see the holiday lights at the zoo. It wasn't the twinkly display or the primate exhibit that stood out to me but how anonymous and identical all the parents appeared en masse. In the dark, we looked the same: stressed-out grownups in parkas pushing around our tiny masters in strollers. People who maybe once had exciting lives but were now focused on finding parking spots or cramming in fun before the meltdowns started. Joining their ranks made me feel shapeless and faceless.
I felt depressed not standing out in that crowd of parents. The little child inside me was whining, "I'm not just part of the crowd! I'm more special than this!" But then I remembered that invisibility is also a superpower, and I've come to see it as a gift. I'm just part of the crowd! Whether I'm fumbling with the car seat, jiggling more than I used to when I run, or my son is wetting his pants in front of an old friend I haven't seen in 20 years, I can cross worrying what other people think off my very extensive list of things to care about. We are living a shared, time-honored experience.
And here's another lesson I've learned: not only can I not project perfection, but perfection is not something that other people are very interested in. The messy work that parenting requires is where it's at for me right now. It's real. It challenges me. It changes me. And within all that evolution (and sometimes devolution), I can find a new, beautiful, less pressure-filled normal. As long as there is a floor to sit on, some sort of glass to drink from, and friends to be real with, life is pretty good.

This article was originally published on the Seleni Institute website and is reprinted here with permission. Seleni is a nonprofit mental health and wellness center providing clinical services, provider training, research funding and online information and support for women and mothers. You can follow Claire on Twitter @Zulkey and Seleni @selenidotorg.
Related