If you've never heard of Guyana, you are not alone. My friends usually stare at me blankly when I tell them I'm traveling to the small South American country. I'm now used to the blank stares and common follow-up question: "Why would you ever go there?"
Mothers like Claudia and her children Kelroy and Kelson are the reason I go to Guyana. When Claudia found out she was pregnant for the ninth time, she knew that she was at serious risk. A woman in Guyana is over 13 times more likely to die during or after childbirth than a woman in the United States. Once born, their children face significant danger as well. A child born in the United States is 4.5 times more likely to live to see his fifth birthday than a child born in Guyana. Despite these statistics, the country's small size and population have made it nearly invisible to most NGOs and donors alike.
Thankfully, Medicines for Humanity (MFH) and the St. Joseph Mercy Hospital, with the help of partners like Johnson and Johnson, have been working since 2008 to improve the health of Guyanese mothers and children. The program began with a modest mobile clinic and has now expanded to include two additional components that are critical for reducing child mortality. These include a nutrition program for breastfeeding mothers and their children, and a trained team of Community Health Workers (CHWs) who provide preventive health education, monitor their health, and promote health practices important to maternal and child health.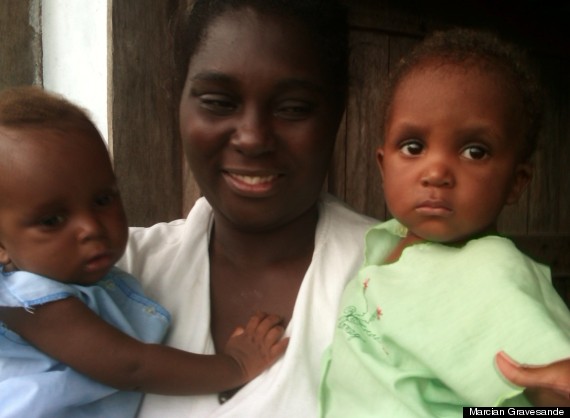 Photo by: Marcian Gravesande
Claudia decided to be proactive about her health and sought out Juanita, the CHW in her community. Juanita has been trained on a variety of maternal and child health topics that have prepared her to deal with situations like Claudia's.
Juanita began visiting Claudia on a regular basis. She would speak with Claudia about proper nutrition during her pregnancy, help her make and keep appointments for prenatal care, and support her emotionally when she felt overwhelmed. During her third trimester, Claudia was shocked to find out she would be giving birth to twins, but she knew that Juanita would support her throughout the rest of her pregnancy and beyond.
With Juanita's guidance and fantastic prenatal care, Claudia gave birth to two beautiful babies, Kelroy and Kelson. Juanita continued her visits post-pregnancy and now helps Claudia get postnatal care at the mobile clinic.
Despite this excellent care, Claudia faced challenges with breastfeeding due to malnourishment. Juanita helped her enroll in the nutrition program for breastfeeding mothers and now Claudia receives monthly food supplements, nutrition education, and breastfeeding support. Her children are improving every day, and Claudia still visits the mobile clinic to receive routine check-ups for herself and the twins.
While motherhood is one of life's greatest joys, it can also lead to tragedy. It is vital that we redouble our efforts to make child bearing and rearing safer. As a global community, we all need to join together to determine what else we can be doing to make sure that women like Claudia are able to see their children grow up.
Calling all HuffPost superfans!
Sign up for membership to become a founding member and help shape HuffPost's next chapter