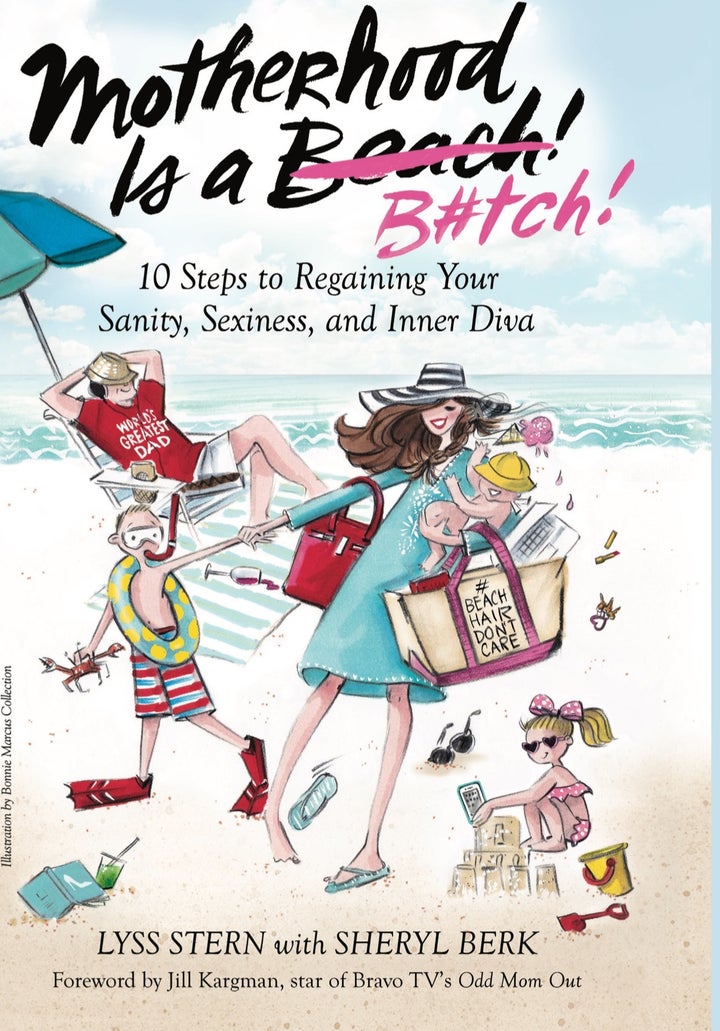 You've had a child. Or two. Or three. You walk a reedy tightrope, desperate to keep from falling flat on your face—your very tired looking face. You ask yourself, "What happened to the fabulous, stylish woman who rose high in four-inch stilettos?" You're fearful that she'll never resurface and that the careful balancing act you strain to maintain will never cease. Not to worry. Author Lyss Stern—CEO/Founder of Divalysscious Moms, a national, NYC-based marketing and event company geared toward millions of mothers and mompreneurs—is poised to save the day with her latest book, Motherhood Is A B#TCH: 10 Steps to Regaining Your Sanity, Sexiness, and Inner Diva. According to Lyss, before you know it you'll reclaim your pre-baby body, mind, and mojo. So, listen up ladies!
EL: What inspired you to write this book?
LS: Once upon a time there was a girl who loved her career, her body, her friends, and her life. She went to yoga and spin class five times a week; never missed an episode of Scandal or an issue of Vogue. Fast forward twenty years and that "princess" was suddenly frumpy, frazzled, and baking banana bread at 5am for her son's fourth grade class. I couldn't remember the last time I got my hair colored or my nails done, much less had time to go to the bathroom. I didn't recognize the person I'd become. I wondered how other moms managed to appear so put together. What did they have that I didn't? One morning, I was having coffee with a friend, and I had an epiphany. As we stood there, waiting for the barista to whip up something extra-large and extra-strong so I could pry my eyes open, I proclaimed, "Motherhood Is a B#tch!" That's when it dawned on me that I needed to become a b#tch and not just a little one. The rest is history.
EL: There's no shortage of parenting books out there, what makes this one unique?
LS: That's for sure, and I've read them all. What makes this one so unique is that I don't sugarcoat what mothers go through on a daily basis. There is no fairy godmother for harried moms on the verge of a nervous breakdown. If there was they would have a reality show! The good news is that mothers don't need a magic wand to transform from a pumpkin into a human being. The moms reading my book will follow ten easy steps in order to up their game and regain their lives.
EL: Best parenting advice you've ever received…
LS: "Mother knows best." No truer words have ever been spoken. You are in charge of your child and you know what is best for him or her. Don't let anyone tell you otherwise. For example, when my three year old daughter came home from the park with a big gash on her forehead, everyone said, "Leave it alone." My instinct was to take her to the emergency room, and I was correct. She needed five stitches.
EL: Most humbling parenting moment?
LS: My friend hugged me and said, "I didn't know you were having another baby!?" I wasn't! My daughter was two at the time. I felt like crawling into a hole.
EL: How do you tune out the "mommy noise?"
LS: I have a few close friends that I like to get advice from and talk to. I have learned to ignore the negativity, the same way I do with social media. It gets easier as you get older, when you realize what's real and important and what is not. Once I turned forty, I saw things crystal clear.
EL: The book asks, "Do you have b#tch potential?" Would you consider yourself a b#tch? Do you think women need to possess at least a little inner b#tch to survive motherhood?
LS: Being a b#tch is not about ranting and raving or ripping someone's head off for the fun of it. It's about confidence and control and knowing where and when to dig your four inch heels into the ground. It's about standing up for yourself and voicing YOUR needs and feelings. It's about asking for help and demanding support when you are at the end of your rope (which, in my case is daily). People may call me a b#tch. So what? If they don't say it, they're probably thinking it. Why? Because some people think women are supposed to be sacrificing all the time. That we're supposed to be "mama martyrs." Most people say "b#tch" as if it's a bad thing, because they don't want you to make changes and stir things up. They don't want you to assert yourself; that's threatening to them.
EL: You're a wife, a mother, an entrepreneur, a social media influencer, a television personality, and an author. How do you find balance, while maintaining your sanity, sexiness, and inner diva?
LS: You'll have to read the book to find out all the answers in just ten easy steps! I had to re-teach myself how to simply BREATHE. Moms don't have a time out chair where they can go to de-stress and quiet their minds. Sometimes I will have to park the kids in front of their iPad and go in my room and stare at the ceiling for a few minutes. I don't apologize or feel guilty for needing some downtime. I know I require it for my own well-being.
EL: A day in Lyss' life looks like…
LS: Chaos! You can't have kids and not feel off-kilter a good part of the time. Being a working mom is like juggling 101 balls in the air simultaneously. I do try and get in an hour of exercise at least three to four times a week after I drop my daughter off at school. I send a few texts to my close friends to say good morning and fire off a few work emails in the back of Ubers. I might have a business lunch, a work meeting or two. You'll often find me running one of my two sons to sports practice/acting programs and, this year, I put together (G-d help me!) a Bar Mitzvah for my oldest son. I also make sure to squeeze in a "divadate night" at least once a week with my hubby—like the kids, he needs my undivided attention sometimes too.
LS: I hope to start writing the follow up book in this series very soon. I'm working on selling a TV scripted comedy about my mom Nanadoll and on writing a book called, What Would #Nanadoll Say? I'll continue to grow as a mom and mompreneur. Every day is a new adventure, and I wouldn't have it any other way. Oh yeah…perhaps a few hours of uninterrupted sleep would be nice!