It took a while, but 2017 finally has a real breakout comedy smash.
Will Packer and director Malcolm D. Lee brought us Girls Trip, and the movie has grossed $90,673,505 (Domestic) as of Aug.10, 2017.
Why has this movie been such a hit, playing well to adult women of all races? Because grown, generally responsible women, love to see movies where other grown, generally responsible women have an opportunity to have enjoyable, guilt-free fun and become closer friends and better people in the process. With all the turmoil in the world and women, especially moms, often found smack dab in the middle of a lot of it, I'd say we deserve to have these comedic moments even if for only two hours at a clip. Hollywood executives, I suggest you take notes and continue with this formula. There is an audience for this type of movie, and if nothing more, I would expect to see a Part Deux of Girls Trip.
Jada Pinkett Smith's character, Lisa, is the only mom in the group, yet many moms, including me, related to the entire movie. In fact, on the official release date of the movie, July 21, 2017, 11 of my mom friends and me had our own girls' night out.
As a life coach and strategist, many of my clients are stuck, overwhelmed, and anxious to become the women they want to be, not just the moms they're expected to be. I am certain this movie did for moms all over the country what I encourage them to do in my coaching business. It gave them the much-needed permission to reconnect with their pre-mom selves. After all, motherhood is not where dreams go to die. ®
Last November, along with 11 other moms from the East & West Coasts of the U.S., I headed to Turk & Caicos for what turned out to be a trip of a lifetime. Seven days of fun and frolicking in a luxury villa, sans kids and partners. Self-care, good food, libations, great conversations, sightseeing and of course shopping consumed the week. Friendship bonds were strengthened and wonderful memories were created.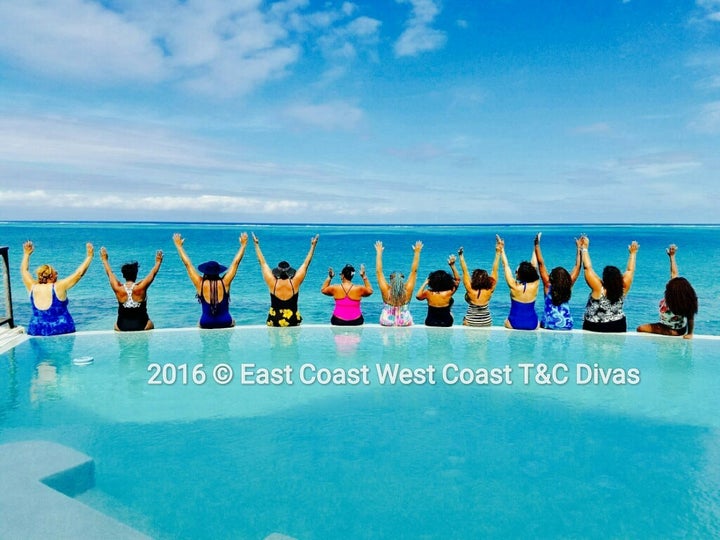 In conversations with other women who are mothers, it's been confirmed—mom getaways are very popular excursions. They are also very important. All agreed that it's just refreshing to have some "me time." To be with friends and talk late into the night about their dreams, kids, relationships and just life in general. Being able to do so uninterrupted makes it that much special.
Sarah has a getaway with her best friend every year. They're both moms with two kids each. She lives in San Diego, her friend in California's Bay Area, and they generally meet in locations between the two. Some of her trip details can be found here.
Jennifer is from Pennsylvania and her best friend is from Canada. They recently spent a long weekend in Toronto with other friends celebrating her 50th birthday and Canada's 150th! It was fun, relaxing, rejuvenating bonding time with friends away from spouses and kids. Her words of encouragement for a mom who may be considering taking a moms only vacation are, "You are worth it, your friends are worth it, and your friendships are worth it. Just do it!"
Blair and her "girl gang" plan an annual two-day escape, usually after Christmas but before New Year's. Their most recent trip was to Epcot in Orlando, Florida. "I know. It's flooded with kids, but this time, we didn't have to worry about our kids. It was a completely different perspective. We decided to "drink around" Epcot and visit every country we could—yes, we had a blast!"
Each mom concurred that these getaways are often necessary for our sanity. These trips make us better moms and partners. Women need to reflect as friends and bond as women, and that's exactly what these types of getaways generally provide. Our hectic day-to-day schedules simply don't allow opportunities for the laughter, relaxation, intimate conversations, etc., that mom getaways do.
Here are a few helpful tips in preparation for your next getaway and to ensure the very best time while you're away:
1) Discuss the idea with your significant other in advance, so that he understands the need for you to have some much needed "down time." In other words, express how much this getaway will not just benefit you, but everyone else in the home. Because if mom isn't happy, most often nobody else in the home is going to be happy!
2) Take care of all things related to the home and family members being left behind. Leave detailed instructions (including emergency information) for tasks, etc. that may need to be completed in your absence. Of course, provide your location and contact information.
3) Choose wisely. Just because you're friends, doesn't make you good travel companions. The purpose of the trip is to wind down and enjoy and the last thing you need is to have someone who is a Debbie Downer or a Drama Queen in tow.
4) Agree on the location, an agenda or schedule for the trip if there is to be one. Some structure is great, but keep in mind that some may simply want the freedom of being away. Discuss this in advance so that every mom is on the same page.
5) Establish the mom/girl code before leaving. i.e. What happens in Vegas, stays in Vegas? What are the guidelines for social media sharing? Discuss any other do's or don'ts that all travelers should be aware of.
There truly is something about a good old-fashioned girls' trip that rejuvenates your soul. Doing it mom-style makes it even more special! Women are typically the caregivers in our society, but often feel guilty when we take time out for ourselves.
I am in the process of identifying the perfect location for my next getaway, Suggestions anyone?
Are you feeling the desire to schedule one for you and your friends? Ready… set...girls' trip!
No better time than now to make it happen. Guilt-free. Unapologetically!