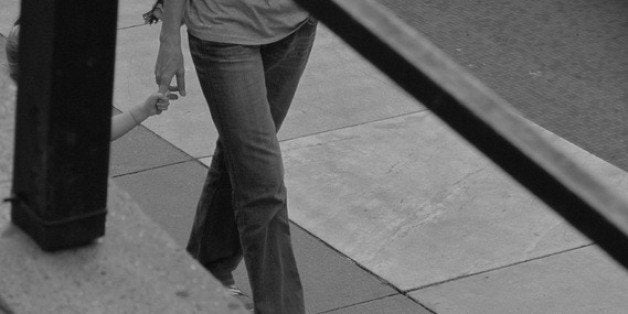 When I was between the ages of 5 and 10, my mother and I often appeared on doorsteps. These doorsteps would lead to the inside of houses, where my mother's newest friend and her daughter (she always had a daughter) would be waiting. Once inside these strangers' homes, on the daughters' bedroom floors, I'd find replicas of the things I owned, plus the dolls and toys I was not allowed to have. There were new rules, we were offered sweets or no food at all, but no matter where the little girl's room was in the house, I'd always find my way back to my mother's whisper.
These friends my mother made were through women's groups or co-workers, and the sheer number of them -- and their daughters -- seemed endless. One time, my mother and I went to her new friend's beach house in the summer. When they answered the door, the girl stared at me as we both stood in the safety of the shadows of our mothers' hips. Finally, her mother told her to take me upstairs, and as I walked behind her their dog followed, its fur touching my leg.
I went quickly to the bathroom to wash with seashell soap and the girl appeared behind me in the mirror.
"I thought you were a boy when I first saw you," she said.

I had recently been "conned" into a getting short haircut à la princess Diana. My mother insisted on it until I gave in. My mother had been a hard-brushed little girl with beautiful hair that she hated, and I see now that she was pre-empting the hair-brushing battle.
But then, I didn't see anything but my reflection in the mirror, my hair like a boy and the cute little long-haired girl behind me. I ran past her, down the carpeted stairs, out of the house and down the empty sand-street, past bikers and dogs, until I saw the beach.
While waiting, I put my feet in the sand until I couldn't see my toes, then lay down so all I could hear were the waves. When my mother found me, her voice punctured the air. We never were invited back, and my mother -- at least for a little while -- was once again my own.

As an adult, I've often wondered why my mother demanded that I make these daughters my friends. I resisted all of them, whether they insulted me or not, as some part of me must have known how much my mother wanted it.
The other part of me just wanted my mother to myself, and the two things, although possibly explained by my mother (she is clingy; she is angry; she is a strange child) were not acknowledged. It would have been easy for her to blame me, but she couldn't. We entered and exited doorways together, with our matching short haircuts, and the promises my mother had made to her new friends. My only choice was to make sure she was looking at me when I disobeyed her.

When I imagined my own motherhood, I did not picture the girl I would have, approaching this age, with old problems just like mine. I did not imagine I'd be "picking my battles," letting her put her hands in my pockets because she refuses to wear gloves, our chapped skin warming each other's.
I had not imagined it, but I find myself the whispering mother on a playdate with a woman I meet on a school tour. This is our doorstep, outside in the winter. Her daughter, just my daughter's age, tries to take my daughter's hand as we all walk to the park.
When my daughter refuses, my new friend takes her crying daughter in her arms and explains that not everyone wants to hold hands. I tell her daughter I am sorry, as if my daughter's hand is my own.
While our girls play on opposite ends of the cold playground, my new friend tells me she was quick to give birth, her breasts immediately full of milk, like a mother in an old painting. I want to tell her something, too, but I am distracted by my daughter's refusal: she will not hold my new friend's daughter's hand.
All mothering attempts seem to be a reaction: you either emulate your own experience, or you rebel against it.
My one hope as a mother has been in a certain consciousness. This idea stems first from the acknowledgment, and then from the faith that there is possibly a middle ground. If I give it a name, pre-empt the outcome, perhaps I can avoid the black and white alternative, and attempt something new.
With this in mind, I cross the bridge halfway, and say to the other mom, "My daughter just wants to be with me." I think, I am strange. I am angry. It's my fault.

It is a small adjustment. A text later to my new friend, saying, "Sorry." I let my daughter grow her hair, even though she complains when I brush it.
My daughter and I walk from the playground in the cold in the nighttime. The streetlights turn the white snow blue and our fingers warm against each other in my pocket. We pass doorsteps leading up or down, and behind those doors, mothers mothering. Mothers spilling themselves into their roles, only a lap-length away from where they began.