Across the US, mother's will be celebrated on Sunday, May 8. For many this is a wonderful day, where you feel treasured for all your years of hard work raising children, but for some women this is a really hard day to get through if you are suffering with infertility.
I have worked in the field of infertility for over 12 years now, and not a week goes by when I don't sit at my desk and cry. Infertility is not just a physical and painful condition, but an emotional rollercoaster that makes couples question every hope and dream they have for their future.
One woman who will be celebrating her first Mother's Day this Sunday, is Katie Hodge, from Ohio. Katie is a true inspiration for infertile couples everywhere, her following is now far reaching outside the US. Her honest and open blog Always Katie has become an internet sensation with infertile couples emailing her questions and gaining support through her community.
I asked Katie to tell me how this, her first Mother's Day makes her feel, and her response wasn't the one I was expecting! I thought she would be overjoyed and gushing, but actually her response was incredibly respectful to the many women still on their infertility journey.
Katie said, "Even now with kids, it is still hard, as I remember the long painful 5 years that I watched my mother and sister celebrating Mother's Day, and I thought when will it be my turn? Even last year, though I was pregnant by then, just seeing all the articles and commercials about Mother's Day made me feel so sad."
Sadly for the many women suffering with infertility, they have their own calendar, for these people, the dread of Christmas starts before Thanksgiving. As the TV shows nothing but family gatherings around the table over turkey. This is a daily reminder to someone with infertility that they may never have that next generation for Thanksgiving celebrations. Then comes the onslaught of Christmas, advertising starts with non stop cute children and all their Christmas dreams. When the infertility sufferer thinks it safe to turn on the TV the campaigns start for Mother's Day, quickly followed by Father's Day. Perhaps the cruelest campaign of all for the infertility patient is the 'Back to School' campaign, which really hurts to watch mother's waving their kids goodbye on the school bus.
People can be very cruel and insensitive with the opinion if you are not a Mom, then you cannot understand the love you have for your child. This attitude makes Katie angry for all of her friends out there trying so hard to have a child of their own. Katie said, "We are all capable of love, and for a long time my dog was my substitute child, the dog gave me Mother's Day gifts. This year, my first Mother's Day, the joy will be in holding my kids but remembering those who are still trying."
Katie has shared her infertility story far and wide, but her journey like every infertility patient is unique to her, as everybody is different. Katie and her husband grew up only 15 minutes away from each other, yet only met through online dating. The couple hit it off straight away and within 7 short months they were married and ready to start a family. Katie was only 22 when they married, and at the very young age of 23 received the news that she was suffering from PCOS (Polycystic Ovarian Syndrome). This diagnosis meant that natural conception would be difficult and she tried Clomid to stimulate her ovaries but still no pregnancy occurred.
The couple's only option was to have IVF (Invitro Fertilization), but they were limited on choice locally, and finally decided on a reputable clinic with good success rates. But they waited over 6 months to get a cycle and cried tears of frustration as their cycle date kept being pushed back.
Katie and her husband are both teachers and had researched the Internet for a solution to their problem, Katie had read about an IVF clinic in the Caribbean and suggested to her husband that they just run away for treatment. This led to them looking in this in more detail and actually finding a JCI accredited IVF center in Barbados. They were both skeptical and did thorough research on Dr. Juliet Skinner; the medical director to find out if the clinic was legitimate. The couple was impressed with their findings and set up a telephone consultation. A post it note still lives on Katie's fridge saying 1 April 9.45am - Consultation with Barbados Fertility Centre!
Katie felt their voices were heard in that consultation and that they were named individuals and not just numbers on a file. The couple flew down to Barbados in September 2014 and underwent their first IVF cycle, which was successful!
Katie enjoyed a super healthy pregnancy, despite carrying twins! She labored for over 54 hours before the decision to have a C-section was made and in June 2015, they welcomed Sam and Abbie to the world.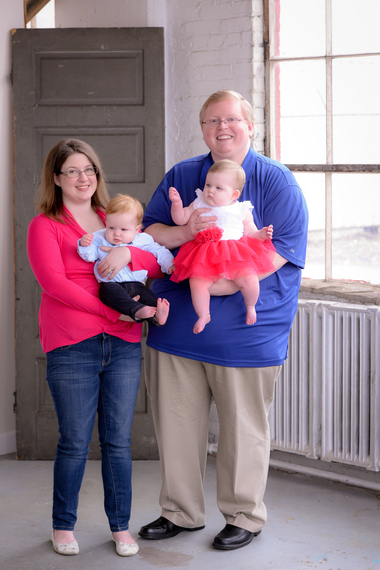 Photo credit is Robert Hogan // No. 9 Images Photography.
Katie believes they received better care than at home in the US, and for less money! The base cost for IVF in the USA was $10,000 and overall they saved over $4,000, which included their vacation to Barbados and holistic care with pre and post cycle acupuncture.
Katie story has a happy ending, and she will of course be counting her two blessings this Mother's Day, but not without a thought for all the millions of women who still strive to one day become a mother.
Calling all HuffPost superfans!
Sign up for membership to become a founding member and help shape HuffPost's next chapter