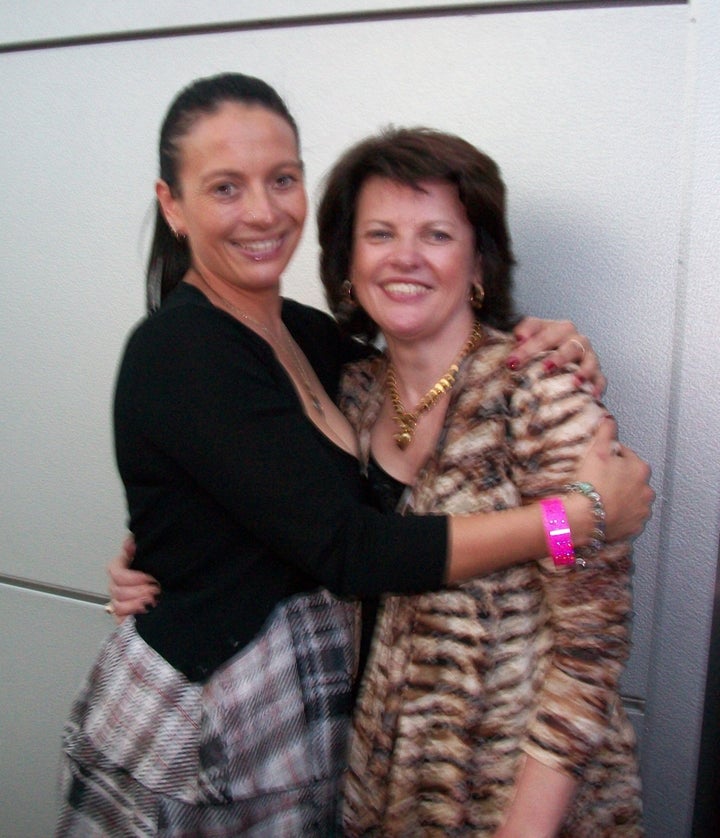 Thirty-one years later and half a world away, Talei Berger's dream has come true.
She will spend Mother's Day with her daughter.
"It's a wonderful dream come true," said Berger, a Shelby Township resident.
"Every Mother's Day, I dreamed about it," Berger said. "I can't believe it's happening. It's quite overwhelming. The enormity of it—I just don't think about it."
The daughter, Cara MacKenzie, scoured the Internet from her home in New Zealand to track down Berger.
After conversations on Skype and meeting face-to-face in Hawaii last August, MacKenzie moved to Michigan last month to live with Berger.
On Sunday, they will spend Mother's Day together for the first time.
"It's hard to describe," said the 31-year-old MacKenzie. "It makes me want to cry just thinking about it. … It's just incredibly special. It's such a blessing.
Talei Berger gave birth to Cara MacKenzie on July 1, 1980, in Auckland, New Zealand.
"I had to give her up at 19," said Berger, who grew up in Fiji and lived for much of her life in Australia. "My parents weren't in the position to support the baby, and the father didn't want anything to do with it."
Cara was adopted by Judy Duncan and Brian MacKenzie, and she grew up in New Zealand knowing about her birth mother. Cara would tell her friends her mother was an angel.
Talei, though, knew few details. After giving birth, she returned to Australia.
"All I knew was that she was in New Zealand," Berger said. "And I prayed every day."
'We both felt very blessed.'
Talei would get married to Frank Berger. She would give birth to a son, Jared.
Talei and her family would move from Australia to Michigan in 2003. Her son would graduate from Eisenhower High School and enroll at Oakland University. She would work at PTI Engineered Plastics on 23 Mile Road.
"I decided I wanted to find her," Cara said. "I had always known her and I had always known why she had given me up for adoption."
Cara searched Facebook and Google until she found Talei's sister, Michele, on Facebook last April. Michele, with whom Talei had stayed when she gave birth to Cara, connected the two.
Talei phoned Cara, who answered at midnight New Zealand time, and they talked for the first time.
"It was very emotional," Cara said. "We both felt very blessed."
After that, the two stayed in touch with conversations on Skype. Cara learned she had a half-brother, Jared, and Talei learned she had a grandson—Cara's 11-year-old son, Ethan.
They had their first face-to-face meeting in August in Hawaii. Despite being apart for more than three decades, the connection was strong.
"When I got home, I missed her," Cara said. "I wanted to get to know her more."
So in April MacKenzie resigned as a school teacher in Auckland, took her son out of school and left behind her family and boyfriend to move to the United States to be with Berger.

'We're just taking it one day at a time.'
With the support of her adopted parents and family in New Zealand, Cara arrived in the United States on April 17. She and Ethan met Talei in San Francisco, and they visited there before coming to Shelby Township on April 20.
They've gone to Greektown, and Frank has taken them to Comerica Park for a Tigers game (though it was rained out).
This summer, they plan to go to Shanty Creek in Northern Michigan and the Cherry Festival in Traverse CIty. They also want to travel to places such as New York and Las Vegas
They've gone shopping at Macy's and taken walks at Stony Creek Metropark. Mostly, though, they have just spent time together, talking, hanging out and bonding as mother and daughter.
Cara said she could stay in Michigan three months, a year, indefinitely. Ethan has enrolled at Crissman Elementary School. Talei wants to teach Cara how to drive. (In New Zealand, automobiles drive on the left-hand side of the road.)
"We're just taking it one day at a time," Talei said. "There are no expectations."
This weekend, they plan to take part in the Heart Walk at Ford Field in Detroit on Saturday. Then Cara and Jared, Talei's two children, plan something special for their mother on Sunday.
"It will be a Mother's Day like no other," Berger said.
Read more stories from the Shelby-Utica Patch here.

Popular in the Community