Mother's Day is just around the bend, and for great gift ideas we turned to Amy Azzarito's book "Past & Present," published by Melanie Falick Books. It includes 24 fabulous DIY projects inspired by moments in the history of decorative arts and contributed by some of today's most well-known designers. The following grotto jewelry box project is by craft guru Erica Domesek and excerpted from Azzarito's anthology.
To create this exquisite jewelry box, Erica Domesek channeled the creative Victorians who carefully decorated their garden grottoes. The decorations shown here, including seashells and plastic insects, are a fun nod to the Victorian obsession with collecting natural specimens and incorporating them into their homes.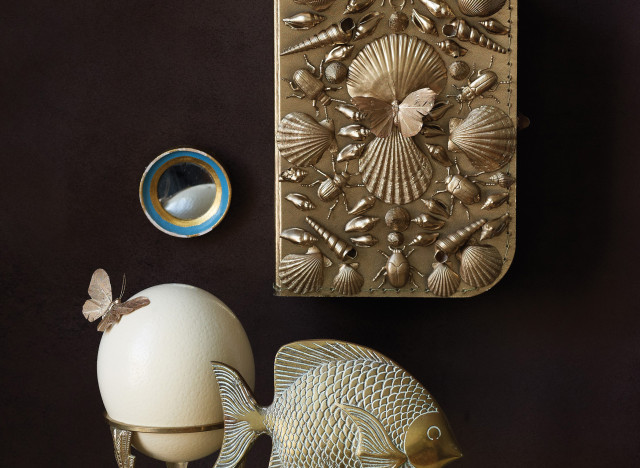 Photo by Ellen Silverman
Plastic bugs (we used 6)
Seashells of varying sizes (we used 44)
Small suitcase/lunchbox, approximately 8x12" / 21x31 cm
Adhesive picture-hanging strips
Newspaper
Gold spray paint
Super Glue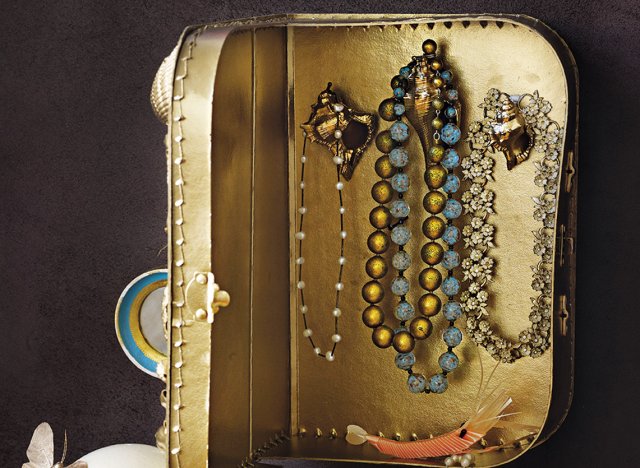 Photo by Ellen Silverman
1. In a well-ventilated area, cover a flat surface with newspaper. Lay the plastic bugs, shells, and case on the newspaper and thoroughly spray with gold spray paint. Once completely dry, turn the items over to spray the other side. Spray-paint the inside of the case as well.
2. Once the paint is dry, lay the bugs and shells out in a design of your choosing on top of your case. Set aside three larger shells for the inside of the case. Once you have created a design you like, apply small amounts of glue to the underside of each bug and shell, and place it back in its spot on the case. Hold it in place for approximately 15 seconds, until secure. Leave the case to dry overnight before moving it.
3. Once the case is completely dry, attach the three shells you set aside to the inside of the case. To attach the shells, apply a generous amount of glue to the back of each one and position as desired. These will serve as hooks for your jewelry.
4. Let the entire project dry for a full 24 hours and then hang the box using picture-hanging strips.
Check out "Past & Present," for more crafty ideas, and click through the slideshow below for another gift idea for mom: beautiful DIY vases.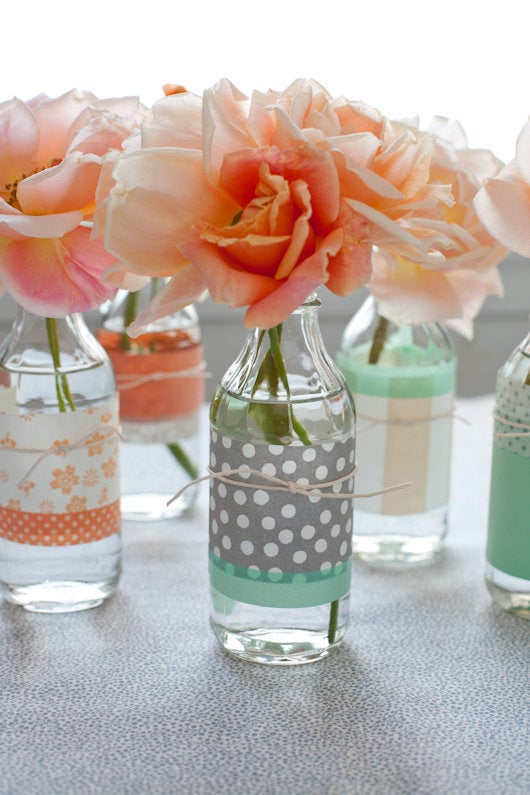 8 Vase Crafts For Mother's Day
Do you have a home story idea or tip? Email us at homesubmissions@huffingtonpost.com. (PR pitches sent to this address will be ignored.)