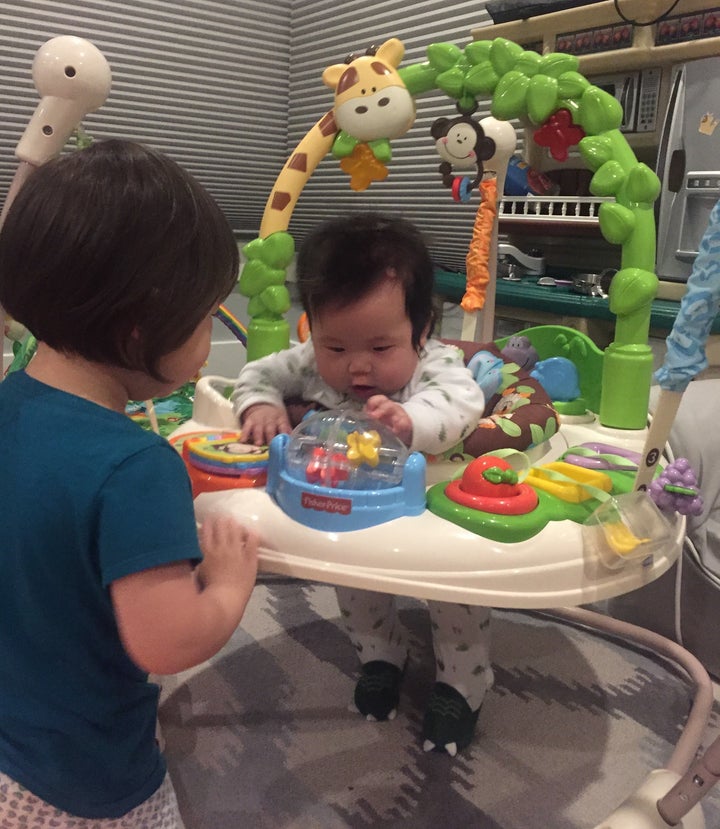 May 13, 2018, will be my first Mother's Day as a mother of two.  
I have a beautiful 2.5-year-old daughter. She has a pin dot dimple at the corner of her mouth, exactly where my husband does. Her sister, Arden, was born 22 months after her with a matching one. My husband, Sam, and I joked that these perfectly matched dimples proved that they are his kids. 
We posted adorable #siblings pictures that garnered record "likes" for us on social media. Holidays especially are ripe with opportunity for all boasting parents. I had already begun imagining coordinated outfits and poses to complement just the right hashtags come Mother's Day.
But in January, we lost Arden. So this will be the first of the rest of my Mother's Days that I will spend with only one of my girls at home with me.
Arden passed away suddenly and without explanation shortly after she turned 7 months. She was a strong and healthy baby until her death. And while she was here, our lives were full.  
I was shamelessly proud of being a mother of two. I also shamelessly shared how hard it was to juggle two young children so close in age. It took hours to get out of the house with two kids, and we finally succumbed to screen time for our toddler to keep her quiet during Arden's naps. But however hard it was to do anything — or everything — with two kids, joy and pride swelled my heart.  
We wore the bags under our eyes like merit badges and left behind countless unfinished meals with hastily signed checks. We took thousands of photos but saved the best ones, too "imperfect" for Instagram, for ourselves: me breastfeeding Arden in one arm and holding the book I was reading to my toddler with the other hand; me joining the kids in the bathtub, balancing a slippery baby on each leg because that was easier than giving two baths to two unwilling participants; the blurry family selfie of us in clashing shirts that heralded laundry day instead of matching Hanna Andersson pajamas.  
The pain and grief from her death are all-consuming.
In the weeks after she passed away, even though I knew she was gone, I kept looking for her in our home. My husband and I still shush each other at night, afraid we will wake the baby. I wince when I see the empty spaces where she used to play. My heart withers when my toddler calls her dolls "Arden." Some days I cry more than others, and most days a silent scream hangs in my chest.
But the fear also grips me that she may be forgotten. This fear threatens one of my core and cherished identities ― Arden is inextricably connected to my identity as a mother of two. I am afraid both will be lost.
When we go to playgrounds, my eyes are drawn to siblings, especially sisters. When I see other parents wrangling their kids (you take the big one to the swings while I nurse the little one and we can rendezvous at the slides), I see a familiar struggle in their eyes. I also see a veteran resolve. This isn't my first rodeo. And I want to yell, "Me too!" I have two children, too. I've lugged around two sizes of Pampers, too.
One cold night after Arden died, Sam and I went to an udon house in Japan Town. While we waited for a table, we watched a family eating dinner in a too-familiar formation. The mother was trying to deliver slippery noodles into her toddler's mouth while the father sat rigid wearing a sleeping infant in a baby carrier. The longing and frustration on his face were palpable. He took modest bites of noodles carefully balanced on a plate over his sleeping child's head while the rest of the family, his wife and the grandparents, tucked into mouthfuls of broth and noodles.
The last time we had been in in Japan Town, it was for ramen, not udon, and Sam had been wearing Arden. 
Now we wear the presumption of a family of three. And I hate it. As the months and years pass, the mention of Arden may become more infrequent among our friends and community. The truth is that there is a limit to how long the world will tolerate your public grief. The world doesn't stop for your child and, at some point, people expect you to feel "better" and "move on." 
In fact, incredibly, not two months after her death, people asked me if I will have more children. The premise of that question is painful. I fear people think that another child will "heal" me and then we can go back to being a family of four (but wouldn't we then be five?); then they can sigh with relief. See? They are happy now, so we can be happy too.
But motherhood is not a transitory title and does not depend on where your children are or what form they take. Motherhood is born of life and transcends time and death.  
Sam and I once went to a support group meeting that underscored how love and grief outlast life. Parents had lost their children at all ages — our 7-month-old, a 4-year-old, a teenager, a grown man with children of his own, an old man who died holding his silver-haired mother's hand. As diverse as our backgrounds and circumstances were, we all wept with the fear that our children would die again in memory. And we all carry a load that we will not lay down until our own deaths.
The fate of bereaved parents is that the grief does not end. There is nothing that compares to a child's death, and it is not something you "get over." The death of a child is transformative. It fractures life into a Before and After. At some point, we may feel happiness again and the jagged pain may soften, but life is now branded with a footnote. I will carry a void in my heart forever because a part of me has died with Arden and will not regenerate. 
I do not go on because I am strong or inspiring. I continue to live because I have no choice. 
For months, my breasts kept producing milk that no baby would drink. And my soul and heart keep producing love and grief for my Arden. Death merely adds a dimension to love.  
You see, I did not stop being a mother of two when Arden died. I mother my living daughter by nourishing her physically with food and shelter and loving her with more life than I thought I had to give. And I will continue to mother my dead daughter by nourishing my unending grief with tears and dreams of all the ways that she should and could have lived on this earth. 
Parents of loss grieve, in some sense or another, forever because the love lasts forever. I will not forget your child. Do not forget mine. Her name is Arden. And I am her mother.
Do you have a personal story you'd like to see published on HuffPost? Find out what we're looking for here and send us a pitch!
Calling all HuffPost superfans!
Sign up for membership to become a founding member and help shape HuffPost's next chapter