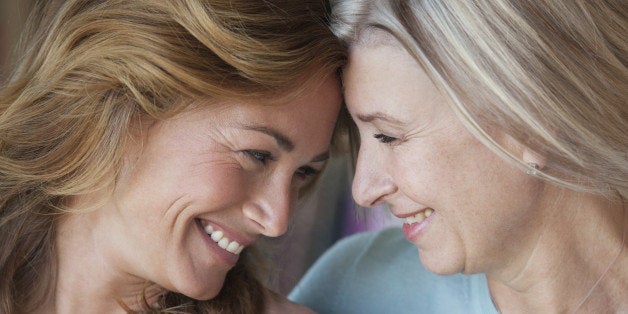 Most women -- and every mother -- are injury prevention/risk reduction experts. We buckle up our children; insist they wear bike helmets; read the labels on the foods we feed them. We are committed to their well-being, and we do everything we can to ensure healthy childhoods that are the foundation for happy lives.
Whether we're chasing our kids down for soccer practice or helping them plan a wedding, we strive to provide for and to protect our kids. As a parent, it's always a balancing act -- sharing your own knowledge and experience while letting your children forge their own paths. Ultimately, all I've ever wanted for my kids -- well, now they're my adult "kids" -- is for them to be independent, intelligent, capable and fulfilled.
This month, my eldest, Alyssa, turned 27, and with Mother's Day just around the corner, it has me thinking about young women everywhere who are looking forward to many more fulfilling years. I am concerned that, when it comes to sharing what we know with our daughters, we face a challenge we did not anticipate. In our daughters' lifetimes, the course of breast cancer has shifted. Where it was once almost invariably fatal, modern medicine, research, technology and more widespread education about breast cancer have helped reduce death rates and increase survivability for many forms of this disease. Almost 3 million women and men in the U.S. are breast cancer survivors.
Young women may face many immediate challenges to their health, and often don't appreciate that they should also be aware of their breast cancer risks. Although that risk is very slight, it persists. Fewer than five percent of breast cancers occur in women under age 40 in the U.S.. However, breast cancer is the leading cause of cancer death in this country (death from any type of cancer) among women ages 20 to 59.
Right now, young women are staying late at work, working 60-hour weeks to earn a promotion. They're starting their own businesses. They're taking care of children, or maybe getting ready to start a family. Or maybe they're taking care of a parent or grandparent.
Yet, breast cancer doesn't care about any of that. It can affect anyone -- regardless of age, gender, race, ethnicity or socioeconomic status. And I don't want Alyssa, or anyone, to become complacent about this very serious disease that still claims a life every 60 seconds somewhere in the world.
While breast cancer risk is generally much lower among younger women, women who are diagnosed at younger ages are often diagnosed with more aggressive forms of the disease and often at later stages.
At Susan G. Komen, we say that women should "know what is normal" for their bodies. In young women, this is especially important. Unless someone is at high risk of breast cancer (a family history of the disease, for example), a woman under 40 is likely not getting a regular mammogram or any other imaging test. This should not, however, suggest that they shouldn't be thinking about their breast health.
What I worry about is a scenario in which a young woman wakes up one day to notice a puckering or dimple in her breast, or maybe an itchy, scaly rash, and doesn't give it a second thought. Or that this same woman, knowing something is wrong, will not act on her instincts if these symptoms are dismissed by a healthcare provider. Too many of our young breast cancer survivors were told, "You're too young for breast cancer," and although they felt something wasn't right, they didn't pursue a second opinion until the disease was more advanced and difficult to treat. I met a young woman last week who, at age 25, found a small lump and was told not to worry; three years later she was diagnosed with Stage III breast cancer.
We, as breast cancer educators and public health advocates, have worked diligently to educate the public about breast cancer, and these efforts have helped reduce mortality by one-third since 1990. But knowing what we do -- that young women are often diagnosed with more aggressive and difficult-to-treat forms of breast cancer -- I see an opportunity to increase our efforts to educate young women on their risk.
Other groups are taking action to address this issue as well. In fact, in 2012, the Centers for Disease Control and Prevention (CDC) convened an Advisory Committee on Breast Cancer in Young Women (ACBCYW), led by Komen Scholar Ann Partridge, M.D., M.P.H. The committee wrote, "Breast cancer among young women is a complex public health problem," and it has a complex effect on the lives of women under 45 who are diagnosed with it. Women in these age groups worry about the impact of the disease on their ability to date, marry, have children, and embark on careers. Many have very young children, and worry about the impact of their illness on growing children.
The ACBCYW sent recommendations to the CDC and to former Secretary of Health and Human Services Kathleen Sebelius, focused primarily on the development of information and materials that are geared to younger women, providing accurate and valid information that is age-appropriate and culturally relevant.
Achieving this will be no easy task, but it's what is required if we want to ensure that young women are informed about breast cancer and have access to quality treatment and support resources if they are diagnosed.
Komen has long funded programs that help women get the treatment and support they need. We have directed funds to promote research aimed at better understanding the basic science of breast cancer and development of better treatments, especially for the forms of breast cancer more commonly diagnosed in women under 40. We invite younger women to visit our website to learn about their risk, and to understand that as far as we've come in breast cancer awareness and treatment, this disease is not cured, and young women are not immune.
Going forward, we'll continue our efforts to reach out to younger women about what they can do to take charge of their health. Information about breast cancer in younger women can be found on our website at this link.
As I celebrate another birthday with Alyssa, and think about Mother's Day next month, I reflect on the years that she, her brother, sister and I have shared so far, and the years I hope to share. And it makes our work all the more urgent.
REAL LIFE. REAL NEWS. REAL VOICES.
Help us tell more of the stories that matter from voices that too often remain unheard.