Starting with a new 16-year-old mom and ending with a great-great-great-grandmother, one Virginia family will have plenty of moms to celebrate this Mother's Day, ABC News reports.
From the family's matriarch, Mollie Wood, who celebrated her 111th birthday in April, to 7-week-old Braylin Higgins -- the child of Wood's great-great-granddaughter -- the family has an amazing six generations of daughters.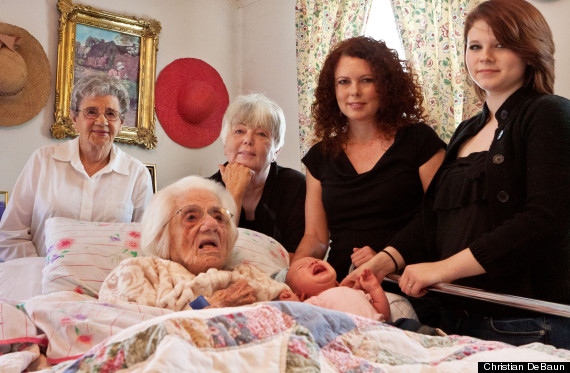 The women of this close-knit family said that it is both an "ornery" disposition and self-sufficiency that has bolstered the family's longevity.
"They're just all tough old birds," said Dan Goodman, husband of 70-year-old Bette Goodson, Mollie Wood's granddaughter. "I'm not talking about being mean, but they can take on a challenge, and surprise you."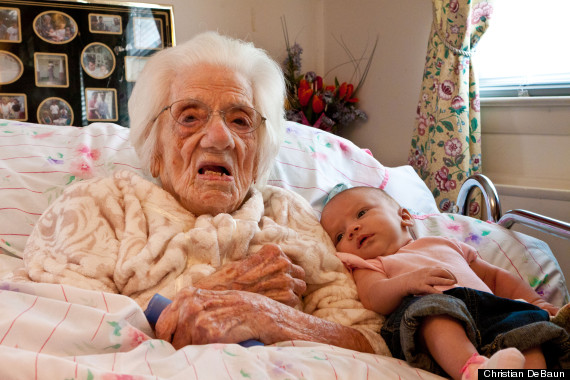 ABC reports that this independent attitude has extended to Savannah Shifflett, the 16-year-old mother of baby Braylin.
"My daughter has not asked for help," Marlo Shifflett, Savannah's mother and Wood's great-granddaughter, said. "And I thought, 'Where does she get that from?' And I realized we're all that way."
Though the family said they were devastated when they found out that Savannah was going to have a child, the women say the baby has made them even closer.
"She definitely wasn't planned, but she's my world," Savannah, who is engaged to Braylin's father, said.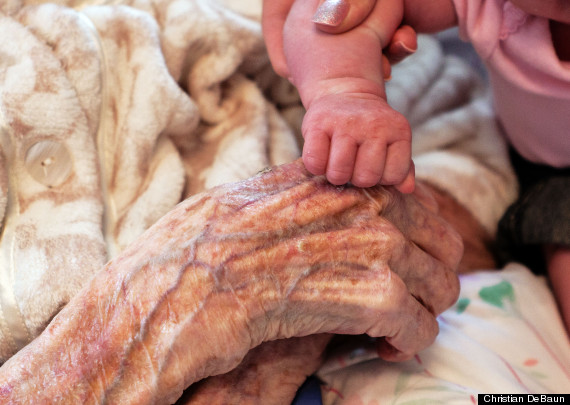 All six generations of her family were there last month to celebrate Wood's 111th birthday, Newsplex reports.
Photographer Christian Debaun was on hand to capture the moment.
Debaun, who has lived next to Wood's 88-year-old daughter Louise Minter for more than a decade, said the super-centenarian -- the oldest resident of Charlottesville, Va. -- is a "wonderful woman" who is still "sharp eyed" and "keenly aware of the people around her."
"There has not been a mother-daughter picture taken of the two of them in I think 20, 30 years. So the ultimate purpose was to go over and photograph the two of them together," he said on Newsplex.com.
"May we all be so lucky someday," he wrote in his Facebook album featuring Wood and her family.
Read the full ABC News story here and for more of Christian Debaun's photography, visit his website.
Calling all HuffPost superfans!
Sign up for membership to become a founding member and help shape HuffPost's next chapter
BEFORE YOU GO