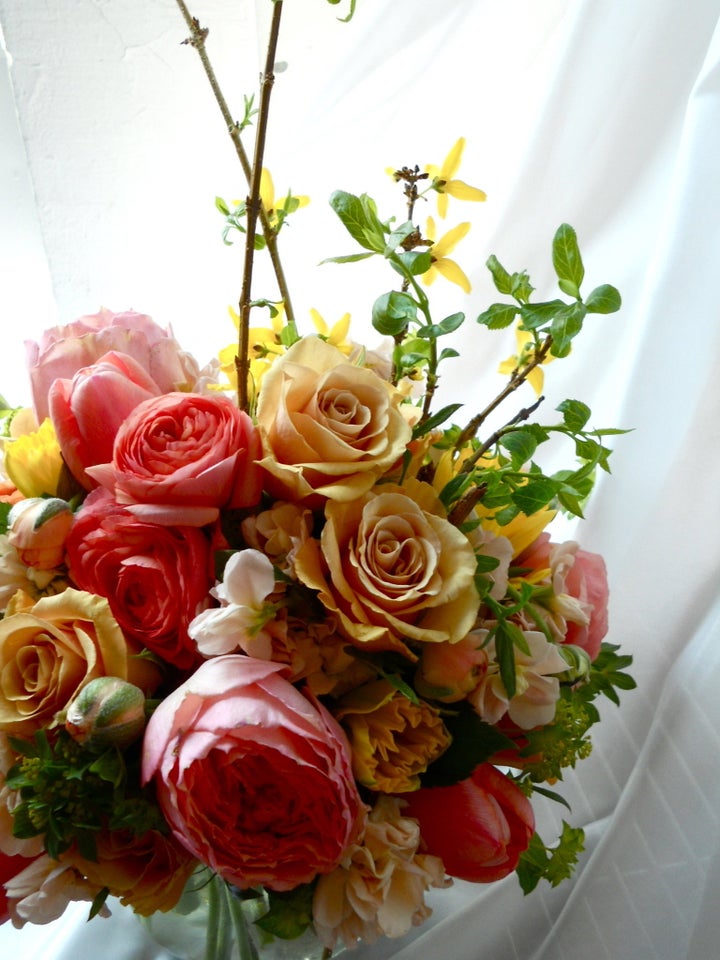 When it comes to giving -- or receiving -- Mother's Day flowers, it's supposed to be the thought that counts. And of course it does. But at the same time, it'd be nice to know that what you're sending this year is something your mom will display in her home because she truly loves it, not just because it's thoughtful.
For the florally-clueless variety, there is a bit of a risk involved in choosing flowers for mom. But with a few simple tips, anyone can avoid some common pitfalls.
And that's where a step-by-step guide to not screwing up Mother's Day flowers for people who know nothing about flowers comes in handy. Use it yourself, or casually pass it along to someone else you know could use the help (like your children, perhaps).
1. Choose A Budget And One Color:
If you find a local florist near your mom, you can spend some time on the phone with them (and potentially see examples on their website) as you talk through what you can get for how much you want to spend.
"Set your budget, make sure its realistic, and think of a color you'd like to use and then give [the florist] those two things to work with," Hannah Ling, owner of Gardenia Organic in New York City, told The Huffington Post. Next, allow the florist to make some suggestions and try to trust them. "They want the flowers to look good. Florists don't want complaints, they want everyone to love their work."
2. Find Out Where Mom Puts Her Flowers:
"We always ask 'where does she put her flowers?'" said Mike McCann, owner of Greenworks in Washington, DC. "Don't send a vase that's 25 inches tall if she's putting them on a coffee table."
Not sure where she likes to display them? Call dad or a sibling and ask where they see flowers in the home. Kitchen counter? You can go bigger and taller. Nightstand? Go for something lower set and tightly packed.
3. Take Advantage Of What's In Season:
"What's really popular at the moment are peonies," Hannah Ling of Gardenia Organic said. "They have short season and it always falls around Mother's Day. I've yet to meet anyone who doesn't love peonies."
And if your mom is the one person who doesn't like peonies, good for her for going against the grain. And there are always other options.
"Hydrangeas are some of your popular flowers out there right now," said Bob Hausheer, owner of Morning Glory in Wilmette, Il. "Unless you loathe them, such as Madonna. She's made that quite clear on the TV."
4. Know The Truth About Roses:
Unless you're confident that roses are your mother's favorite flower -- and that she would want a dozen of them in the same color -- roses are can be better off incorporated into arrangements rather than being the only flower represented in one.
"It's not the longest lasting flower, and it's very overdone," said McCann, the owner of Greenworks. "You can see them in the grocery store and they've gotten better and better the last ten years; a dozen roses can be $9.99. And red roses ... you might send them to a girlfriend or a wife."
In other words, not your mother. And it's potentially more special to send her something she can't grab with a carton of milk on her way out of the market.
Now this part is important, especially for men, because lilies are apparently your gender's go-to flower.
"Guys quite often order them," Ling told HuffPost. "So we have to kind of talk them out of it. People quite often request white lilies, and apart from the fact that they have a strong fragrance, they're quite symbolically associated with funerals."
If you're going to choose lilies, that's all well and good, but choose them carefully. Oriental lillies, like Stargazers for example, are among those that have a very strong scent. Much like olives, some people love them, but other people can't stand them.
"To get a nice, stinky lilly can be an issue," said Hausheer, of Morning Glory.
5. Mind The Color Combination:
"I get people asking for red flowers and asking for white to be in there. No. Bad, bad combo," Ling said.
That isn't to say you can't have reddish and whitish tones mixed into one arrangement, but you don't want an arrangement that is only red and white.
6. Carnations Actually Aren't So Bad
Right now, lower arrangements featuring flowers that are packed in tightly are in style.
"We like the the clear cube arrangements," said Hausheer of Morning Glory, referring to arrangements in which the vase itself is shaped like a cube. "They can be used as a centerpiece, on a coffee table, they can be put on a night stand. It's not more than a foot tall."
8. Consider Potted Plants Or Orchids:
Orchids can be pricey but you get a lot for your money. "You get a month shelf life out of those," said McCann of Greenworks.
What type of flowers are you getting for mom this year? Share your thoughts in the comments below.
Related