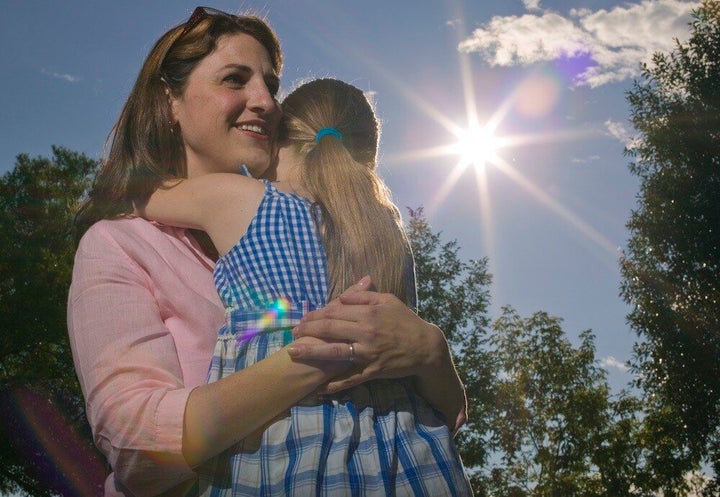 If you don't mind, I'm going to take a step back from the naked Asian gangster persona you've come to love from those heartwarming Hangover films. I realize my temporary departure may be difficult for many of you, but given it's Mother's Day tomorrow, I'd like to do something nice for my wife, Tran. Something that doesn't involve me cursing like a sailor or exposing myself on movie screens across America. (Though Tran really appreciates that stuff too.)
In the middle of the most challenging time of our lives, Tran stood strong for our family and encouraged me to pursue my dream of leaving behind my career as a doctor to become a comedian. (I don't know how many wives would encourage that kind of insanity. But I was lucky mine did.)
Three years ago, as my wife and I were eagerly adapting to parenthood with our then 1-year-old twin girls, Alexa and Zooey, we received the most devastating news. Tran was diagnosed with a highly aggressive form of breast cancer. We were both in shock, and I was angry. How could this be happening to her? How could this be happening to us now, at what should be the happiest time of our lives? But her grace and poise in how she faced her own diagnosis made me realize I'd have to stand up and be the man she needed me to be -- the man who would match her strength and be her constant throughout her battle. We were in this together.
Throughout her grueling treatments -- 16 chemotherapy sessions, a mastectomy, followed by radiation -- I stood by her side in complete amazement as she drew from a strength I didn't know she possessed, until she became a mother. She fought back against cancer with everything she had for our girls, so that they would grow up knowing a mother's love, a mother's instinct, a mother's touch.
It was difficult to comprehend why this was happening to her at a time when she should be enjoying the first years of motherhood with her young children. I now believe there was a reason she was diagnosed when she was -- she had a mother's strength to draw from, and a stronger will to fight.
I won't lie, I was scared out of my mind -- worrying that in spite of her best efforts, the cancer would be too much for her. And I thought, how could I lose my wife, my best friend, the mother of my children? How would I explain this to Alexa and Zooey? How would I ever compensate for her not being in their lives? And I realized I couldn't... I would always fall short, because Tran is the most unbelievable mother. In the two years she battled this disease, she never once let it take away from the moments she had with our girls.
Then, the call came. A few months into her treatment, I was offered The Hangover. I was going to turn it down, but Tran encouraged me not to. She would not let her diagnosis change our lives or strip us from our dreams. For as long as we'd known each other, she'd been my biggest champion in my efforts to pursue a career in comedy. She knew this was my chance, and again, she selflessly put herself second. It was the hardest decision I had to make, and there were days I thought I'd made the biggest mistake, ready to pack my bags and come home. But, she wouldn't hear of it and continued to give me her love and support. I used my time on The Hangover as therapy -- channeling all of my frustrations into that insane role which allowed me to act out in ways no human being ever should.
When Tran was told she was cancer-free, it was the greatest moment of my life. In a way, it surpassed our wedding and the birth of our girls because it meant that we would be able to celebrate both of those moments, for the rest of our lives. In those two years, I fell in love with my wife all over again and discovered a deeper love and appreciation for her than I ever had. For that, I am thankful.
As doctors (Tran is a family medicine physician and I am an internal medicine physician), we're very aware that one out of every three women is affected by cancer, and about 39,840 women in the U.S. were expected to die in 2010 from breast cancer. And so as we celebrate Mother's Day in our house tomorrow, I'm reminded of how things could have been -- and so grateful for how they are.
Let's reflect on the memory of all those moms we've lost, the moms who are in the fight against this vicious disease, and the moms we're so lucky to have with us, cancer-free. Launch a star in memory of someone you love at su2c.org.
Happy Mother's Day, Tran.
Related
Popular in the Community