I am a mother, and yet every year I fret about whether or not to play along with Mother's Day pomp and circumstance, or just hope it goes away. Even Anna Jarvis, the woman who spearheaded the U.S.' version of Mother's Day, grew so embittered with its commercialization that she tried to take the holiday back.
As a Mother's Day procrastinator, I put off thinking about it until even Amazon drones couldn't deliver my gift on time. That's when I start pouring through the Internet for last minute creative ideas to say I love you -- even if it's at the last minute. Passive aggressive maybe, but I suspect I'm not alone.
These gift ideas require no delivery and have that homey touch that will be appreciated. Those who share my Mother's Day ambivalence might want to check out some of the Mother's Day gems I've found.
SpeakingPhoto: Like its name implies, SpeakingPhoto (pictured below) is an app that lets you take a photo, supply it with narration or music and send it off to Mom. It's a simple (and free) way to capture a heartfelt "I love you" and makes a wonderful keepsake. String a few photo spots together and you've got a talking slideshow (available for iPhone, free with premium service).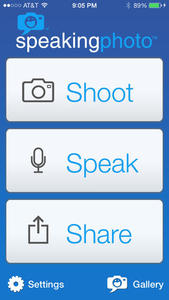 MyHeritage.com (pictured below): Start your family tree with the free version of this powerful genealogical program. It's one of the easiest and most graphical family tree makers with places to record photos, music and memories, as well as trace your lineage. One of the coolest features is SmartMatch, which compares entries in your tree to those of other users and finds likely matches. I found relatives from our old Belarus haunts to the delight of my mom (Free with premium service).
Netflix: If the last movie Mom had time for was Splendor in the Grass, you might want to give her a Netflix subscription. For that personal touch, populate it with Mother's Day appropriate movies: Terms of Endearment and Steel Magnolias should get you started. We manage our mom's Netflix by routinely adding more movies to her queue (prices range depending on plan).
Start Cooking: Don't underestimate the element of surprise. You'll even surprise yourself if you get up early on Mother's Day and use picnic planners like this one from Bill Telepan at Epicurious to make a last minute feast for Mom.
Let the Kids Put on The Show: Kids are perpetual art machines, churning out watercolors, marker and crayon masterpieces at an alarming rate. Moms feel incredibly guilty about tossing these treasures and find themselves with closets overflowing with oak tag and construction paper keepsakes. Your job? Download Keepy (pictured below), one of the nicest apps I've seen to let you take a photo of the said art work, tag it and store it to the cloud. Friends, grandparents and others can be invited to share comments, videos and voiceovers. With any luck it'll be there in 10 years, if not there's always therapy (Available for iOS, Android, Kindle with free and premium service).
Buy Yourself Some Time with a Kickstarter: Procrastinators are in good company on Kickstarter, where you can purchase products that will be for sale in the future. My fave of the moment comes from Israel. It's called Scio (pictured below) and it's a molecular scanner that learns the molecular makeup of whatever you point it at. Point it at a fruit? It'll recognize the fruit and it's characteristics like calories, nutrition and sweetness. It involves complex molecular physics and optical imaging and it's exceeded its goal of raising investment funds on Kickstarter. If it ships, she'll be amazed; If it doesn't, she'll probably have forgotten about it.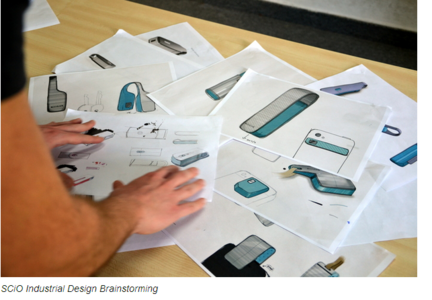 Robin Raskin is founder of Living in Digital Times (LIDT), a team of technophiles who bring together top experts and the latest innovations that intersect lifestyle and technology. LIDT produces conferences and expos at CES and throughout the year focusing on how technology enhances every aspect of our lives through the eyes of today's digital consumer.
REAL LIFE. REAL NEWS. REAL VOICES.
Help us tell more of the stories that matter from voices that too often remain unheard.