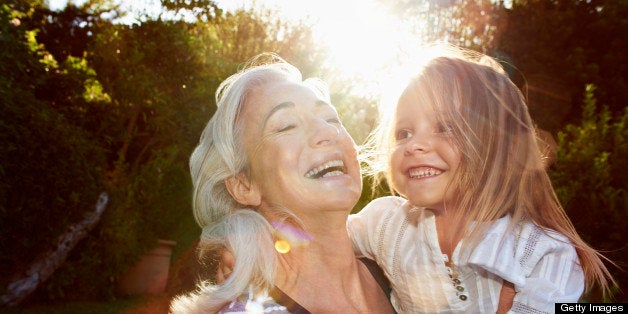 What's the best gift for your elderly Mom this Mother's Day? Consider past options offered by new technology. Ten or even fifteen years ago, the best gift may have been a cell phone so Mom could call you from anywhere. Five years ago, a digital camera was a great gift for Grandma, so she could take photos of your precious kids when she came to visit. How about the crazy new concept that debuted just three years ago -- giving Mom an iPad so she could email the kids or watch their sports games and music concerts on Youtube or Skype? Now that mom is ten years older and living alone, the brilliant new technology for her isn't shiny, available in multiple colors, made by Apple or even Internet-based. It's cellular. It's subtle. It keeps her connected and living safely in her own home.
Live!y is the brainchild of technology entrepreneurs who looked beyond their youth-centered industry and saw a need for connectedness in the aging in place of our older population. Eleven million Americans age 65+ live alone in their homes, and Live!y offers them the opportunity to stay living at home safely, longer, and in connection to their loved ones. Live!y uses its own cell phone network and reads sensors which have been placed inconspicuously around the home on locations such as refrigerator doors, key chains, pill boxes or drawers. The sensors watch for changes in patterns and usage and communicate via cell phone technology to loved ones living apart from the elder.
This new technology even gives the old-fashioned mail carrier something to deliver to Grandma's doorstep regularly. The LivelyGram is a basically a hard copy of family members' status updates and photos, put into one glossy mailer and sent to the elder's house. It is a way for non-internet users to see recent photos of their loved ones in a consistent, scheduled and organized way.
In my family, three of our four septuagenarian grandparents use the Internet to keep in touch, read our blogs and see our photos. However, according to a Pew Research Study last year, 47% of older adults do not use the Internet or email. Therefore, the LivelyGram is a perfect way to digitally upload your own photos and status updates and have them arrive in Grandma's mailbox.
In some communities, having an elderly relative's mail monitored is a resource for aging in their own home. Did you know that since 1982, the National Association of Letter Carriers and local community-based agencies have worked together to offer the voluntary Carrier Alert Program to watch out for obvious changes in elders' status at home? If a resident doesn't pick up her mail and newspapers, open her drapes or tend to her pets, the mailman or woman can alert a public safety officer to check in on her with a home visit. Where available, Carrier Alert is a free, valuable resource for families who live far away, so that they can know someone is looking out for Mom if an emergency or distressing situation occurs.
However, Live!y is available everywhere, and instead of waiting for an emergency to occur, the Live!y system is a comforting option. It monitors Mom from inside her home instead of from the front door, is available in nearly all neighborhoods in America, Canada and Europe, doesn't depend on her wearing an alarm (and activating a) button such as other systems, and allows you and Mom to stay connected consistently and without fear.
Live!y Co-Founders, San Francisco-based Iggy Fanlo, David Glickman and Keith Dutton, found advice and expertise right in their own back yard. The Director of the Stanford Center on Longevity and author of A Long Bright Future, Laura Carstensen, is a psychologist and the world's authority on the socio-emotional well-being of older adults. Dr. Carstensen agreed to serve on Live!y's Board and help guide the company. After developing the idea and the prototype in the tech-central Bay Area, the team took their idea across the country to "aging-central" for research.
"People in Florida saw this as very, very different from medical monitoring or emergency response, says Fanlo, CEO. "It's the idea of being able to share ones' daily activity. Let people know you are getting up and about, and it is a more powerful indicator of your healthy well-being. That positive angle is the critical problem that Live!y is trying to solve."
Social networking on the Internet and through cell phone apps have helped users across ages and generations maximize their desires for connectivity to friends, family and the larger world. For those older adults who do not use the Internet or even cell phones to pursue social and emotional connectivity, Live!y offers a way to keep their families connected using resources in which the younger generation thrives.
"We are looking at the positive side of life. Caring and loving. That's what I want Live!y the brand to stand for," says Fanlo. "When they see the monitor or Live!yGram, that's about caring and connection."
The author of this post has no affiliation with Live!y.
Popular in the Community