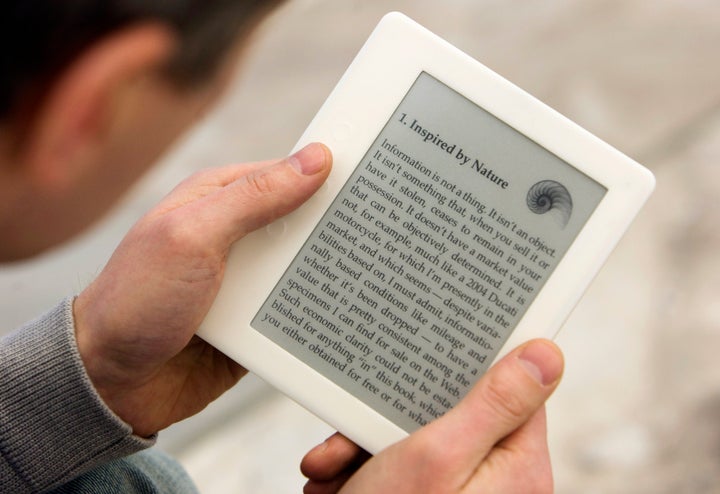 Struggling to find that perfect gift for Mom on Mother's Day, but running out of time and don't know where to start? Well, now that she's befriended Siri, has mastered the art of video chat and texts in acronyms, it may be time to turn your attention toward tech.

According to a new study from the Consumer Electronics Association, women's interest in technology has spiked within the last five years, with eight in ten women expressing a strong desire for consumer electronics.

So while Mom will always appreciate a card and a lovely spring bouquet on Mother's Day, it's a safe bet that she's just as eager to get her hands on the hottest new tech gadgets as you are.

For that modern day Mom, here's five last-minute gift ideas that are guaranteed to be a hit this Mother's Day:
The Nook Simple Touch with GlowLight -- For not-so 'light' reading
For book-loving moms and news junkies, an e-reader is a no-brainer. And with the e-reader market expanding, chances are she already has her hands on one of the nifty gadgets. But as awesome as the concept of E-Ink is, the technology is as useless in a dark room as its paper counterparts.

It appears Barnes & Noble, which recently landed a $300 million investment from Microsoft, is the first to hand over the missing piece of the e-reader phenomenon with its new Nook Simple Touch with GlowLight, which combines the E-Ink technology with a backlit screen.
The e-reader works the same as your typical Nook (save for a few new features and updates), but the breakout star here is the "N" button, located at the bottom of the device. When pressed, it activates GlowLight -- a huge convenience on overnight flights or late-night reading sessions in bed

The new dark-friendly Nook (priced at just under $140) is available now for pre-order and goes on sale May 7th. It's bound to sell out quickly, though, so if you fancy telling mom she can now read while Dad snores, you'll want to act fast.
Be sure to keep the slightly more advanced Kindle Fire, priced at just $199, in mind as back-up for the Nook. Chances are it could be out of stock, or you might simply arrive at the conclusion that it's too simple of a device for that increasingly tech savvy mom of yours.
Powermat -- Give the gift of power
Everyone knows that mom is a force to be reckoned with, so why not gift her with a gadget that feeds her power hungry tech obsession?
For the mom who needs to stay 'charged,' Powermat offers a cool -- and totally needed -- technology for wireless power. You can expect to see these wire-free charging mats attached to furniture, in cars and in public places like cafes and airports. But mom can also benefit from its consumer line of products, which allow for multiple devices to charge without the labyrinth of cords.

The Powermat, which can be purchased from major retailers like Amazon, Best Buy and Target for approximately $40, will allow mom to charge up to three devices at a time. She can attach receivers to the back of each of her gadgets, or she can invest in the universal receiver, which includes power tips for hundreds of devices.

Is mom in the market for even less wire? Powermat has partnered with Duracel to roll out a new series of consumer products this summer that include portable backup batteries and "battery cases," which clip on to a device for use in places where Powermat capabilities have been installed. Powermat is a perfect gift for keeping mom charged and connected -- for better or for worse.
Motactv Fitness Tracker - For the fitness junkie
Propel your mom into fitness of the 21st century with Motorola's Motoactv fitness tracker. With the Motoactv, Mom can set her fitness goals, plan her workouts and track her performance as a true techie.
The gadget combines a rather intelligent MP3 player with a fitness tracker for a number of activities, such as running, cycling or golf. Motorola got edgy by adding smart capabilities to the MP3 player, which learns what songs motivate the user, which can help a lot when she's struggling making it up the final stretch on that hill and desperately needs her power song to come on. All the normal fitness-tracking features are included, of course: GPS, distance tracking and a heart monitor.

The device will set you back at least $250 (more for the advanced editions), and
Motorola hasn't missed a beat on the Mother's Day marketing. They'll throw in a free watch strap with purchases made up to May 13th.
iPod Touch -- Control at your fingertips
Let's face it, you can't go wrong with an Apple product regardless of who in your family is on the receiving end. And for a mom who walks to her own beat, the new iPod Touch is a perfect companion.
This iPod, which comes armed with 8GB, 32GB, or 64GB of storage space, is more than just a music player. Mom will have everything from FaceTime video chat to HD video recording to free texting capabilities via iMessage at her fingertips.
Other features include voice control, wireless printing, access to the App Store with its 600,000 or so apps, and the ability to stream wirelessly to an HDTV with an Apple TV hooked up using AirPlay. iCloud will automatically sync her music, apps, photos and more with her other iOS devices.
Starting at $199, it's not the cheapest gift to consider, but one that is sure to keep her happy as she goes about her busy day.
Brookstone wine opener -- Relax and enjoy!
It's hard work keeping up with all the latest in tech gadgets, so to help mom unwind after a long day on the grid, Brookstone's automatic wine opener puts a unique spin on a classic tool.
This sleek device is as easy to use as it is affordable (around $30). It fits nicely on the top of almost any wine bottle, and with the press of a button mom has effortlessly dodged the myriad of cork mishaps that can occur with a traditional corkscrew.

The rechargeable opener can work on natural and synthetic cork and can open up to 50 bottles on one charge. This one might come in especially handy, so gather the family and let the Mother's Day celebrations begin!
Popular in the Community