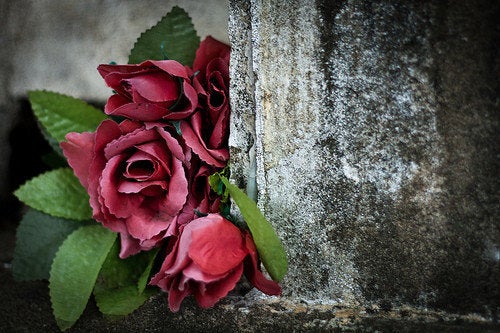 I was at a ceremony for my husband's late grandmother last week and I always feel compelled to visit my mother's grave whenever I'm at the cemetery. We are really not a "visit the grave" kind of family. As my grandmother used to say "dead is dead." I confirmed this too on my visit, as my mother's plot came into sight. Yup, still there, I thought.
I always feel awkward kneeling down in front of my mother's stone, like I'm supposed to make a profound statement or something. I never really know what to say, though. I usually get her caught up on things: this time I told her how sweet her grandchildren are and then I apologized for leaving my legal practice. I told her I'm trying to figure things out and that I love her very much.
I know others take comfort in visiting lost loved ones, but it doesn't really do much for me. I don't believe my mom is really there. My mom isn't anywhere. I don't feel like my own thoughts and memories bring forth her presence in any tangible way. I loathed when people who, leading up to my wedding, told me my mother would be there when I chose my dress or that she was watching our ceremony with delight. I hate that kind of talk. No, my mom did not come to any dress fitting, nor did she dance at my wedding. How could she? She was dead.
This realist approach makes Mother's Day very lonely. A part of me wishes I believed in it all. I wish I could believe my mother was in some afterlife sipping coffee with Mordecai Richler or Jackie Kennedy, ready to be summoned at a moment's notice to give me solace or to attend an event. It would be so much easier.
Without religion or other philosophies, I don't know where to garner comfort. They say that time heals all wounds, but I haven't found this to be the case. Time just dulls the memories so they are less raw and less available.
On my knees this time in front of my mother, a conversation I once had with her slowly surfaced. I remember sitting on her bed a decade before she died, with my little cat Olympia, telling her how scared I was for Olympia's death. Olympia has been with me through so much that she now feels like a part of me.
"I'll be inconsolable when she dies," I said, "I can't live without her."
"It's not that she can be replaced," my mom said, "but when she does go, I want you to take all that love and give it to another animal who needs it. Take it and pour it all into them. Don't let all that love go to waste."
I think that's how I cope with my mother's death. I take all the love, drawing it in from the tips of my fingers and the tips of my toes. I gather all the tenderness, all the warmth and affection, spilling over from my loss. I roll it all together and give it to my husband. I give it to my brothers and their families, my father and my extended family. I give it to my friends and all the people I care for, collecting even more people as I go.
Standing up, I brush the dirt off my knees, take my husband's hand and walk away.