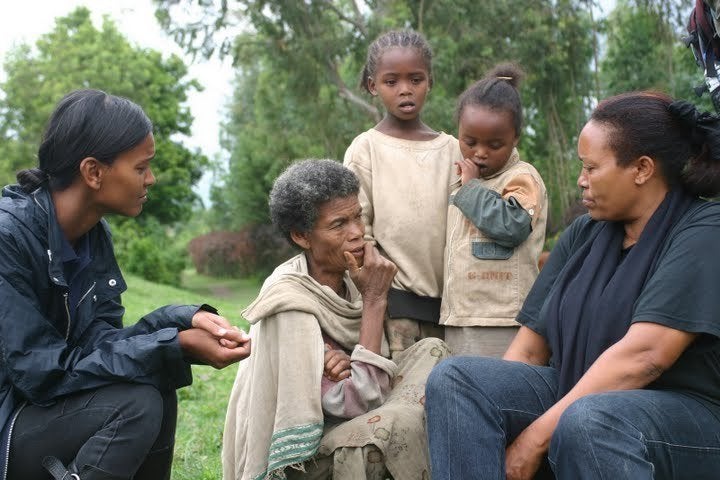 The Huffington Post's Living section joins Mothers Day Every Day, a joint campaign of the White Ribbon Alliance and CARE, in a daily countdown to Mothers Day with special voices working to help save the lives of mothers and newborns around the world. Mothers Day Every Day is advocating for more progress and investments toward safe pregnancy and healthy babies because when women survive childbirth, they give birth to healthier families, communities and nations.
This Mother's Day, I'm hoping for a different kind of gift. Amid the flurry of sentimental Mother's Day gifts and greeting card commercials, it's easy to miss the true challenge facing mothers in all corners of the globe today. Every year we celebrate mothers and the profound impact they have on our lives, but this celebration is cheapened if we continue turning our backs on mothers in the developing world. For Mother's Day, the perfect gift would be if no woman had to give her life to give birth.
Imagine if every pregnancy meant putting your life, or your wife or sister or friend's life, in jeopardy. Every minute, a woman dies in childbirth and 99 percent of those women are in poor countries.
I grew up in Addis Ababa, Ethiopia. There, dying in childbirth is seen as an inevitable risk, an everyday occurrence, really. It wasn't until I came to the U.S. that I realized motherhood didn't have to mean risking your life.
After all, we know exactly how to prevent mothers from dying. Consider this: during World War I more American women died in childbirth than men on the battlefield, but today dying in childbirth seems like ancient history to most Americans. We know what it takes.
It is possible to end maternal mortality. So why haven't we done it?
In 2000 the world, including the U.S., promised to reduce maternal mortality by 75 percent by the year 2015 as part of the Millennium Development Goals (MDGs). Well, we are two thirds of the way there and, with less than five years to go, maternal mortality is the least funded and least improved of the eight MDGs. Worldwide, maternal mortality has dropped by less than one percent and, in sub-Saharan Africa where mothers are most at risk, some countries have even gotten worse!
We are not talking about a controversial or politically polarizing issue. We are talking about whether we should ask a woman to risk her life when she decides to have a child. We are talking about whether large numbers of children should grow up without mothers ... for completely preventable reasons.
President Obama has made maternal health one of the core priorities of U.S. international aid funding. This year, he proposed $700 million for maternal and child health and $200 million for nutrition in the Fiscal Year 2011 budget, a significant increase from last year. This is an important first step, but it's just a drop in the bucket compared to what is needed and compared to what we've already promised. In these tough times, everyone is looking for ways to cut spending. But under-funding programs that save mothers' lives is unwise and inexcusable.
Investing in mothers' lives is critical. The chance that a child, or a family, or a nation, will thrive without mothers is virtually nonexistent. Just think what your life would have been like without your mother. Children with healthy mothers are much more likely to survive childhood, attend school and live healthy, productive lives. Communities with low maternal mortality rates have stronger economic growth and are less likely to suffer from violence and social unrest.
I'm glad we take this time out to celebrate mothers but this year, let's make it a celebration that means something. If we love our mothers and recognize the powerful impact they have on our lives, shouldn't we invest in saving them? The ultimate Mother's Day gift would be ending preventable maternal deaths and giving an entire generation of women the chance to celebrate with their children. It can be done, but we have to speak up. Our leaders need to know NOW that we, as sons and daughters, and as voters, care about saving mothers' lives.
This Mother's Day, give your mother the best gift of all and prove that you know the value of a mother's life. Tell Congress to fund the programs that save moms everywhere this year--and of course don't forget to tell your mom how much you love her. Far too many children won't have that chance.
Liya Kebede is a member of the Mothers Day Every Day Advisory Committee.
Check out the rest of our Countdown to Mothers Day series below: