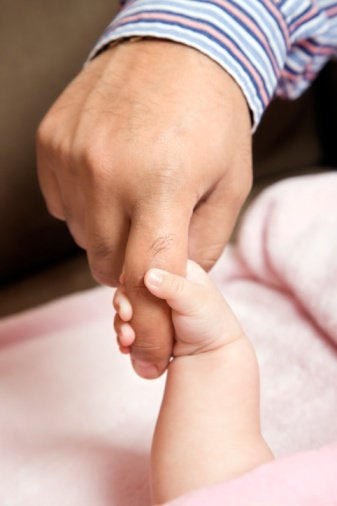 By Julianne Idleman, Director of Communications, Hand in Hand
All the way home from the hospital I was sure my baby daughter's head would wobble straight off her pudgy neck and I would find it bouncing around the back of the car. I was in shock that they had let me leave the hospital with this tiny, helpless creature. Already 35 when my daughter was born, I had been looking forward to parenthood for many years. I had worked with children. I had watched carefully as my friends and relatives sailed into family life. And I had read all the 'right' books about child development and what to expect. In other words, I was as clueless and unprepared for the reality of life with an infant as your average parent.
My daughter just needed me to love her, right? And pay attention to her, and feed her (How hard could breastfeeding be?), and take care of her, and get us both back and forth to the pediatrician's office, and get dinner made, and find time to do the laundry, and wash us both now and then, and remember to make the mortgage payment and make sure her car seat straps were properly adjusted and tend to her developmental milestones and start saving for college and ...
Sleep deprived, begrudgingly recovering from the 100 plus stitches of an unwanted C-section and terrified that I was doing a 'bad job' because my new 'boss' cried even when I thought I was parenting by the book, I gradually became fearful I was coming unhinged. I probably looked slightly milk-stained but otherwise fine on the outside. I went to playgroup and Gymboree and baby music lessons. I showered and brushed my hair and dressed my daughter in matching Baby Gap outfits. I compared growth chart percentages and teething tales with other moms in the park. Yet, at odd moments, I found myself irrationally furious over bits of my own childhood I hadn't considered in decades. Why was I plagued by thoughts of my less-than-ideal childhood when I should have been enjoying my daughter's happy one?
On a fundamental level, deep in the folds of our brain, we learn to parent as we are being parented. The parts of your memory that were intimately engaged in those early peek-a-boo experiences with your parents are actually stimulated in your adult brain as you peek at your own bright-eyed infant. Dr. Lewis et al explains this process beautifully in A General Theory of Love. As you build those essential and hopefully warm and loving connections with your baby, you also get a chance to revisit how that experience felt for you a generation ago. If it felt basically good and your parents were well resourced, relaxed and happy to have you joining the clan, your attachment process with your own child is an easier one. If you were a preemie born to a frightened couple in a war-torn part of the world, you might feel a lot more stress as you are trying to enjoy your new family member.
No childhood is perfect. Nor does any child require one that is. But in order for the attachments to develop smoothly in a new family, there is one key element that predicts relative success--the parent's understanding of their own relationship history, especially the relationships of their childhood. Parents who were born into less than ideal circumstances don't necessarily have trouble building good relationships with their own children, as long as they have come to terms with their own formative relationships. When a parent is able to relate what researchers call a "coherent narrative" of their early life experience, it's possible to predict that their own children will form normal, healthy attachments in relationship to them. No matter how imperfect their past may have been.
So, there it was. As Patty Wipfler says in her much-beloved Listening to Children, "We discover that loving and nourishing a child is complex work that challenges the hardiest grownups." My early relationship with my daughter was challenging not because anything was wrong with either of us, but simply because I had yet to make peace with my own early experiences.
Dr. Dan Siegel talks about his experience at this same impasse with his young son in his moving and thoughtful book Parenting from the Inside Out. It was hard enough for me as a new parent just to get out the door in the morning wearing matching socks and minimal rice cereal stains. The last thing I had time for was navel-gazing contemplation of the emotional impact of my grandmother ruining the pin-the-tale-on-the-donkey game at my fourth birthday party. Luckily for me, there were people around me who knew how to really listen. Not the usual conversational sandwich-building "Oh that happened to my cousin Eleanor too!" back and forth kind of listening. But the "I am really here with you. I won't interrupt or advise. Go ahead and let me know how your experience feels," kind of listening. And the more they listened, the more I healed.
The focused attention of another caring human being is what allows each of us to bring out the things in our emotional experience we haven't really made sense of yet and repackage them into something more digestible, something easier to live with. It's not a nice, neat, logical, thinking process. It's a messy, laughing, crying, trembling maze of emotions waiting to tumble out into shared emotional space. But the more I was able to soak in this sort of gentle attention, the easier it was for me to relax and be available to my daughter and her in-the-moment emotional experience. That feeling of hanging on by my fingernails receded. Slowly I was able to take a deep breath and I laugh and play and connect.
Julianne Idleman is the Director of Communications at Hand in Hand where she edits the monthly newsletter Connecting! and enjoys teaching parenting classes.
Are you a new or expecting parent, or do you know one? Get a copy of the Early Moments Matter toolkit at www.earlymomentsmatter.org and learn about an exciting public service effort to promote early childhood attachment. Help give our next generation the best chance at a life of emotional wellness.
Related