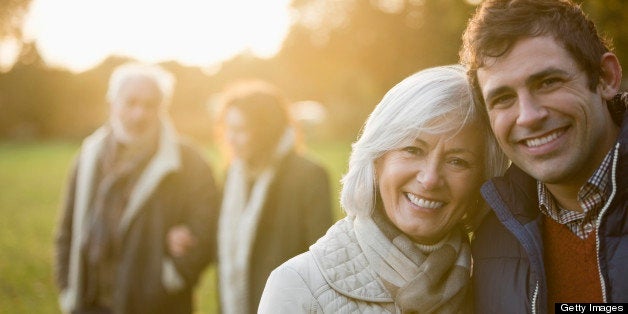 The month of May has always been a busy month for my family. It is the month of my birthday and my son's birthday. On a more universal level, other holidays that fall during this month are Cinco de Mayo, National Nurse's Day, Clean Up Your Room Day, National Bike to Work Day, Visit Your Relatives Day, Limerick's Day and Mother's Day. Last weekend, I celebrated my 31st Mother's Day. Like many Hallmark holidays, I am skeptical about devoting only one day a year to important people. I think we should celebrate, appreciate and honor those we love and who have impacted our lives every day. With three grown children who no longer live in the same house nor community as me, I cherish any time we are able to spend time together. This past weekend was particularly special because my 29-year-old daughter, Rachel, flew in from Miami to join in the celebration. For a busy woman to take the time meant the world to me. It was also nice for my 23-year-old, Josh, who lives within two hours, to spend time with his sister.
While growing up, my father taught me to never make judgments about people and that everyone has the right to do as they please. "Live and let live," he often repeated. However, another thing he often pointed out is that actions speak louder than words. As we get older and our children leave the nest, our priorities evolve, and what people do to bring joy into others' lives is important.
I feel sad for those who were unable to be with their children to celebrate Mother's Day this year, or those who mourn the loss of their mother's passing, or those who don't have children who have focused on the wonderful joys of mother earth. Hopefully, those who still have mothers were able to display some gesture of appreciation, whether with flowers, cards, gifts or phone calls. For me, the little things in life, like love and family, become more important as I age. An extra gesture, visit, phone call or card means that someone cares enough to spend the time thinking about us. It takes so little time to express gratitude and I often wonder why we don't do it more often.
Rachel arrived bearing a homemade gift, which I will cherish forever. She crafted me a personalized memory box made from of an old printer drawer. For the past six months, she has been collecting mementos that reminded her of me -- my accumulated passions, which she artfully placed in each little compartment. I plan to hang it on the wall in my meditation room and cherish it for years to come. Josh, who also has a busy life, admitted to not getting me anything and I told him his time was the best present, but his conscience brought him somewhere else. While walking through a Los Angeles Farmer's Market yesterday, he wandered into a jewelry booth and picked out a ring he knew I would appreciate. He asked for my hand and placed it on my middle finger. It was a silver meditation ring that brought tears to my eyes. Around the same time, in my hand was my cell phone, and my 27-year-old daughter and her husband were calling from New York. I had this deep sense of bliss that only a mother can feel. I felt I had accomplished all I needed in life -- I raised loving and thoughtful kids who are now on their own.
Once a mother, always a mother, but when your children leave home, there's a certain identity crisis that strikes. An article in yesterday's New York Times called, "After the Children Have Grown," by Madeline Levine, resonated with me. Levine admits that after her kids left home she has had trouble figuring out who she was or who she will be moving forward in her life. Like her, I feel as if I have changed over the years, but maternal core feelings remain constant.
Special moments with loved ones should be sacred and cherished and be considered numbered, because in life, we just never know what will happen. Supposedly, the concept of "empty-nest syndrome" is no longer a clinical term, and psychologists reject it particularly because it mainly affects stay-at-home moms, who these days, are more rare. As our children grow, I realize that they need us in different ways. We simply need to "be present." They want us as their listener and confidant offering unconditional love in a judgmental world.
Whether we have children or not, we need to acknowledge the beauty of evolution and change. I have been lucky to have nurtured a career as a writer which allowed me to weave my passion into the daily chores of motherhood, and so my transition to my children growing up might have been easier.
I am starting to love and enjoy the golden years, as I look back with a certain amount of wisdom and "deja-vus," at the stories and experiences that formed the map of my life. I am embracing the journey and aging gracefully like I have advised my parents, family and patients to do. I have learned that whether it is a holiday or not, it's always good to to give love to those who are special to us.
Related
Popular in the Community