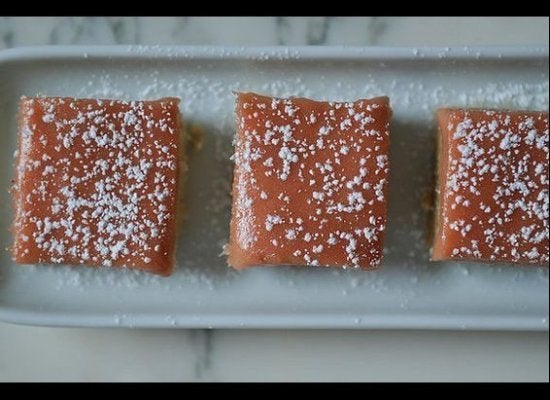 Some of us, like me, are lucky enough to have mothers who were fabulous cooks. Family dinners seemed like a breeze, birthday cakes were homemade, no celebration was without its lovely food rituals and memories.
In my childhood home, that meant an Italian mom who had a pot of sauce going pretty often, who thought nothing of undertaking homemade caramels just because, or bringing bagna cauda as her offering for a potluck. It wasn't uncommon to come home from school to painstakingly thinly sliced beef jerky slowly drying for hours on end in a low oven.
And then again, some had moms the opposite of mine, who made reservations instead of dinner, or took advantage of that miracle of its mid-century time, the Swanson TV dinner. Every single night, it seemed. Cooking wasn't their thing. It just didn't float their boat.
But mothers of all cooking persuasions were celebrated equally at a recent potluck put on by the Food Bloggers Los Angeles group. FBLA, as it is known, is a collection of passionate local cooks with food blogs.
These folks, about 50-60 active members and more than 500 strong on Facebook, meet monthly to bond over Bundt cakes, commune with caponata, and dish the deviled eggs. We have forged one of the strongest food blogging communities in the country, thanks to founders Erika Kerekes of In Erika's Kitchen, and Patti Londre of Worth the Whisk. We meet to eat, yes, but also to learn about such blogger must-haves as elevator pitches, plug-ins and Pinterest, navigating the wilds of Google analytics (thanks to FBLA member Andrew Wilder of Blog Tutor, and the intricacies of SEO, taught by FBLA member Pamela Braun of My Man's Belly, for example.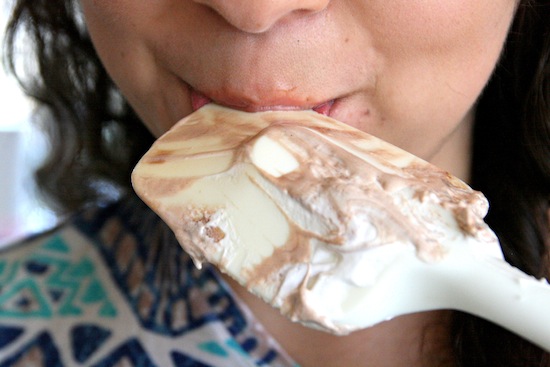 We've been featured in the Los Angeles Times Food section for our Thanksgiving Potluck, we sweetened up last December with our Holiday Cookie Exchange, celebrated March with "Potatoes and Pinot," toured Little India guided by FBLA member Rashmi Nigam of Yum Kid, and packed meals for Londre's favorite Project Angel Food, among other things.
Most of all, though, we've enjoyed new friendships with our similarly obsessed fellow foodies. These are crazies who aren't shy about debating the merits of black garbanzo beans, probably have smoked paprika and truffle oil in the pantry, will add a room onto the house just to store cookbooks, and whose collection of "props" (aka dishware, glassware and serving pieces) rivals the Martha Stewart studio.
So it was not a huge stretch for me to suggest the group meet for a Mother's Day Potluck. TV producer Judy Lyness, who writes Two Broads Abroad, immediately offered her Miracle Mile-area home, and I sent instructions: Bring a dish that shows off one of your mother's recipes, or honors her in some way (her culture? her food fancies? her personality? you choose!).
The delicious offerings carried over the threshold honored, celebrated and revered every sort of mother we knew. We scooped up Nancy Eisman's Moroccan Tomato & Preserved Lemon Salad on baguette slices, noshed on Christina Conte's mother's favorite pizza, and Lana Watkins' leek pie that might as easily be dubbed a strudel.
We marveled at the airy cheese souffle brought by Ellen Rosentreter, wallowed in the comfort of stuffed cabbage rolls from Debbi Dubbs, and nodded in appreciation as Greg Henry praised his late mother for her savory clafouti and allowing a young boy into the kitchen.
We laughed and applauded as Adair Seldon, an advertising copywriter who pens the blog Lentil Breakdown, arrived with a reinterpretation of her mother's classic TV dinner, complete with a hand-made oversize foil tray, mashed spuds, green beans and lentil loaf standing in for the ubiquitous meatloaf.
I waltzed in with feather-light Nutella meringues to honor my mother and thank her for teaching me to cook. For a whole week I had been struggling to find just the right recipe to make for the FBLA meeting, from among the hundreds that my mother passed on to me. When my 14-year-old daughter came into the kitchen and asked if we could make Nutella meringues, the light bulb went off. Why yes, we could, and I could use the opportunity to pay it forward by teaching my own daughter how to cook, as I had been taught so many years ago.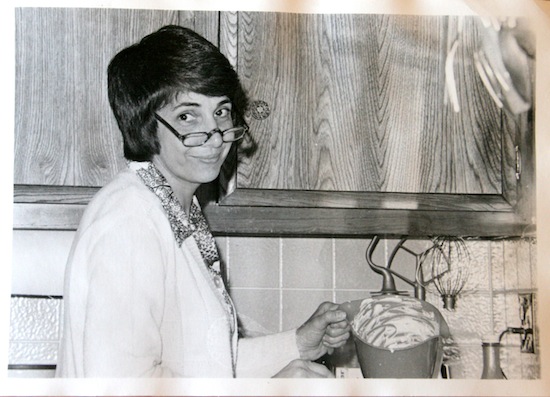 I have always wanted to be as good a mother to my own children as my mother was to me. Perhaps her legacy of kitchen fluency will be my legacy as well.
If you'd like to add one of the delicious FBLA potluck offerings to your own Mother's Day celebration, you can find them all here in this roundup on my blog, Shockingly Delicious.
Shockingly delicious... that describes my mom's food, as well as my own, I hope!
Related
Popular in the Community