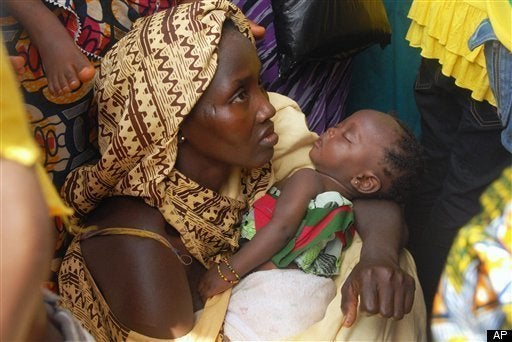 The Huffington Post's Living section joins Mothers Day Every Day, a joint campaign of the White Ribbon Alliance and CARE, in a daily countdown to Mothers Day with special voices working to help save the lives of mothers and newborns around the world. Mothers Day Every Day is advocating for more progress and investments toward safe pregnancy and healthy babies because when women survive childbirth, they give birth to healthier families, communities, and nations.
Each Mother's Day, I let my beautiful, spirited 12 and 14-year-old daughters believe my joy emanates from their always thoughtful, often homemade gifts regaling their mother. The truth is the breath taking joy in my heart--as every mother knows--is them. The everyday gift of being their mother. The bountiful repository they provide for my unconditional love. The certain knowledge that for loving them I would not even have to think about jumping tall buildings or stopping a speeding bullet. The wellspring of Superwoman is and always has been primal love of her offspring.
That unique love that lasts a lifetime begins before birth. Moms in developed countries can worry nonstop during their pregnancies, soaking up baby books and downing maternity vitamins while playing Mozart to their bellies. Us older moms have an additional set of issues to worry about, while younger moms struggle to get everything just right, as their age still allows them to believe is possible! But no mom of any age in any developed country, even moms with truly difficult health issues or economic circumstances, can begin to fathom what maternity issues mean to our sisters in lesser developed parts of the world.
For these women, basking in the radiant love of birthing is a limited, if existent at all, luxury. Indeed, equally luxurious would be a set of maternity concerns even remotely similar to ours. Their concern is reduced to one: literally surviving.
The women and men of the White Ribbon Alliance and CARE and those involved with their joint the Mothers Day Every Day campaign have joined forces across political and geographic boundaries to accelerate progress of maternal and infant mortality. The scope of the problem is mind boggling: a death per minute in pregnancy or child birth. The far reaching ramifications of so many lost mothers and children, short and long term, from the family unit to country wide progress, are equally profound.
Unlike so many seemingly intractable problems in developing countries, where one can only curse the darkness, the Mothers Day Every Day campaign has demonstrated on maternal and infant mortality we can and are lighting candles.
On this Mother's Day, I urge you to take a few moments--maybe with your kids--to review the progress made and to reflect on how much more can be done; to consider how you might contribute to the ongoing progress.
On this Mother's Day, as we celebrate our love for all our mothers and children, take a moment to give thanks for the blessing of being able to dwell on the miracle of birth.
Mary Matalin is a member of the Mothers Day Every Day Advisory Committee.
Check out the rest of our Countdown to Mother's Day series: