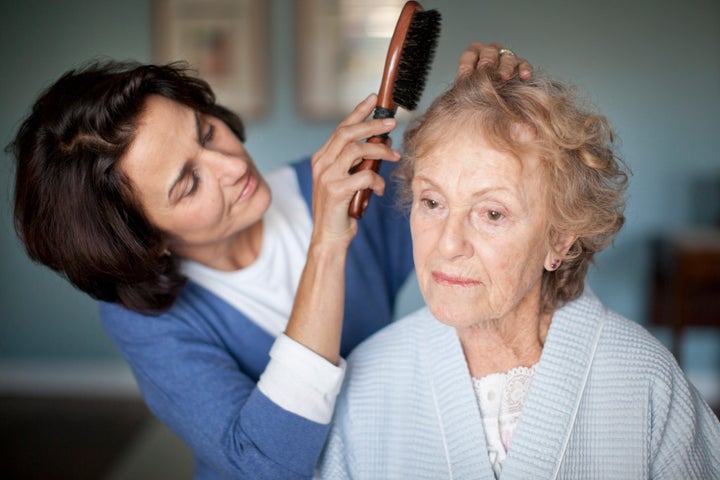 As we celebrate Mother's Day, let's remember the many moms who stand by and support their children who struggle with mental illness.
I will never forget a briefing for Members of Congress on Capitol Hill, where one mother, Maureen, and her daughter, Maggie, spoke. Maggie was in nursing school managing symptoms of schizophrenia. Sometimes her condition became unbearable, but she did not want to be hospitalized. So, Maggie, her doctor, and her mother worked out a plan.
Maureen would administer and monitor the very strong medications that Maggie needed to calm her symptoms and allow her to rest before resuming her normal activities. Maureen was a mother, partner, and caregiver.
Without support for such partnerships, caregiving can take a toll. As a society, we need policies and resources that can sustain and assist family caregivers. This is a women's health issue—especially relevant to mothers. A study by the National Alliance for Caregiving (NAC) has found that roughly 80% of family caregivers for people with mental illness are women.
Caregivers for people with mental illness experience increased stress and much worse physical health due to caregiving responsibilities, which are more time-consuming and last for years ― much more so than for many other health conditions. In 2009, a NAMI survey on depression alone found that almost 50 percent of caregivers were diagnosed with depression themselves.
"A study by the National Alliance for Caregiving has found that roughly 80% of family caregivers for people with mental illness are women."
The NAC study showed a need for education for caregivers and particularly help in navigating our very complex mental healthcare system. This need is nothing new. As NAMI CEO, I find this fact particularly troubling because after more than 30 years, too many people who need our help still are not getting it. We must do better in finding families early, helping them with educational programs, website resources, and helplines so they can find the services they need and reduce their stress and time commitments.
Federal funding exists for networks in local communities that support families of people with developmental disabilities and aging adults, but there is none for families of people with mental illness. Thus, it is very difficult to provide sufficient programs and relieve some of their difficulties. For example, the U.S. Department of Health & Human Services (HHS) Administration on Aging has a family caregiving program of over $150 million dollars per year. Compare that to the zero dollars allocated for family caregivers of people with mental illness. NAMI is working to change that.
"This Mother's Day — and any day — please offer support to a mom who is caring for someone with a mental health condition."
In the meantime, we want to offer a heartfelt thank you to those parents who provide support, help coordinate appointments, offer transportation, provide medical histories, and consistently love and care about their sons or daughters who are struggling. In addition to the day-to-day responsibilities, we also want to recognize the emotional toll that mental illness takes on a family, especially given the widespread misunderstanding, second-guessing and blame that can often come with mental health conditions.
We at NAMI call mental illness a "no casserole" illness. During crises involving other medical conditions, neighbors and friends often rally to support a family by delivering casseroles and other food to relieve the burden of cooking meals. That rarely happens during a mental health crisis — in part because of the silence that surrounds mental illness.
We can do better. So, this Mother's Day — and any day—please offer support to a mom who is caring for someone with a mental health condition. You can do something tangible such as visit, deliver a meal, call or send a card or message just to say you recognize their hard work and appreciate them.
NAMI also thanks the many moms who have joined our mental health movement and taught an educational class for other parents, facilitated a family support group, answered helpline calls or been active in advocating for improvement in the mental health care system. We are so grateful to those who have shared the knowledge gained from their difficult personal experiences and used it to make the next person's journey a little easier.
Happy Mother's Day to all moms who support a loved one with mental illness. You make a tremendous difference.