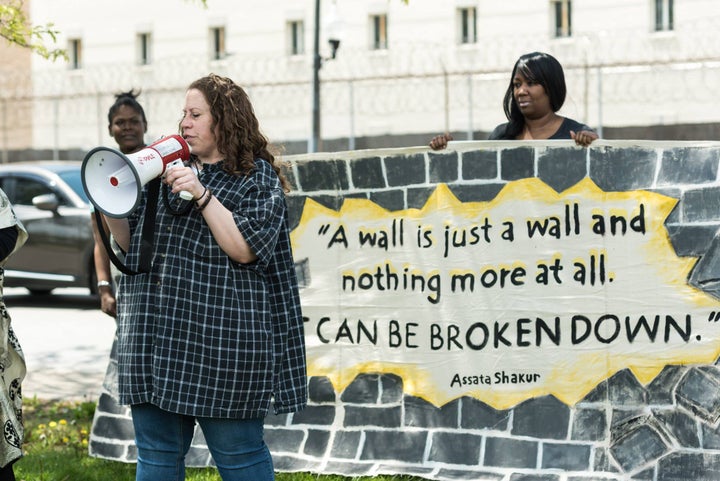 How do you celebrate Mother's Day without Mom? For children of the over 160,000 mothers incarcerated in the United States, Mother's Day is a day of heartache and stress. Some travel long distances for a short visit with Mom. Others ask friends and family for help posting bond so that Mom can finally come home. Last week, a group of organizations made Mother's Day a little better for some families through the Mama's Bail Out Day, an effort to post bail in time for Mother's Day for those that can't afford it.
Mama's Bail Out Day focused on women who are most heavily impacted by the criminal justice system and aggressive policing: black women, queer and trans women, and immigrant women. With participating organizations across the country, the effort raised nearly $500,000 and bailed out more than 50 women. In Chicago, a coalition of organizations held an Incarcerated Mother's Day Vigil and Toiletry Drive at Cook County Jail. The Chicago Community Bond Fund, a co-sponsor of the vigil, works locally to help those who cannot afford bail, including mothers like Lavette. Lavette spent 14 months in jail, losing her home and her business, when her family could not afford to post a $25,000 bond.
Incarcerated women have distinct challenges beyond motherhood. Compared with incarcerated men, women report higher rates of previous trauma and mental health issues. 98% of women housed by the Illinois Department of Corrections (IDOC) have experienced physical abuse and upwards of 75% have been diagnosed with PTSD. Despite their growing numbers and specific needs, women are not directly addressed by Illinois' criminal justice system. According to Cabrini Green Legal Aid, "a much-awaited report issued in December 2015 by Illinois' Gov. Bruce Rauner's Commission on Criminal Justice and Sentencing Reform did not specifically mention women even once."
Legislation has been proposed to create a Women's Division of Corrections with gender responsive and family-centered practices that address the needs of incarcerated women. The Women's Correctional Services Act was developed by The Women's Justice Initiative to be a national model for gender responsive practices within the criminal justice system, and to correct policies that have overlooked the specific needs of justice-involved women.
Meanwhile, local organizations are working on the both ends of the prison pipeline to reduce the number of black women and men impacted by the criminal justice system, through a parent or their own incarceration. Black on Both Sides (BBS) empowers youth with the skills to organize and advocate for policies that end the foster care to prison pipeline, by addressing the criminalization of black motherhood and the intergenerational effects of foster care.
As Illinois advances criminal justice reform, innovative approaches, from bail funds to advocacy that centers affected communities, will be critically important to achieving a truly just criminal justice system that values families and rehabilitation, so that more children get to spend Mother's Day celebrating mom.
Related
Popular in the Community