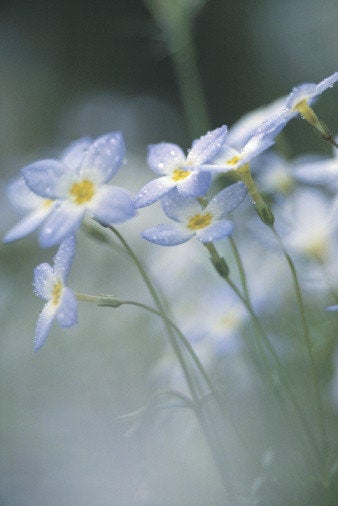 Six weeks after my mother passed away I was scheduled for a lodge-to-lodge hiking trip through the Rogue River Wilderness in Southern Oregon with five women friends. As our departure date neared, I began equivocating. I was tired, and grieving, but the truth was, I was scared: what would my first Mother's Day without my mother feel like?
With a healthy dose of encouragement from my husband, I embarked on the trip, hoping that communing with nature for five days would be just the healing I needed.
Our days were graced with flawless weather -- sunny and cloudless, with temperatures in the low 70s. The trip consisted of four days of lengthy but moderate hikes through oak forests punctuated by creeks and rushing waterfalls. Wildflowers were in full bloom.
The first afternoon, we arrived on a wide, sandy beach. Our guides had set up an opulent spread of cold cuts and salads, fruit, cookies and drinks. Camp chairs were arranged in the warm spring sun. I felt nurtured and taken care of, babied, even. Things were looking up. I thought about my mother, but not in a sad or morbid way.
I roomed with Lea, my friend who had organized the trip. We were comfortable with each other and too tired from long days of hiking to talk much. We drank wine with the others. We read books. We slept. This was going to be fine, I told myself. No, more than fine. I was having fun.
Part of the expedition included floating in rafts to reach the various trailheads. Along the way, we took in the river sights: cliff swallows flying scissor-like into and out of crevasses in the rocks that shouldered the river. Herons and gulls swooping into the clear river to catch small fish. Cascades of waterfalls rushed out of the small canyons into the wide, pristine river. A bear lumbered along the creek searching for salmon. The river was clear, still, a rich, green-blue color.
On day two, we hiked through a canyon where sticky monkey flower grew out of the rocky hillsides. Forget-me-nots, bachelor buttons, vetch, lantana, farewell-to-spring and buttercups exploded in wide brushstrokes, coloring the high hillsides.
We arrived at Paradise Lodge exhilarated from a 10-mile walk and clean mountain air. Situated in a large meadow, Paradise Lodge is perched above the river and ringed by mountains.
Saturday morning, day three, was a layover day with an optional hike. I headed out with the group. The next day was Mother's Day. My anxiety was rising.
On the way back from the morning hike, a plan was hatched: We would meet in Sandy and Janet's room in the early evening, before dinner. After lighting candles for our mothers, we would each share a short anecdote.
Lea shared about how her mother was phenomenally open and supportive, especially given that she had grown up with a disability. Janet shared how her mother had brought her a martini in the hospital; Sandy talked about her mother's perfectionism, and Allison and Carol -- sisters -- told completely different stories about their same mom.
Just six weeks into this new role as a motherless daughter, I wasn't sure how I felt, but I knew I was a little shaky, uncertain exactly what or how to feel. And I was vulnerable. I lit my candle. "My mother had a hard life" I started. "She lost her mother when she was 2, and her husband when she was 39. But she gave me a wide berth and let me grow into the person I was meant to be. And, she taught me how to mother." I read "Pigtails," a poem I had written for my daughter.
We cried. We laughed. We drank wine. At the end, Sandy pulled out a gift for each of us: a beautiful, white coffee cup stenciled with a line drawing of Paradise Lodge. Afterward, our guides joined us with tiaras and feather boas.
That night, I had a dream about my mother. She wasn't happy, but she wasn't unhappy, either. The dream helped me feel close to her, or at least feel that she was still close.
As it turned out, the anticipation of my first Mother's Day without my mom was more challenging than the actual experience. It's a strange world without mom, but it looks like I'm going to make this transition.