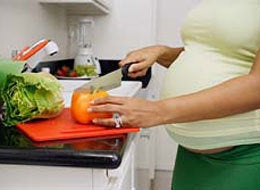 Oysters may excite the libido, but there is nothing like a hearty breakfast laced with sugar to boost a woman's chances of conceiving a son, according to a study released Wednesday.
Likewise, a low-energy diet that skimps on calories, minerals and nutrients is more likely to yield a female of the human species, says the study, published in Proceedings of the Royal Society B: Biological Sciences, Britain's de facto academy of sciences.
Fiona Mathews of the University of Exeter in Britain and colleagues wanted to find out if a woman's diet has an impact on the sex of her offspring.
So they asked 740 first-time mothers who did not know if their unborn foetuses were male or female to provide detailed records of eating habits before and after they became pregnant. The women were split into three groups according to the number calories they consumed per day around the time of conception.
Fifty-six percent of the women in the group with the highest energy intake had sons, compared to 45 percent in the least-well fed cohort.
Beside racking up a higher calorie count, the group who produced more males were also more likely to have eaten a wider range of nutrients, including potassium, calcium and vitamins C, E and B12.
The odds of an XY, or male outcome to a pregnancy also went up sharply "for women who consumed at least one bowl of breakfast cereal daily compared with those who ate less than or equal to one bowl a week," the study reported.
Related