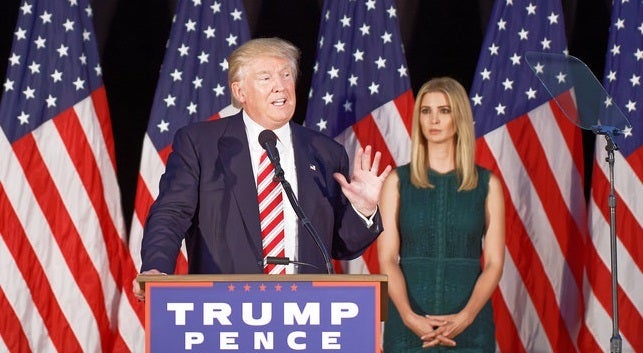 This Mother's Day, we are sure to hear platitudes about the importance of mothers. Maybe a few will even come from the president, or from his daughter who has emerged as a central adviser—particularly on issues of gender and family.
But mothers don't need platitudes. I have a two-year-old son, and even with the enormous privileges of paid family leave and a supportive family, employer, and community, I have found being a working parent in America one of the hardest things I've ever experienced. I have no idea how the majority of mothers go back to work weeks after giving birth, when you are still in pain, often sick and sleepless, perhaps nursing, and chemically and physically bound to your child. I have no idea how most families find or pay for child care, now averaging more than college in most states, and rising more than twice the rate of inflation.
This is a crisis in our country, one that our leaders urgently need to address. And who's heeding the call?
In the White House, Ivanka Trump has reportedly pushed President Trump on maternity leave and claims credit for his proposed child care policy. However, like most things in the Trump administration, the emperor has no clothes.
Ivanka Trump embodies a hollow, white "feminism" that is about advancing her personal brand and business interests. Her social media is peppered with perfectly appointed nurseries, stiletto heels, private planes, and of course, plenty of Ivanka Trump purses and products. There's even a hashtag for women who work. This Pinterest-perfect image of working motherhood and womanhood does a disservice to women everywhere, and the policies she and President Trump promote are just as meaningless and unsubstantial. They do nothing to address the broad and complex needs of women, particularly women of color, or low-income families, including many of those who supported her father's candidacy.
Trump's child care proposal, for instance, is little more than a tax break for the wealthy on the backs of working families. In a recent study, the Center for American Progress estimated that the original plan would refund a family of four in Trump's own swing counties less than six dollars, while providing a wealthy family on the Upper East Side more than $7,000.
While the plan has since evolved from a deduction to a tax credit—in response to the onslaught of criticism—it is still absurdly regressive and poorly designed, and assumes that families can afford the costs of child care out of pocket. While child care costs and quality vary, in many places across the country it averages up to $20,000 per child. If you are a single parent working at a minimum wage job, or even a moderate-wage job, how can you afford to take $20,000 out of your paychecks? The proposal does nothing to tackle these issues systemically. It doesn't look at the problems of overall costs, the underpaid child care workers themselves, or the fundamental devaluing of family and care work in our country.
Similarly, Trump's maternity leave plan leaves out whole communities and families. It initially benefitted only mothers, which is problematic on a number of fronts and does nothing for adoptive parents, same-sex couples, or other equally valid family arrangements. Furthermore, reports say it offers only six weeks at partial pay. At six weeks a mother has barely had a post-partum checkup. It's not even a band-aid on the urgent crisis working families face. It's more window dressing—more sheath dresses and stiletto heels sold to a tiny fragment of American women.
The Republicans claim to be the party of life and family values. It's past time that progressives reclaim this space and make plain critical connections: that caring for a family, or choosing not to have one, is central to our economic stability and prosperity; that women's diverse needs aren't soft issues or identity politics, but the rights of more than half our population; that addressing the challenges of work and family in our country will only make us stronger.
Women, particularly women of color, are the backbone of the progressive movement and the often invisible drivers of our economy. Women are leading the resistance to Trump's assault on democracy and working families. We won't be fooled by the Trumps' shallow proposals or lip service.
This Mother's Day, mothers don't need greeting cards. I don't really care for chocolates. What mothers—and whole families—need are policies that respect their roles in society, value their contributions both in and out of the home, and address the gaping needs of our current system with smart and systemic reforms. It's time we stopped settling for less, and took a forward-thinking, progressive approach to these challenges.
Dawn Huckelbridge is a senior policy advisor at People For the American Way.
Popular in the Community