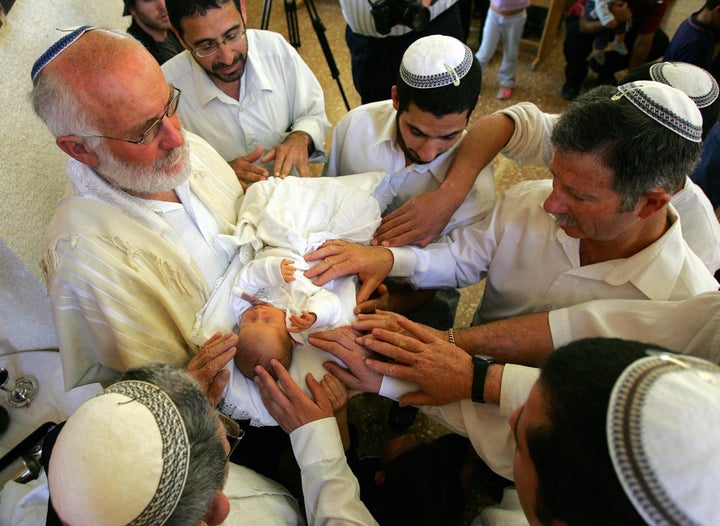 Author's note: When I wrote this essay 20 years ago, I wanted to convey the power and beauty of the bris (Jewish ritual circumcision ceremony) to fellow Jews who were appalled or alienated by the practice. I never imagined that this custom would become the target of ballot initiatives and anti-Semitic imagery, especially in a progressive city like San Francisco. Beyond political, religious, and health arguments on the issue, ritual circumcision marks males as cultural beings in Jewish and Muslim tradition. Unlike female excision, it does no physical or psychological harm. The cut itself is a brief, though highly significant, moment in a momentous occasion for family and community. This essay describes how the occasion felt to one new Jewish mother at the time.

"Blessed are You, Lord our God, who has kept us in life and allowed us to reach this season," my husband chanted in Hebrew, flushed with new father's pride. The tears streamed down my face. It seemed a long and perilous journey from the dim seclusion of our bedroom, where I had given birth eight days earlier, to the crowded, sunny dining room, where 40 guests were gathered for the bris (Jewish ritual circumcision) of our son, Ben.

I tottered in toward the huddle of expectant faces. The mohel (ritual circumcisor) stood ready, looking more like a butcher than a rabbi with his white apron and beefy hands. I believed in the personalized ceremony we had planned. But I was still sore from a hard labor, the stork bites still fresh on my baby's head. Could I really hand him over to this stranger with the knife?

The bris, according to Jewish law, is a happy occasion that marks the child's entrance into a covenant with God. The bris, according to my great aunt Celia, is "so the male will feel a little of the pain the woman feels in childbirth." Both explanations seemed poignant in the rush of feelings and hormones.

Through my tears, I saw that Ben would have safe passage through the first rite of his little life. Here were three generations of family to receive him, passing his tiny swaddled form from one to the other and smiling into his face. Here was my sister-in-law to hover over him with sugar water and soothing when he reached the place of honor on the dining room table. Here were friends to stand by him as godparents and others to share in every gesture and blessing of this most intimate of ceremonies. I was suddenly grateful to each person for being there, even those I barely knew from the synagogue we had recently joined. They stood for the world we were welcoming Ben into, and for the moment it seemed a good place to be.

All around us were reminders of occasions and generations past. The same wine, the same prayers and songs connected us. My late grandmother's Russian shawl with its vivid rose pattern and long black fringe lay draped across the symbolic chair of the prophet Elijah. Ben's name, my husband announced, was in memory of his great uncle who was killed in the Holocaust at the age of six, as well as my mother. A cloud of remembrance wafted over those who had known the namesakes.

The moment of cutting was mercifully short. Ben wailed only once, surrounded by comforters. Of course, I cringed for my helpless infant. But I didn't resent what some decry as a primitive, barbaric ritual. Instead, I felt a fierce bond with Jews across time and place who have practiced this custom for 3,000 years in an atmosphere of support and celebration. It takes powerful acts to inspire powerful emotions. The blood where the foreskin was cut evoked the blood of birth, even as it signaled a rebirth into community and spiritual life. How often do we moderns experience something so primal so directly from the world of our ancestors?

Singing and feasting broke the tension in the room as the ceremony ended. Finally I could smile along with my beaming husband. We had our first taste of what it meant to kvell (proudly boast) over and have naches (joy, pleasure) from a child. Ahead lay a cycle of celebrations and a rich tradition to sustain us as we grew together as a family.

In this welcoming of our baby into the Jewish community, I found catharsis after the trauma and isolation of birth. We emerged from the raw, postpartum state into the warmth of society. The bris became our coming-out party as a family, the public affirmation of a new state of being. I hadn't expected to be so profoundly moved -- both by those present and those long gone -- at so vulnerable a time. I was filled with a new sense of gratitude, knowing that there were others to care for our child with whom we could weep and rejoice.

To my fellow Jews who question or dread this tradition, may you come to cherish it and make it your own. To my fellow Californians, please do not deny the right to carry it on to those who choose it.
The author is a professor of education and member of the Pasadena Jewish Temple and Center.