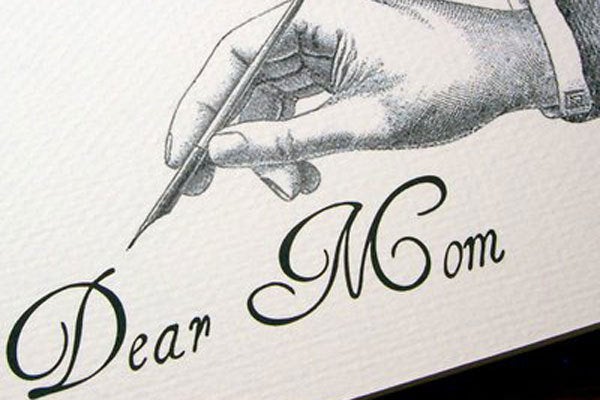 If you're trying to think of a Mother's Day present for mom, how about a novel featuring a memorable mother?
The book could star a saintly mom, a hellish mom, or a more realistic mom between those two extremes. If your mother realizes she resembles the fictional mother in the book you give, she may also realize what you think of her!
In the positive-character category, there's of course Ma Joad in John Steinbeck's The Grapes of Wrath. She's kind, selfless, determined, and never gives up in the face of heartbreaking adversity.
Or how about the long-lived Ursula in Gabriel Garcia Marquez's One Hundred Years of Solitude? She's loyal, fearless, stoic, capable, and entrepreneurial while dealing with an extended family that often saddens and exasperates her. Magical realism, and matriarchal realism...
There's also Molly Weasley, matriarch of a large family of mostly boys in J.K. Rowling's Harry Potter series. Molly is smart, resilient, tireless, and -- as it turns out -- quite adept at battling evil!
Another admirable mother is Stella Payne of Terry McMillan's How Stella Got Her Groove Back. She's a chic, accomplished, way-too-busy woman who finds unexpected love with a much younger man while on vacation.
Then we have the more mixed moms, such as Isabel Amberson Minafer in Booth Tarkington's The Magnificent Ambersons. She's an incredibly nice person, but has the fatal flaw of doting way too much on her spoiled, unlikable son.
Patty Berglund in Jonathan Franzen's Freedom plays favorites by giving her son more love and attention than her daughter, and also has other issues. But the neurotic Patty does possess several good qualities, including lots of energy and some capacity for change.
Speaking of neurotic, how about Alexander's loving but domineering mother in Philip Roth's hilarious Portnoy's Complaint?
Another mixed mom -- but one who evolves nicely -- is Marilla Cuthbert in Anne of Green Gables. This austere woman at first doesn't take to Anne, but eventually grows to love and admire the imaginative, whip-smart orphan. L.M. Montgomery's book can be a great gift for mothers of adopted kids (like Anne).
A mixed mom who veers toward negative territory is Frieda Haxby Palmer in Margaret Drabble's The Witch of Exmoor. Frieda is a fascinating, highly intellectual character, but she had little maternal instinct in her younger days and might be a bit nuts in her older age.
Then there are the moms who are almost completely negative. One is Valancy Stirling's mother in L.M. Montgomery's The Blue Castle. This nasty, narrow-minded person treats her daughter like a child even after Valancy reaches adulthood, and has no clue about just how bright and special Valancy is.
Others in the negative-mother camp include abusive religious fanatic Margaret White in Stephen King's Carrie and the monstrous Cathy Trask in Steinbeck's East of Eden.
There are thousands of other good and bad literary moms I haven't mentioned (which makes me feel like a less-than-dutiful son). And why has there never been a Proustian novelization of the old TV series My Mother the Car? But, that said, who are some of the most memorable moms in the fiction you've read?
Dave Astor's new book Comic (and Column) Confessional is scheduled to be published this June by Xenos Press.
The part-humorous memoir is about Dave's 25 years at Editor & Publisher magazine covering, interviewing, and meeting notables such as Arianna Huffington, Heloise, Hillary Clinton, Walter Cronkite, Coretta Scott King, Martha Stewart, Ann Landers, and Abigail Van Buren ("Dear Abby"); and notable cartoonists such as Gary Larson ("The Far Side"), Lynn Johnston ("For Better or For Worse"), Mort Walker ("Beetle Bailey"), Charles Schulz ("Peanuts"), Stan Lee ("Spider-Man"), Bill Watterson ("Calvin and Hobbes"), Garry Trudeau ("Doonesbury"), Berkeley Breathed ("Bloom County"), Scott Adams ("Dilbert"), Jim Davis ("Garfield"), Milton Caniff ("Terry and the Pirates"/"Steve Canyon"), and Herblock. The book also chronicles changes in the media, discusses personal stuff, and more.
If you'd like information about ordering a signed copy of the book, contact Dave at dastor@earthlink.net.
Related
Popular in the Community