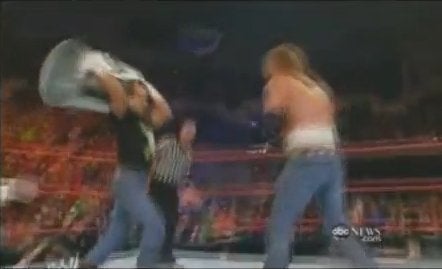 "Mothers Opposing McMahon," a group funded by the Connecticut Democratic Party, is out with a new ad seeking to ensure that one of Republican Senate candidate Linda McMahon's biggest points of contention, her controversial past as a former CEO of World Wrestling Entertainment, doesn't get swept under the rug.
The spot intersperses video of a recent McMahon ad with interviews of discontented former professional wrestlers protesting the corporation for poor oversight, lax or non-existent safety regulations and a culture that encouraged steroid use.
The ad appears to be filling the void that that Democratic candidate Attorney General Richard Blumenthal has chosen to leave in the field of negative attacks regarding the more lurid side of McMahon's former company.
According to a Connecticut Mirror report, Blumenthal's shying away from attack ads has been a conscious and calculated decision done for the purpose of drawing a contrast to the heavy barrage of attacks leveled by the McMahon campaign.
Despite Blumenthal's aversion to explicitly making mention of the WWE skeletons in McMahon's closet, the Mirror reports that "his campaign has quietly and insistently tried to focus the state's political press and editorial writers on the dark side of the business that produced her fortune."
And that "dark side" appears to be cropping up in McMahon's personal life more than she'd like to admit. On top of currently facing fire from the father of WWE wrestler Lance Cade, who died at 29 due to heart failure, WWE is also receiving attacks from the friends and families of other dead wrestlers such as Eddie Guerrero Llanes, who also died of heart failure in 2005 after a long struggle with substance abuse, Eki "Eddie" Fatu, who died last year after taking a fatal dose of numerous painkillers, and Chris Benoit, who murdered his wife and son before taking his own life in 2007.
According to the Mirror report, McMahon recently claimed that she wasn't "really questioned and pushed very much on the negative aspects of, you know, a scripted soap opera." She then described the issue as "the difference between being something that's entertaining and scripted versus real life issues."
And while Blumenthal looks to be allowing this to be mostly true -- on the outside at least -- other groups, such as "Mothers Opposing McMahon," appear to be attempting to keep the cloudier, non-"soap opera" parts of McMahon's WWE past in the headlines.
Watch the new ad from "Mothers Opposing McMahon":
Calling all HuffPost superfans!
Sign up for membership to become a founding member and help shape HuffPost's next chapter