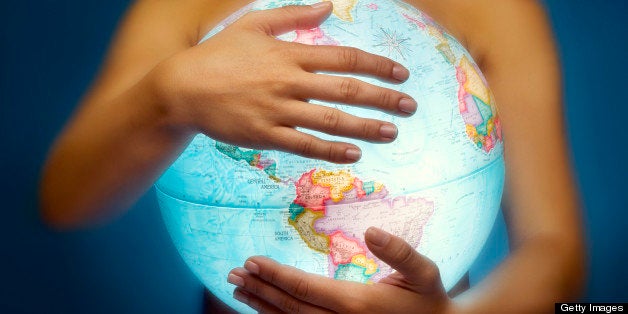 Could Massachusetts become the first state in the nation to stop investing in fossil fuels and invest only in renewable energies -- as a result of pressure from mothers and grandmothers?
That's the goal of a newly formed group led by Kelsey Wirth, daughter of former senator Timothy E. Wirth, and Vanessa Rule of the Better Future Project.
"Every time there is a decision between investing in clean energy or dirty energy, we will make sure that Massachusetts picks clean -- because this is the only choice that protects our children's future," Wirth said at the first public gathering of Mothers Out Front in Boston on Saturday, June 1, 2013.
This month marks 25 years since the first congressional hearings on global warming. Those hearings were co-sponsored by Wirth's father, who presided at the hearings as the Democratic senator from Colorado. Those were also the hearings in which NASA's James Hansen famously said he was 99 percent certain that global warming was not natural but the result of carbon dioxide and other pollution.
"Obviously, I'm very proud of my father having been a leader on this when he was in Congress," Wirth said after the event. "Of course, it points to how broken our political system is that 25 years later there has been no significant action to address climate change. But it also speaks to the need to have people come together to put pressure on leaders to do the right thing. And that political will is what we are hoping to inspire."
Vanessa Rule, who has been a climate organizer for seven years, said she was unsure whether mothers would be willing and able to organize around climate when she and Wirth first met to plan Mothers Out Front in December 2012.
But the response to their primary statewide organizing strategy -- house parties -- has convinced her they will. Over three months, more than 200 women attended 22 house parties; and there are commitments to hold 132 more house parties in the months ahead.
Susan Lees, a grandmother of five from Arlington, Mass., said grandmothers can be particularly responsive to calls for climate action because they have the time to get involved -- and care deeply about their grandchildren's future.
"Each day I look into my grandchildren's eyes and think, 'I cannot do less than everything I am able for these beloved grandchildren.' I want a good future for them. I want a livable planet for all," she said.
The gathering of more than 100 mothers and grandmothers in the historic Old South Church concluded with the signing of a five-point declaration, which Mothers Out Front leadership will continue to ask women -- and, ultimately, local elected officials -- to sign.
Resist ignorance, denial and distraction -- in ourselves and in others
Support policy informed by science, not directed by industry to maintain profits
Stand by leaders who demonstrate bold action, not just lip service
Call for investments to help workers, families, and communities through this transition
Embrace opportunities for creativity and innovation.
"We have watched leaders at every level fail to take action on the growing climate crisis," the document reads. "We have seen industry exert undue influence with little regard for the common good. We have noticed the small scared part of all of us that would rather pretend this isn't possible than face such a terrible and overwhelming prospect.
Popular in the Community